Nike Missile Site SF-88
Introduction
Between 1953 to 1979, the United States operated nearly three hundred missile defense systems. These batteries were designed to fire Nike missiles at potential threats, presumably Soviet bombers armed with nuclear weapons. This fomrer missile battery was one of the final to be decommissioned, and is maintained by volunteers who work under the authority of the Golden Gate National Recreation Area to restore, preserve, and interpret this site. Today, the site of this former Cold War missile battery includes a historical museum, exhibits, and tours. San Francisco's SF-88 missile battery is the only restored Nike missile site open to visitors.
Images
This is a picture that shows the site.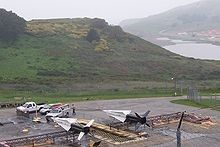 Here is another picture that shows the site.
Backstory and Context
This Nike Missile battery is located in southern Mill Valley and began operations in 1954-the height of the Cold War. In the early years of missile defense, the Nike missiles were armed with high explosive shrapnel warheads-they were built in this manner so that they would likely destroy an enemy aircraft even if the missile did not make a direct hit against the fuselage. Today, visitors can see models of Nike Ajax missiles and Nike Hercules missiles.
The site is staffed by volunteers and only open on Thursday, Friday, and Saturday from 12:30 p.m. to 3:30 p.m.
Sources
Nike Missile Site. N.p., 8 Dec. 2015. Web. 8 Dec. 2015. .
Additional Information