Nissan Stadium
Introduction
The home field of the Tennessee Titans from 1999-Present. It is owned by the Metropolitan Government of Nashville and Davidson County. It was constructed from May 3rd, 1997- August 27th, 1999. The total cost was $412 million dollars and has a capacity of 69,143.
Images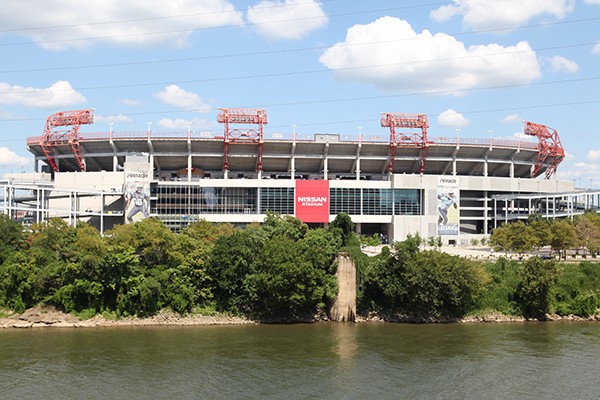 Backstory and Context
The Tennessee Titans, previously known as the Houston Oilers, moved to the city of Nashville because Owner Bud Adams had a dispute with the city of Houston. The stadium opened in 1999 despite being hit by a tornado mid-construction. Many wondered how the transition would work out.
The first season was a success as the team went undefeated at home! As of the beginning of the 2015 season, the Titans hold a home record of 45-27 during the regular season and 2-2 during the playoffs. As well as football team success, the team has also had financial success, as every game since its construction has been a sell out crowd, and to obtain season tickets, one must be put on a waiting list with no definite promises.
In addition to the Tennessee Titans home games, the stadium also plays host to a number of other events. The Tennessee State Tigers from the NCAA host their opponents on the turf, per an agreement made with the city of Nashville and the state of Tennessee. One of the more important venues to be played in regards to football is the annual Music City Bowl. While the stadium mainly hosts athletic competitions, one of the more renowned events to hold the stage is the CMA Music Festival, which gathers country music fans from across the country.
Sources
"Titans Media Guide." Tennessee Titans. Accessed December 8, 2015. http://www.titansonline.com/mediaguide/contents.html.

Wyatt, Jim. "Titans' stadium LP Field to be renamed Nissan Stadium." Tennessean. June 24, 2015. http://www.tennessean.com/story/sports/nfl/titans/2015/06/24/tennessee-titans-nissan-lp-field/292298...

Additional Information