Yale Bowl
Introduction
Completed in 1914, the Yale Bowl is a football stadium in New Haven that serves as the home of the Yale Bulldogs. The stadium seated 70,896 people when it was first opened. Recent renovations have improved the stadium while reducing its capacity to 61,446. Fittingly, the first game ever played at this historic stadium pitted the football teams of Harvard and Yale.
Images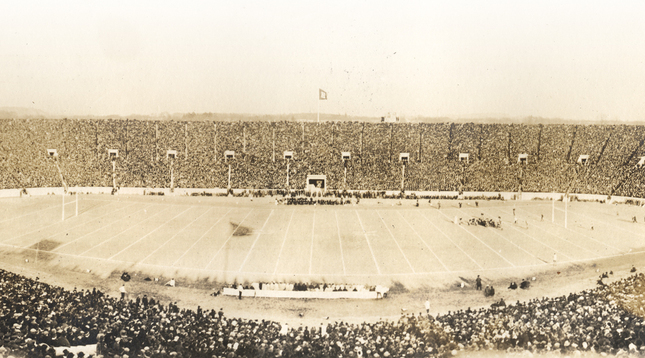 The Yale Bowl was the first stadium with seating that completely surrounded the field.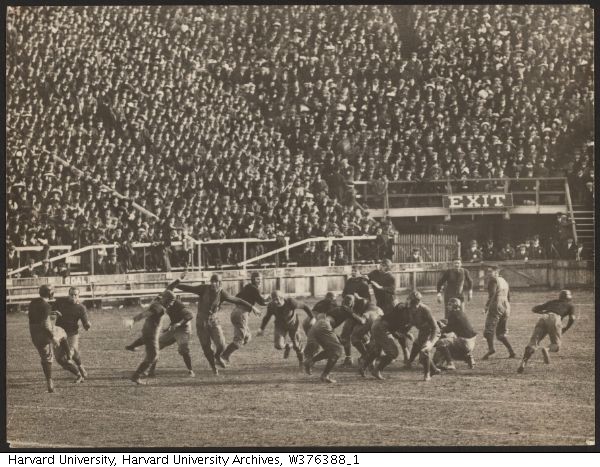 This aerial photo of the Yale Bowl was taken in 2014 as part of the celebration of this historic stadium's 100-year birthday.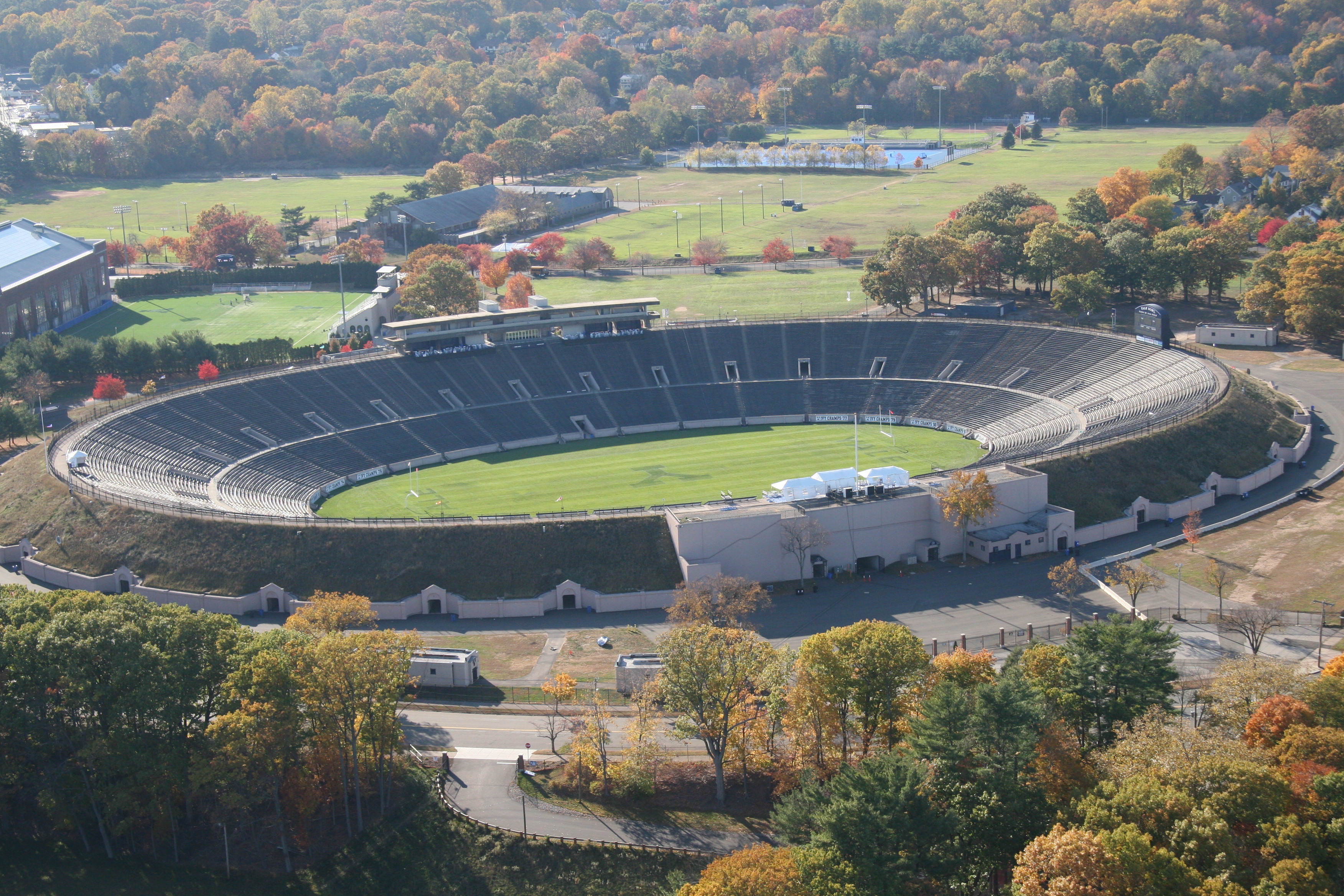 Backstory and Context
This is the first stadium that was called a "Bowl", and at the time of completion, 1914, it was the biggest stadium in the world. The Bowl is 930 feet long and 750 feet wide, covering 12 1/2 acres. More than 320,000 cubic feet of earth was moved to form the bowl and the stadium now contains 22,000 cubic yards of concrete and 470 tons of steel. The Yale football program continues its long and storied tradition, becoming the first college team to reach the 800-victory milestone in 2000. It also inspired the design of such stadiums as the Rose Bowl, the Los Angeles Memorial Coliseum, and Michigan Stadium.
The plan was for Yale to open the Bowl in time for the Oct. 17, 1914, visit from Notre Dame, on a 27-game win streak. This goal was not met but the Bowl was ready the next month. The Bowl played host to some of the country's best programs such as Notre Dame, Army, and others. When Army came to town in 1923 it drew 80,000, the largest recorded attendance at the Bowl. Crowds exceeded 70,000 on 20 occasions, most recently in 1983 for the 100th edition of Yale-Harvard. This was very different at the time. The city of New Haven would be prepared for the masses and told residents to keep their doors and windows locked and a medical facility was set up near the stadium to help with such large crowds.
In addition to hundreds of Yale football games, this stadium has hosted many national and international sporting events, including NFL games and international soccer competitions. Also, several former U.S. presidents have visited the stadium to see a game. Theodore Roosevelt and William Howard Taft were reported to be at the inaugural 1914 game. Herbert Hoover came by at least twice after leaving office. Also, John F. Kennedy planned on coming to support Yale, but was never able to because of his assassination. The 1995 Special Olympic World Games were held at the stadium.
The Bowl has gone through renovations over time, including in 2006,when a new scoreboard was added. It was declared a National Historic Landmark in 1987 for its role in the history of American football.

Sources
Yale Bowl. (2015). Retrieved December 2, 2015, from http://www.stadiumtour.net/ncaa/yale-bowl/ Landmarks in Yale's history. (n.d.). Retrieved December 2, 2015, from http://www2.yale.edu/timeline/1914/index.html Yale Bowl 100th Anniversary Site Here. (n.d.). Retrieved December 2, 2015, from http://www.yalebulldogs.com/sports/m-footbl/2014-15/releases/201407161nn4ij Yale Bowl, Class of 1954 Field. (n.d.). Retrieved December 3, 2015, from http://www.yalebulldogs.com/information/facilities/yale_bowl/index

Malafronte, Chip. "Yale Bowl: A Historic Landmark and Glorious Gridiron." New Haven Register, New Haven Register, 12 Aug. 2018, www.nhregister.com/news/article/Yale-Bowl-An-historic-landmark-and-glorious-13110695.php.