Samuel Huntington Homestead
Introduction
The Huntington Homestead is the birthplace of Samuel Huntington, an American statesman. He was a delegate to the Continental Congress, where he signed the Declaration of Independence, and was also a Governor of Connecticut. This site is a well preserved 18th century house surrounded by farmland. The house was declared a National Historic Landmark and listed on the National Register of Historic Places in 1971.
Images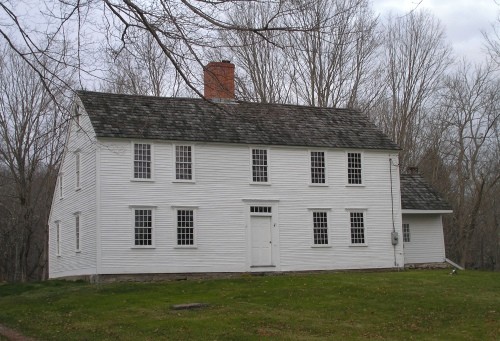 Backstory and Context
Samuel Huntington taught himself the practice of law and was admitted to the bar in 1758. This was the beginning of his political career. He was in the Connecticut State Legislature from 1775 to 1784, and also sat in the Continental Congress during those same years, serving as the body's president between 1779 and 1781. As a member of the Congress in 1776 he signed the United States Declaration of Independence. He was Governor of Connecticut from 1786 to 1796, the year of his death.
In 1994 the local residence of Scotland came together and started a Trust to preserve the birthplace of Samuel Huntington. The Trust was called The Governor Samuel Huntington Trust and it is a non profit organization. The house started to deteriorate, but the Trust purchased the property in 1996 and helped renew the house and turn it into the museum it is today. The museum is open seasonally for people who are interested in learning what Samuel Huntington did for the state, and even that nation.
Archaeology are studying the house to find evidence of what it was like for the people in that time period. The methods of archaeology have guided study of the house and grounds. This had helped to determine when and how the house was built, how the land was used, and how the house and outbuildings
Sources
The Huntington Homestead Museum. (n.d.). Retrieved December 2, 2015, from http://huntingtonhomestead.org/index.html Teaching History.org, home of the National History Education Clearinghouse. (n.d.). Retrieved December 2, 2015, from http://teachinghistory.org/history-content/historical-site/7209