Plaza Ferdinand VII
Introduction
On July 17, 1821 the official transfer of the Florida territory from Spain to the United States took place. Spanish Governor Don José María Callava and General Andrew Jackson—who would be President from 1829-1837—met at the the Government House, where City Hall is now located, and descended the steps and walked between lines of American and Spanish soldiers. The Spanish flag was lowered and the U.S. flag was raised in its place. Jackson was then sworn in as Governor. Two other ceremonies took place previously but this one was the only one in which the Spanish Governor participated. Immediately after the U.S. flag was raised, Jackson officially proclaimed Florida an American territory. The ceremony was the culmination of a two year negotiation period, ending with the signing of the Adams-Onís Treaty of 1819 (it is also known as the Transcontinental Treaty) on February 22, 1821. The plaza was designated a National Landmark in 1960.
Images
Bust of Andrew Jackson, on the spot where he was sworn in as territorial governor.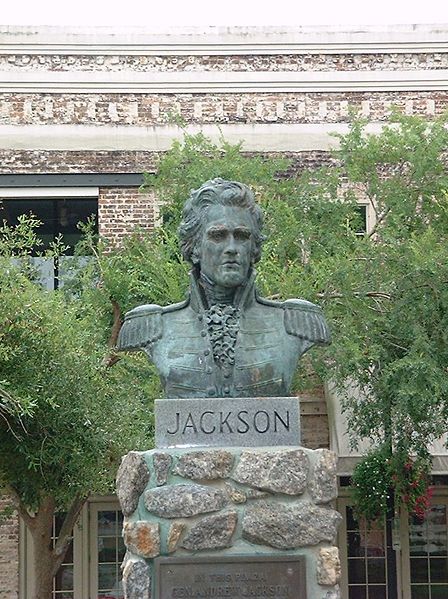 The plaza features this water fountain and an obelisk dedicated to a later prominent Pensacola citizen, William Dudley Chipley.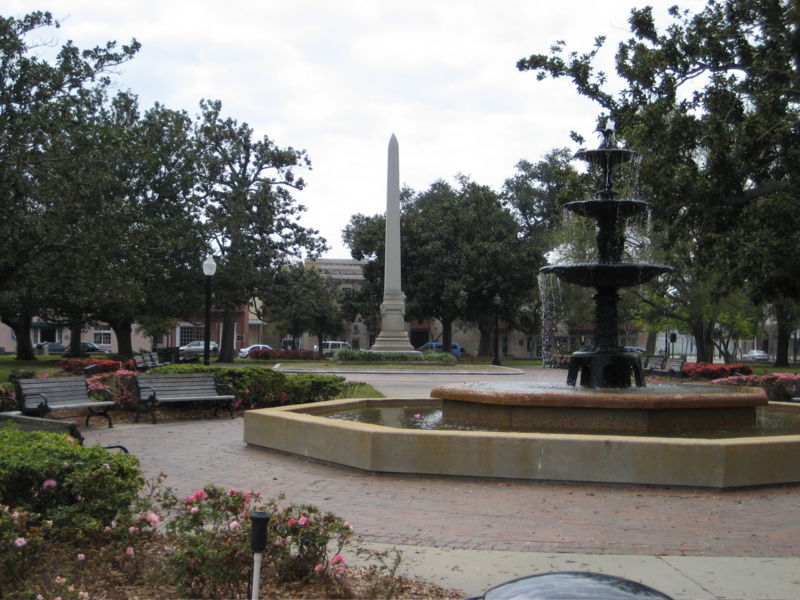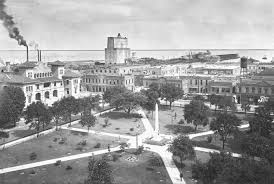 Replica Spanish cannon at the Plaza
Backstory and Context
When It became clear to Spain that it could not afford to retain control of Florida it sought help from the United States. In return for ceding the territory, the U.S. agreed to take responsibility of claims agains the Spanish government, which amounted to five million dollars. On the spot where Jackson gave his speech to the residents of Pensacola that West Florida was now American territory (and the city its capital and he its governor) this park was constructed, with the bust situated where he stood.

In 2002, archaeologists uncovered on park grounds previously unknown British-made structures when West Florida and Pensacola was British territory until Spanish forces wrested control of the territory from England during the American Revolution. Annually on New Year's, a "Pelican Drop" takes place in the park, where the Pelican, rather than a ball, drops during the countdown.




Sources
http://www.nps.gov/nr/travel/american_latino_heritage/Plaza_Ferdinand_VII.html Blanche Higgins Schroer. "Plaza Ferdinand VII," National Park Service - National Register of Historic Places. 10-15-66. A Guide to Florida's Historic Architecture, 1989, Gainesville: University of Florida Press, p. 7
Additional Information