Historic Mansker's Station
Introduction
Mansker's Station and the Bowen Plantation House speak of an era when wilderness abounded and its inhabitants were necessarily resilient. Kasper Mansker influenced Middle Tennessee's development with his discovery of Mansker's Lick and construction of Mansker's Station, a place of refuge from Indian attacks. Captain William Bowen, a prominent man who gave rise to a prominent family, built the Bowen Plantation House that stands today. Built seventeen and nine years, respectively, before Tennessee became a state, these dwellings showcase the strong will and spirit necessary to thrive in an adverse setting.
Images
The view inside Historic Mansker's Station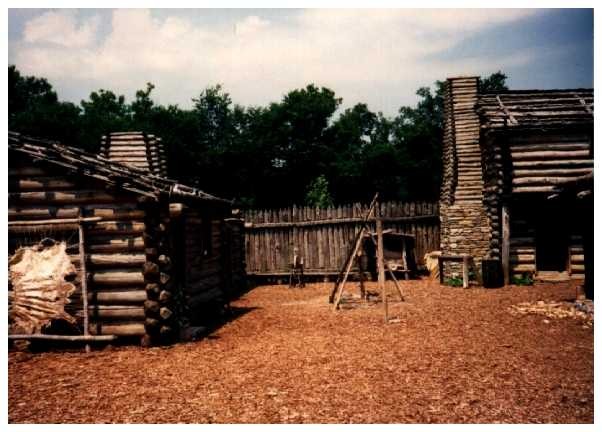 The overlook of Historic Mansker's Station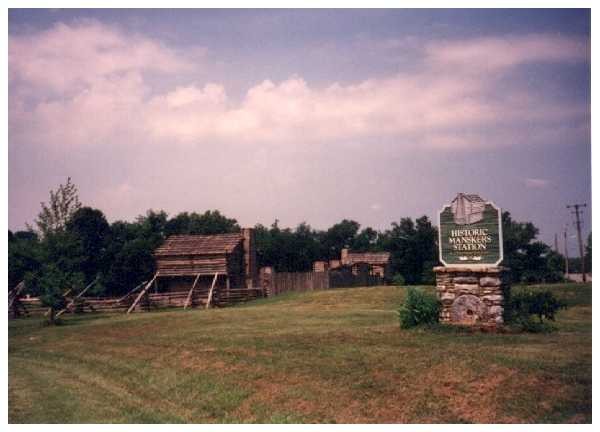 A Blacksmith showcasing the trade as it was in the 1800s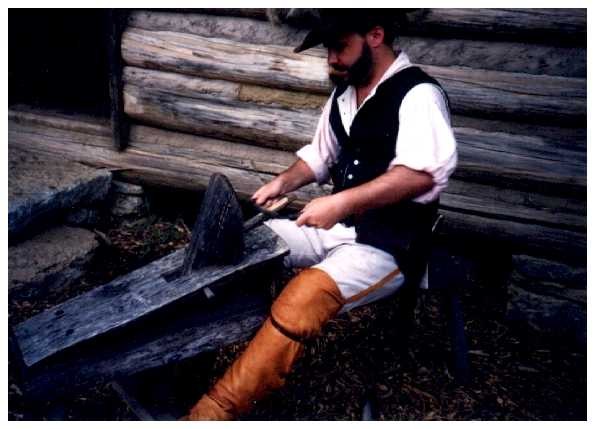 Backstory and Context
Kasper Mansker explored Kentucky and the Cumberland Valley regions of Tennessee as a hunter in the mid-eighteenth century. In 1772, he stumbled upon a salt lick near present-day Nashville, which eventually became known as Mansker's Lick. The fertile land surrounding the lick prompted Mansker to return to the site with his family and a group of settlers in tow to build a fort called Mansker's Station on the west bank of Mansker's creek in the winter of 1779-1780. Mansker's Station became a place of refuge for the families that lived there as well as to their outlying neighbors who fled their homes because of Indian attacks. After living in fear from Indian attacks for a year, the resident of Masker's Station abandoned the fort. Later, the Manskers and some others returned and rebuilt Mansker's Station on the east bank of Mansker Creek after finding only the charred remains of the original fort left from the Indian's flame. The fort today was reconstructed based on descriptions of neighboring Cumberland valley stations in the 18th century and is near its original location.
Mansker's Station was essential for sheltering the people who would form the beginnings of local government. Kasper Mansker signed the Cumberland Compact which created the first government of the settlement. Mansker was elected to serve as the first Captain in Davidson County in 1784. He also volunteered to serve in the War of 1812 when he was 62 years old and returned home shortly after fighting in the Battle of New Orleans. In 1821 at the age of 75 Mansker died, leaving an enduring legacy. Today, Mansker's Station is dedicated to reenacting the pioneer spirit and conditions of Mansker's settlements. Costumed interpreters conduct daily life activities for settlers in the Cumberland area in 1780. Demonstrations include Blacksmithing, spinning, candle-dipping and dyeing of textiles.
In 1787 Virginia native Captain William Bowen, born of Welsh and Irish parents who settled in Pennsylvania among Quakers, constructed the Bowen Plantation House, among Tennessee's oldest brick residences. He came to the area to live on land grants that he was given in return for his military service during the Revolutionary War. Captain Bowen brought his wife, Mary, and their four young children, to the Tennessee frontier and eventually grew the family to ten there. An 1820 census shows that Captain Bowen owned as many as sixteen slaves there, brought from Virginia. Captain Bowen was a veteran of the three wars and through hard work and became prosperous in the new settlement, eventually owning over 2,000 acres. After the deaths of Captain Bowen in 1804 and Mary in 1827, the house remained in the hands of their son William Russel Bowen until he sold it in 1835. Following in a history of active participation in government, Captain Bowen's grandson became the 15th governor of Tennessee from 1851-1853. The Bowen Plantation House was placed on the National Register of Historic Homes in 1977 after restoration. Recently, archaeologists have discovered what they believe to be the kitchen of a slave cabin and are actively working to discover what the lives of Bowen's slaves were like. Slave labor was instrumental in building Tennessee's economy according to many historians.
Sources
"Bowen Plantation House." City of Goodlettsville. Accessed November 30, 2015. http://www.cityofgoodlettsville.org/115/Bowen-Plantation-House.

"Historic Mansker's Station." City of Goodlettsville. Accessed November 30, 2015. http://www.cityofgoodlettsville.org/110/Historic-Sites.

"Mansker's Fort." City of Goodlettsville. Accessed November 30, 2015. http://www.cityofgoodlettsville.org/114/Manskers-Fort.

"Nashville's History." Nashville Convention & Visitors Corp. Accessed November 30, 2015. http://www.visitmusiccity.com/visitors/thingstodo/nashvillehistory.

Additional Information