George Washington Birthplace National Monument
Introduction
From a home built by a planter, to the birthplace of a national leader, the story of George Washington and his role in shaping the United States of America is preserved and shared by the National Park Service at the George Washington Birthplace. The marker denotes the approximate location of the former plantation home where the nation's first president was born. Washington's great-grandfather John Washington made this land his home after it was given to him as a wedding gift from his father-in-law.
Images
George Washington's birthplace marker at Popes Creek Plantation.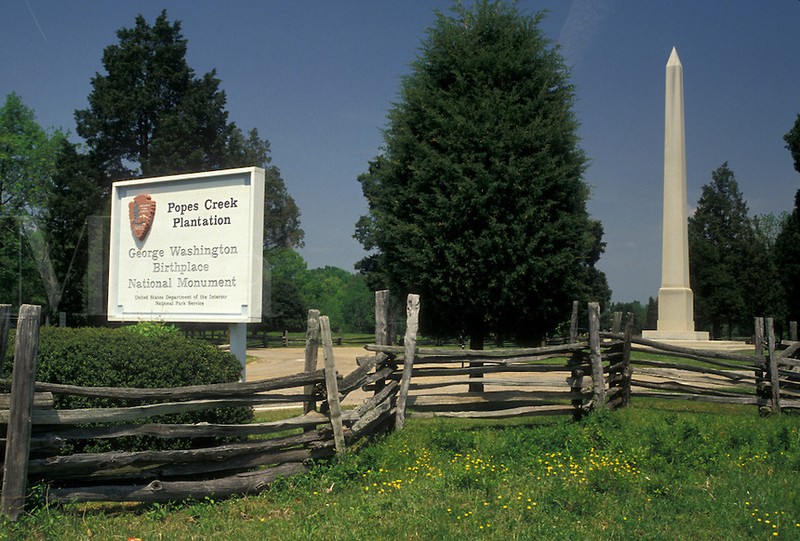 Backstory and Context
In 1657 John Washington was aboard a merchant ship that needed to stop for repairs and soon met a women by the name of Anne Pope. He then decided to stay once the ship had be repaired and marries Anne. Whether inspired by love or money, John Washington received 700 acres of prime land as a dowry.

Through smart planning and the work of servants and slaves, the Washington's estate grew from 700 to 10,000 acres. Washington later moved to Bridge Creek, which is now within the property lines of George Washington birthplace, which serves as a marker and a place to discover the history of the birthplace of George Washington. In February, 1732, George Washington was born in this home. After his fathers death he and his brother inherited the property.

Sources
www.nps.gov/nr/travel/presidents/george_washington_birthplace.html https://www.whitehouse.gov/1600/presidents/georgewashington www.Virginia.org/Listings/HistoricSites/GeorgeWashingtonBirthplaceNationalMonument/
Additional Information