Broad Street Cemetery
Introduction
Broad Street Cemetery was established in 1655, making it the second oldest cemetery in Salem. The cemetery is in good condition, with many of the gravestones dating to the 16th and 17th centuries. Such gravestones include George and Jonathan Corwin, important figures in the Salem witch trials.
Images
Salem Broad Street Cemetery Obelisk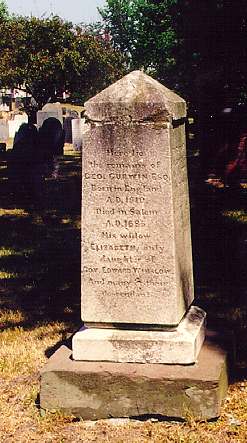 Backstory and Context
George Corwin served as High Sheriff of Essex County (Salem) in 1692. He signed warrants for the arrests of those accused of witchcraft, confiscated their property, and carried out the executions of the nineteen who were hanged and the pressing of Giles Corey. George died in 1696 at the age of 30 from a heart attack. His burial was delayed by Philip English, a Salem resident accused of witchcraft who had his property seized by George, until English was reimbursed for the property.
Jonathan Corwin was a Salem merchant and lived in what is now known as "The Witch House." Jonathan's house is the one of the few remaining structures in Salem with direct ties to the witch trials of 1692 and has now been turned into a museum. During the Salem witch trials, Jonathan served as a magistrate for many of the examinations and served as a justice on the Court of Oyer and Terminer. He died June 1718 at the age of 78.
Additional Information