Colonel Charles Young Marker
Introduction
Charles Young was a graduate of the United States Military Academy. In the class of 1889, he was only the third African-American graduate. Colonel Charles Young had a military career as a lieutenant and a squadron and regimental commander. He was also a superintendent of a national park, military attaché to Haiti and Liberia, a Wilberforce University professor, and a military advisor to Liberian President Daniel Edward Howard.
Images
Colonel Charles Young Marker. Photo by Christopher Busa-Peck.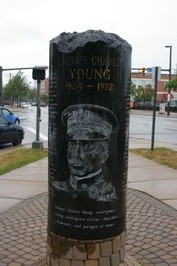 The back of the Colonel Charles Young Marker. Photo by Busta-Peck.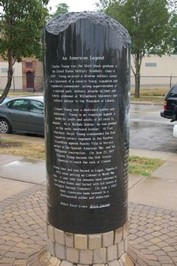 "The thing then to be desired above all others is confidence in one's self..." Charles Young. Photo by Busta-Peck.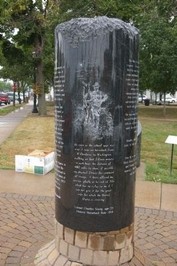 Another view of the marker. Photo by Busta-Peck.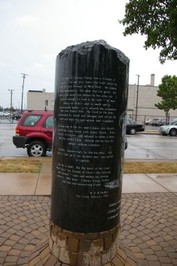 Top of the marker. Photo by Busta-Peck.
The marker between two trees. Photo by Busta-Peck.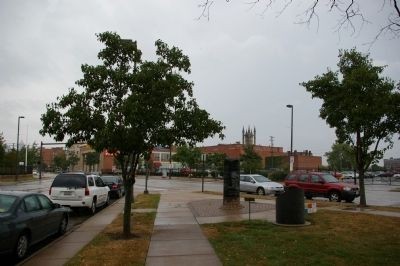 A photo of Colonel Charles Young in Mexico in 1916.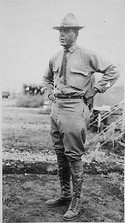 Backstory and Context
Colonel Charles Young is recognized as a successful and dedicated soldier and statesman. Young reached the rank of Colonel on June 22, 1917 and was the first African American to do so. Young was also a "Buffalo Soldier." Buffalo Soldiers were part of the U.S. 10th Cavalry Regiment of the United States Army. It was formed on September 21, 1866 at Fort Leavenworth, Kansas. Young commanded the 2nd squadron 10th Calvary regiment in the Punitive Expedition at Fort Huachuca against Pancho Villa in Mexico. Colonel Charles Young also served in the Spanish-American War and helped with the Philippine Insurrection.
Young overcame many obstacles, such as racism, to climb the military ranks and become one of the most well-respected leaders of his time. Colonel Charles Young was recognized for his devotion to duty and led by example for many generation of new leaders. Sadly, while Young was serving in World War I, he died and was buried in Lagos, Nigeria in 1922. Within a year, his remains were returned to the United States, and he was buried with full honors at Arlington National Cemetery. Many Americans said a farewell to a devoted and distinguished soldier on June 1, 1923.
As soon as the school year was over, I rode on horseback from Wilberforce to Washington, walking on foot fifteen minutes in each hour, the distance of 497 miles to show, if possible, my physical fitness for command of my troops. I there offered my services gladly at the risk of life, which has no value to me if I cannot give it for the greater ends for which the United States is striving. – Colonel Charles Young
Sources
Busta-Peck, Christopher. Colonel Charles Young. Historical Marker Database. September 27, 2008. Accessed August 31, 2018. http://www.hmdb.org/marker.asp?marker=17236. Information and photo source.

Charles Young Buffalo Soldiers National Monument. National Park Service. Accessed August 31, 2018. https://www.nps.gov/chyo/index.htm.


Additional Information