B-52 Crash Site Marker
Introduction
This memorial was built to honor seven men who were killed when a B-52 Bomber crashed at this location on September 16, 1958. The bomber took off from Loring Air Force Base in Maine with eight crew members who were part of a Cold War-era training simulation. Only one of the crewmen survived the fiery which also led to the destruction of a farmhouse and barn. The marker memorial was dedicated on September 14, 1996, thanks in large part to the Minnesota Aviation Hall of Fame and local aviation historians.
Images
The historical marker showing the place where the B-52 crash happened. Seven fatalities were reported.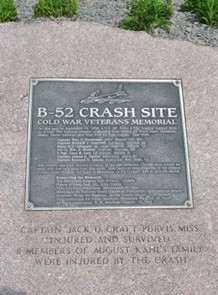 Another wide photo of the marker in it's position. The Kahl Farm would have encircled the marker in the past.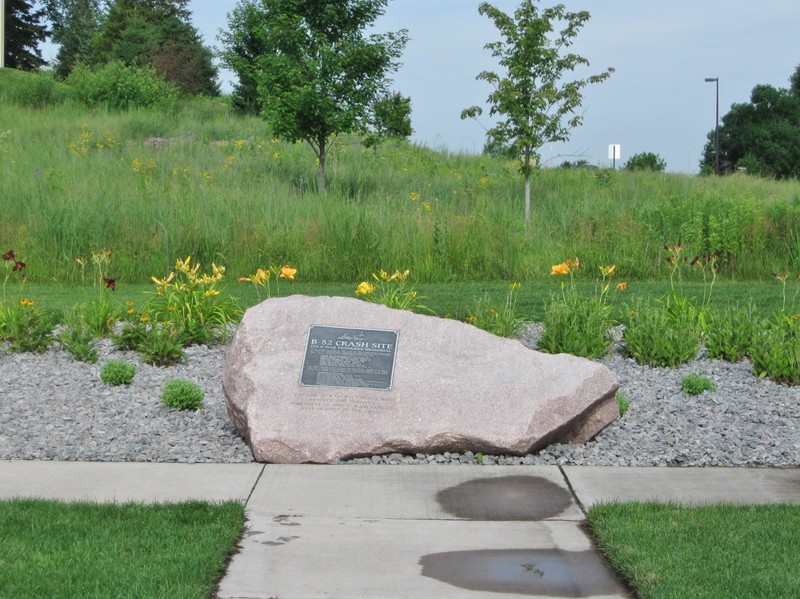 Backstory and Context
In September of 1958, a Cold War simulation of a nuclear strike on Minnesota went terribly wrong and a B-52 bomber crash landed in a field. Six crewmembers and two instructors were present and although four members ejected, only one survived, the co-pilot. Reasons why the bomber went down are unknown but the tail of the plane went flying off and the plane plumeted into the ground. No signs pointed to the crash before it happened and the crew remained silent throughout the crash. The plane crash happened at the Kahl farm where there were some people to attend to the wounded pilot. The family's barn was destroyed as well.
A marker at this point was made to remember the crew. Of those present on the crash were Captain Wm. C. Horstman, pilot, Kansas City, MO
Captain Richard J. Cantwell, navigator, Phoenix, AZ
Major S. O. Gillespie, Jr., radar observer, Atlanta, GA
1st Lt. Wm. F. Huskey, engineer, Norman, OK
T/Sgt. Leon R. Lew, tail gunner, Skokie, IL
Captain James D. Taylor, instructor, Dixon, KY
Captain Benard D. Lanois, instructor, San Diego, CA
The reprecussions of the event included better safety of ejection although the military at the time kept the event quiet. The family was compensated for their loses and recovered from their injuries.
Sources
1. http://www.aerohistorians.org/index.php/club/articles/30-b-52-crash-site-memorial, B-52 Crash Site Memorial, viewed November 15,2015 2. http://www.twincities.com/dakota/ci_10474053, Ferraro, Nick, Inver Grove Heights/Aviation buff can cite names of crew who died in B-52 crash 50 years ago, September 16, 2008 3. http://www.hmdb.org/marker.asp?marker=45193, viewed November 15, 2015 4. http://wikimapia.org/22306884/B52-Bomber-Crash-Site-Memorial, viewed November 15, 2015