Corydon Capitol State Historic Site
Introduction
Constructed between 1814 and 1816, this building served as the first state capitol of Indiana. Corydon replaced Vincennes as the territorial capital of Indiana in 1813 owing to its more central location and it was at this location where delegates drafted and debated the state's first constitution. These debates occurred in June of 1816 while work was still underway on this limestone building so many of the conversations occurred under the shade of a nearby tree known as "Constitution Elm." Visitors can tour the building which includes exhibits about the formation of the state government and early history of Corydon.
Images
Corydon Capitol State Historic Site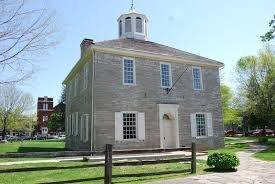 Backstory and Context
This building served as Indiana's state capital from 1816-1825 when the legislature decided to move the capitol to Indianapolis to reflect the growth of that city and the shift of the state's population. The building was later used as the courthouse for Harris County.
Additional Information