Prospect Park Zoo
Introduction
The Prospect Park Zoo is one of four New York City zoos as well as the New York Aquarium operated by the Wildlife Conservation Society. The other New York City zoos are the Bronx Zoo, the Queens Zoo, and the Central Park Zoo. Together they attract more than 4 million visitors each year. The Prospect Park Zoo features a variety of exhibits, activities, and special events. It is open 365 days a year.
Images
The Prospect Park Zoo has had a long history in Brooklyn full of ups and downs. It is currently part of a group of New York City zoos managed by the Wildlife Conservation Society.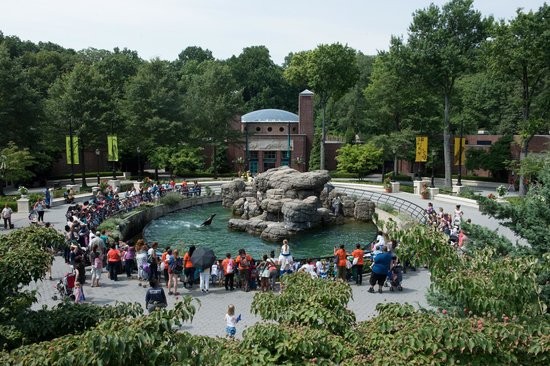 Backstory and Context
Animal exhibits at the Prospect Park Zoo include Animal Lifestyles, Barn and Garden, Discovery Trail, Hall of Animals and Sea Lion Court. Activities include the Discovery Center which allows the Zoo's youngest guests to interact with animals and learn from first-hand experiences, as well as the Sea Lion Training Sessions which help stimulate the sea lions. The Zoo also offers camps, special programs, occasional events, field trips and themed birthday parties.
The Prospect Park Zoo, which is small in size at about 12 acres, houses nearly 400 animals of more than 100 species. The facility has been home to some form of menagerie or zoo since the late 1800s. It became a more modernized zoo after the formation of the New York City Parks Department and plans were announced for the Prospect Park Zoo in 1934. It opened in 1935.
The Zoo went through a number of ups and substantial downs in the following years until it was closed in 1988. Animals were relocated to other facilities and the Parks Department conducted a major tear down and rebuilding phase. It was turned over to the NY Zoological Society in 1993. In re-opened in late 1993. That coincided with the NY Zoological Society changing its name to the Wildlife Conservation Society. The Zoo has survived budget woes and struggles with attendance, but thankfully, it has been on the uptick in recent years.
Sources
"Experiences." Prospect Park Zoo. Accessed Web, 6/7/17. http://prospectparkzoo.com/activities.

"About Us." WCS. Accessed Web, 6/7/17. http://www.wcs.org/about-us.

Finder, Alan. "Rebuilding a Brooklyn Zoo, Step by Agonizing Step; When the Residents Can't Complain, Why Rush a Much-Delayed City Project?." New York Times. 4/8/93. Accessed Web, 6/7/17. http://www.nytimes.com/1993/04/08/nyregion/rebuilding-brooklyn-zoo-step-agonizing-step-when-residents-can-t-complain-why.html.


Additional Information