Andy Griffith Museum and Home Place
Introduction
The Andy Griffith Museum is a wonderful place to visit to see all things Andy Griffith. Because the museum is located right in the town where the iconic actor Andy Griffith grew up, it is easy to see why the museum has become a popular tourist attraction. The town portrayed on The Andy Griffith Show was based upon this small town located in Mt. Airy, North Carolina. Since the show was so successful and continues to be popular with people of all ages, this town has decided to give the fans an opportunity to experience Mayberry first hand. The museum does not simply include one building, but multiple buildings and attractions in the surrounding area. The town takes visitors on a trip back in time so they can actually see what a real town such as Mayberry would have looked like.
Images
Andy Griffith's home place and bed in breakfast where guest can now stay the night.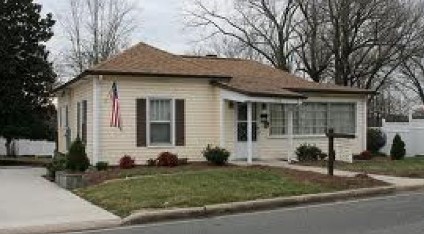 The Andy Griffith Museum has many props and information about The Andy Griffith Show and several other movies staring Andy Griffith.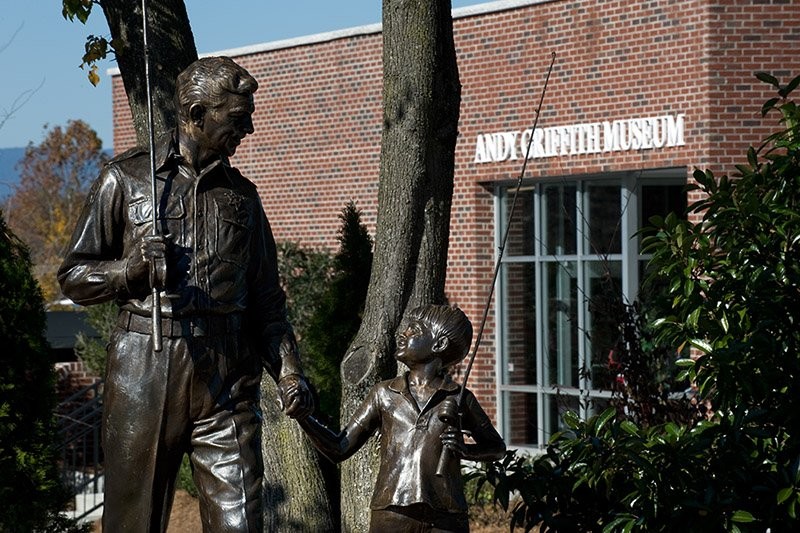 Backstory and Context
At the museum, guest are able to access an abundance of memorabilia and props used throughout Andy Griffith's career as an actor and singer. Other exhibits aside from the actual museum include admission to Old-Time Music Heritage Hall and a "Mayberry to Mount Airy" photo museum. During the year guest should keep up with events that will be occurring at the museum. For example, Betty Lynn, who played as Barney Fife's girlfriend on The Andy Griffith show, visits the town often throughout the year to take pictures mingle with fans. The museum is open seven days a week so visitors can take tours or and browse the gift shop that offers many Andy Griffith themed souvenirs.
One event that occurs annually is Mayberry Days. During this time, people from all over the world come together to celebrate all things Mayberry. This event definitely has something for all ages whether you wish to participate in "The Emmett" golf tournament, or you would enjoy listening to the street musicians playing some of the popular bluegrass songs from the show. Special guests attend this event and most of them have been either main characters or have made appearances on The Andy Griffith Show. So you never know who you will get to see while at Mayberry Days. 2016 tickets are already on sale, so make sure to plan your trip to this event as soon as possible.
If you want to get even more of the Mayberry Experience, you can stay in Andy Griffith's home where he grew up. Located on 711 Haymore Street, the house was converted into a Bed and Breakfast so guest could get a glimpse of what Andy's home place may have been like when he was a child. Andy lived in this home until completion of high school. The house only has two bedrooms and one bath, so if you wish to stay in the house, space is limited; however, you can be treated with a continental breakfast from the Snappy Lunch. Located less than a mile from town, staying in Andy Griffith's home place is a great way to experience Mayberry.
The actual town is a history lesson in itself. There is a replica filling station, jail house, and even dining areas that resemble those from The Andy Griffith Show. The jail house is always open for visitors to look through and take photos at Andy's desk or behind bars, free of charge. There is even an option to take a ride in Barney's cop car. Beside the jail house, you will see the old filling station and also a replica vehicle that was used by the Darlin's when they came to town. On Main Street, there are many shops and several places to eat. Inside The Blue Bird Diner and Snappy Lunch, fans will once again be taken back in time with the retro décor. Need a haircut? There is a place called Floyd's Barber shop, with the original Floyd still cutting hair. With all of these places to visit and things to do in Mt. Airy, it is easy to want to visit and never go home.
Sources
http://www.andygriffithmuseum.com/ http://www.surryarts.org/mayberrydays/index.html https://www.facebook.com/andygriffithmuseum/ http://www.visitnc.com/listing/andy-s-homeplace
Additional Information