Fort Hamilton
Introduction
Historic Fort Hamilton is located in the southwestern corner of Brooklyn, New York, surrounded by the communities of Bay Ridge, Dyker Heights and Bensonhurst. Its mission is to provide the New York metropolitan area with military installation support for the Army National Guard and the United States Army Reserve. Fort Hamilton is a combined community comprised of active-duty Army, Navy, Air Force, Marines, Coast Guard, National Guard, and Reserve Components. The orginal part of the fort was constructed from 1825 to 1831, but there have been many additions since the 1870s. This entry takes you to the Visitors Entrance into Fort Hamilton at 101st St. and Ft. Hamilton Parkway, underneath the Verrazano Bridge overpass. See the Harbor Defense Museum Clio entry for the museum on the base, in the preserved portion of the fort, and how to access just the museum.
Images
Fort Hamilton U.S. Army Garrison logo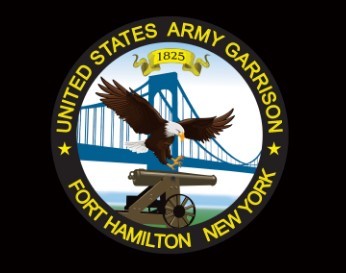 12-inch disappearing gun at Fort Hamilton in 1908 photo from 1919 book on WW I (Miller, J. Martin et al.)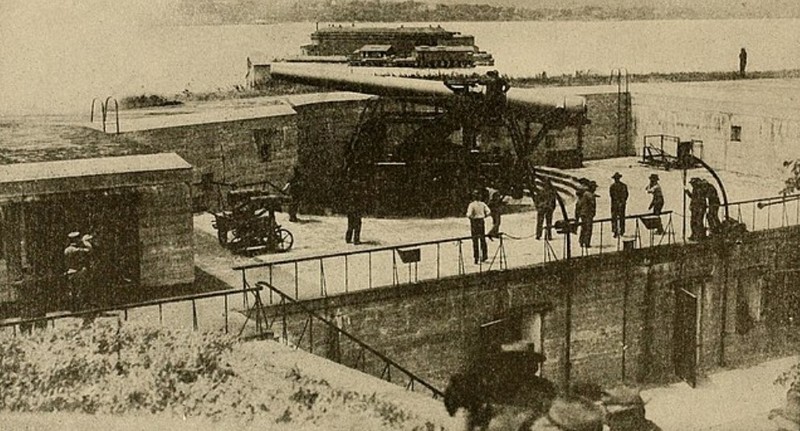 Sketch of Ft. Hamilton from 1882 book by British author Joel Tyler Headley (p. 26)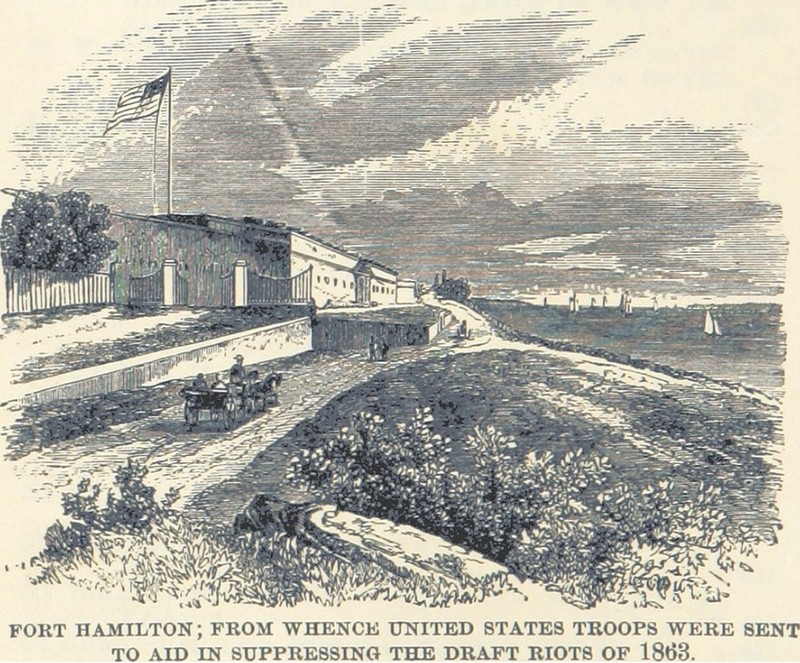 Recreation time, next to camp tents at Fort Hamilton in 1908 photo (Bain News Service)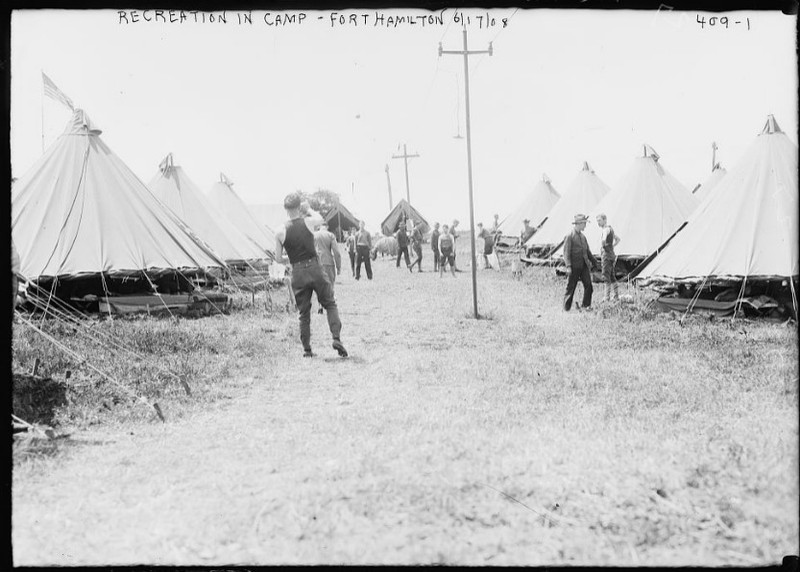 Fort Hamilton area on 1890 atlas map of Kings County (Robinson p. 9)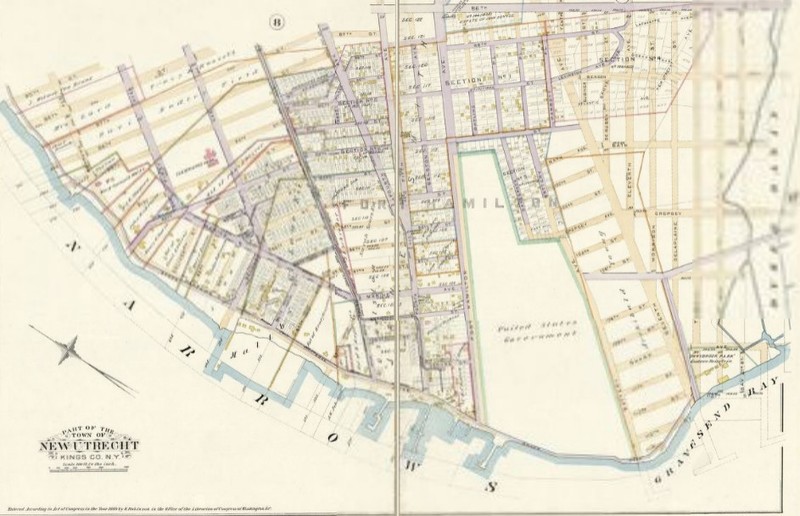 Ft. Hamilton (red arrow) & vicinity on 1859 inset map (Walling)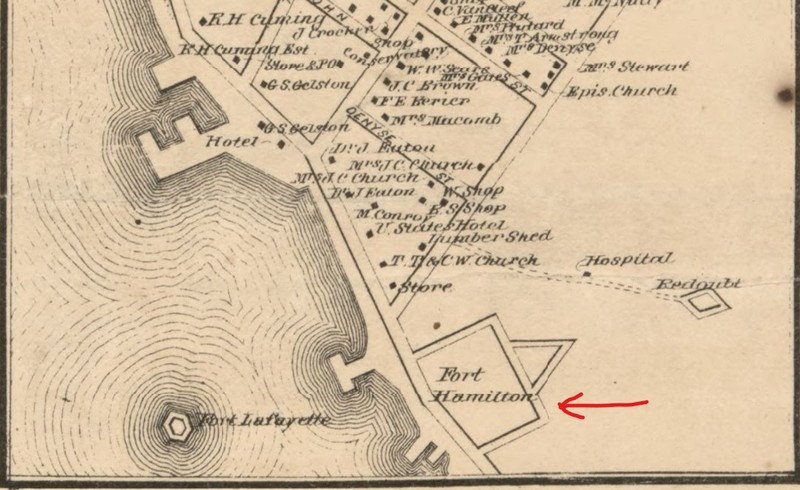 Backstory and Context
Colonial Americans understood the importance and need of a military presence in the New York City Area in 1776. A military installation of some kind has been present in the area since then. But it was in June 1825 that the cornerstone was laid for Fort Hamilton. It took six years to build the facility.
Fort Hamilton played especially significant roles in the Civil War as well as both World Wars. It was key in the areas of defense, training and deployment in those wars. Many expected that the base would be closed in 1995 as part of Congress's Base Realignment and Closure (BRAC) Commission. However, the base was not recommended for closure and continues to serve as both an active base and a training center for Army Reserve and National Guard units. 
Today, the United States Army Garrison Fort Hamilton is the only active military base in the city of New York. As such, it has served as a critical base of operations in the aftermath of Hurricane Sandy, the terrorist attacks of September 11th, and many other natural disasters and threats. The base serves a joint federal and state mission, providing ready Army, Navy, Marines, Air Force, Coast Guard, and Reserve personnel for the active U. S. military and the state of New York.
Sources
Fort Hamilton Museum. History of Ft. Hamilton, Fort Hamilton Museum. Accessed circa 2015 and May 7th 2022. https://www.harbordefensemuseum.com/history-of-ft-hamilton.html.
Military OneSource. Fort Hamilton, Military Installations. January 1st 2022. Accessed May 7th 2022. https://installations.militaryonesource.mil/in-depth-overview/fort-hamilton.
U.S. Army. Visitor Information, Fort Hamilton, U.S. Army Garrison. January 1st 2022. Accessed May 7th 2022. https://home.army.mil/hamilton/index.php/about/visitor-information.
Image Sources
https://home.army.mil/hamilton/index.php/about/visitor-information

The People's War Book...(R.C. Barnum Co., Cleveland), 1919: https://en.wikipedia.org/wiki/Fort_Hamilton#/media/File:The_people's_war_book;_history,_cyclopaedia_and_chronology_of_the_great_world_war_(1919)_(14595327968).jpg

Pen and Pencil Sketches of the Great Riots...(E.B. Treat, N.Y.C.), 1882: https://commons.wikimedia.org/wiki/File:HEADLEY(1882)_-p026_Fort_Hamilton,_1863,_from_whence_U._S._Troops_were_sent_to_aid.jpg

Bain Collection, Library of Congress (LOC): https://www.loc.gov/item/2014681930/

LOC: https://www.loc.gov/item/2011594778/

LOC: https://www.loc.gov/item/2013593266/

Additional Information