The Museum of the Rockies
Introduction
Opened in 1957, The Museum of the Rockies combines a world-class natural history museum with collections of art and regional history. The museum boasts one of the largest collections of dinosaur fossils in the United States with many things that are important to the history of Montana and the Rocky Mountains. Many exhibits in the museum help to highlight and document the history of that area.
Images
The Museum of the Rockies is a Smithsonian Affiliate and a Federal Repository for fossils.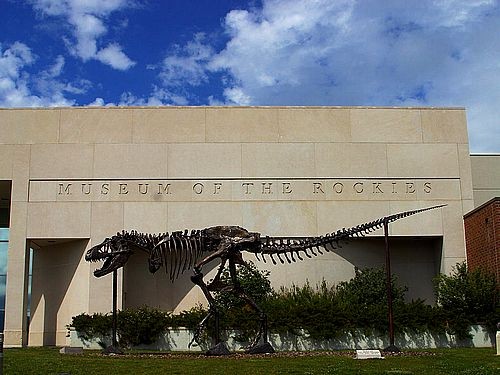 Backstory and Context
The Museum of the Rockies was founded in 1957 by Dr. Caroline McGill. From the very beginning, it has been associated with Montana State University which is also located nearby in Bozeman, MT. Howver, it was not officially given the name "Museum of the Rockies" until 1965. After some building and expansion, the very famous Jack Horner was hired as the curator for paleontology. Horner was able to greatly expand the research completed at the museum and furthered the collection of dinosaur bones. In fact, he became the scientific adviser for the Jurassic Park movies.

The Museum holds one of the most impressive and important collections of dinosaur fossils in the nation. However, this is not the only exhibit at the museum that holds a deep history. The Enduring Peoples exhibit allows visitors to see the Native American way of living in the plains and mountains in the nearby area before the intrusion of Europeans- an event that led to natives being forced onto small reservations. Also, the Paugh Regional History Hall shows visitors the history of Montana's residents, from Native Americans to World War II.

Today, many researchers are able to study a large collection of fossils that include triceratops and tyrannosaurus rex bones. This research is not limited to that, however. Jack Horner and his team of paleontologists have made many breakthroughs and discoveries while studying their collections. As a result, the Museum of the Rockies has produced many publications that have supported their reputation as a research leader.
Sources
"About MOR." Museum of the Rockies. Accessed March 15, 2015. https://www.museumoftherockies.org/about-mor/museum-history
Additional Information