First Congregational Church of Detroit
Introduction
Established in 1844 and one of the most active congregations within the anti-slavery movement, the First Congregational Church of Detroit has a rich history in the Underground Railroad nationally and is recognized as a registered historic site.
Images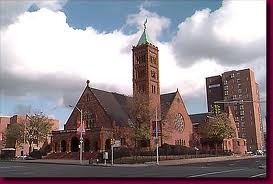 Backstory and Context
Established on December 25, 1844, the first two church buildings were located near the Detroit River at Fort and Wayne Streets. The basement of the second edifice of the church was used to hide refugees of the Underground Railroad enroute to boats at the foot of Wayne Street. The church was built on its present site in 1891 at the peak of the Victorian era.

Unlike the plain, small meeting houses of the traditional New England Congregational Churches, this structure was designed with grand ornamentation and symbolism by architect, John Faxon of Boston, who traveled to Europe and patterned the building after churches found in Venice and Ravenna.

Today's site is home to the First Congregational Church of Detroit and to the First Congregational Living Museum Underground Railroad, housed in the church's Albert Kahn-designed Angels' Wing Community House. The Community House includes a richly paneled lounge and spacious dining room on the first floor, a gymnasium and stage on the lower level and classrooms, offices and a children's resource center on the second story.