Babe Ruth Birthplace and Museum
Introduction
At the corner of Emory and Dover Street in Baltimore Maryland is the birthplace of George Herman Ruth, who later became known as "Babe" Ruth. Here Ruth lived with his grandparents until he was sent off to a Catholic industrial trade school at age seven. Away at school is where Ruth was introduced to and taken in by Jack Dunn, who led him to his baseball success. Ruth's birth home serves as a museum honoring Ruth's life and baseball career. It opened July 19, 1974.
Images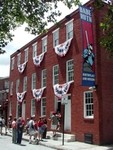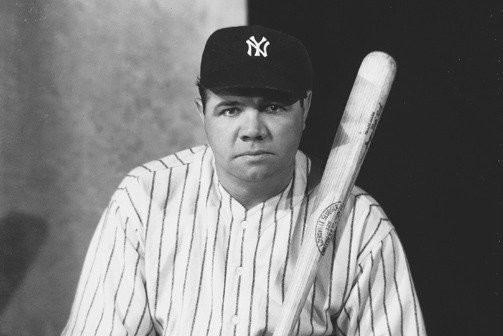 Backstory and Context
George Herman "Babe" Ruth was born in Baltimore, Maryland on February 6, 1895. Of eight children, he and his sister, Mamie, were the only two who survived. Ruth was born into a poor family and his parents often worked long hours, allowing Ruth ample time to create mischief. At seven years old, his parents felt that he needed stricter authority and sent him away to the St. Mary's Industrial School for Boys.
It was at this school where Ruth developed his love for baseball. Many of the Catholic monks who ran the school introduced him to the game and helped him to master his skills. The Brothers at St. Mary's even invited Baltimore Orioles owner Jack Dunn to see Ruth play. Impressed with what he saw, Dunn offered Ruth a contract to play on the team, upon which he accepted. But because Ruth was only 19 years old, Dunn had to agree to be Ruth's legal guardian in order for the contract to be legal. Because of his young age, Ruth was referred to as "Jack's newest babe" by Orioles players--hence the name, "Babe" Ruth.
After playing with the Orioles, Ruth was bought by the Boston Red Sox and played from 1914-1919, the year in which he set a single-season record of 29 home runs. Ruth was then bought by the New York Yankees on December 26, 1919. In 1920, he beat his own record with 54 home runs, and then again in 1921 with 59. The Yankees became one of the greatest, most famous teams in history, thanks to their star player.
After 22 remarkable seasons, Babe Ruth retired from baseball and was one of the first players inducted into the Baseball Hall of Fame the following year. Over the course of his career, Ruth hit 714 home runs, 2,873 hits, 2,174 runs, and 506 doubles. The Babe Ruth Birthplace Museum is located just 3 blocks west of Oriole Park in Baltimore and honors Ruth's legacy as one of the greatest baseball players of all time.
Sources
Babe Ruth. baberuth.com. 2018. November 8, 2018. http://www.baberuth.com/.

Jones, Devry. Babe Ruth Birthplace Museum. hmdb.org. October 30, 2018. November 8, 2018. https://www.hmdb.org/marker.asp?marker=125679.

Babe Ruth. baseballhall.org. . November 8, 2018. https://baseballhall.org/hall-of-famers/ruth-babe.

Babe Ruth Retires. history.com. August 21, 2018. November 8, 2018. https://www.history.com/this-day-in-history/babe-ruth-retires.


Additional Information