Parkersburg South High School
Introduction
Parkersburg South High School, locally known as "South", is located in Wood County in West Virginia. The high school was originally established in 1967, but has undergone construction many times since. It serves grades ninth through twelfth, and has received many awards of excellence for their academics. The school serves around 1600 students.
Images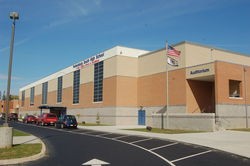 Governor Tomblin signing Bill 421 into law allowing The Patriot to carry the musket to any school in West Virginia.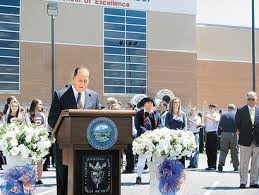 Backstory and Context
Parkersburg South, so named for its position on the South side of the city of Parkersburg's natural divider, The Little Kanawha River, has flourished since it's creation. Academic and athletic recognition has been awarded to South throughout the years.
Known for being fierce competitors, Parkersburg South has had many great athletic programs, most notable is their wrestling team. The Parkersburg South wrestling team has won the state championship 19 times since their first win in 1975.
Beyond the school's individual athletic success, along with Parkersburg High School and Parkersburg Catholic High School, the town of Parkersburg was in the running for Titletown USA. Parkersburg finished as runner up. The rivalry between South and PHS has been heated even more since. Known as the Cross Town Show Down.
The school's mascot, The Patriot is known for his scoring celebration, shooting a musket. This has been a controversial issue for many a year since the very beginning of the school. This controversy has been somewhat silenced since the passing of West Virginia Senate Bill 421, which exempts the high school mascot from the safe schools act and allows him or her to carry this musket to any School in West Virginia. The bill was signed into action on the front lawn of Parkersburg South by Governor Earl Ray Tomlin.
Sources
http://en.wikipedia.org/wiki/Parkersburg_South_High_School http://www.statejournal.com/story/21891508/bill-passes-wv-legislature-allowing-parkersburg-south-patriot-musket-on-school-property-safety-tomblin
Additional Information