Joan C. Edwards Stadium
Introduction
Joan C. Edwards Stadium is the current football stadium for the Marshall University Thundering Herd. The $30 million stadium opened in 1991 and replaced the old Fairfield Stadium that was in use from 1928 to 1990. The Joan C. Edwards Stadium has hosted seven I-AA NCAA National Championships and five Mid-American Conference Championships, and is one of two Division I NCAA Football stadiums that are named after women. It contains seating for around 38,000 people, as well as twenty indoor sky suites.The Shewey Athletics Building is connected to the stadium and houses athletic offices.
Images
The $30 million Joan C. Edwards Stadium was built in 1991 to replace the old Fairfield Stadium.
Several blocks of homes and businesses, seen here in 1988, were demolished to make way for the stadium.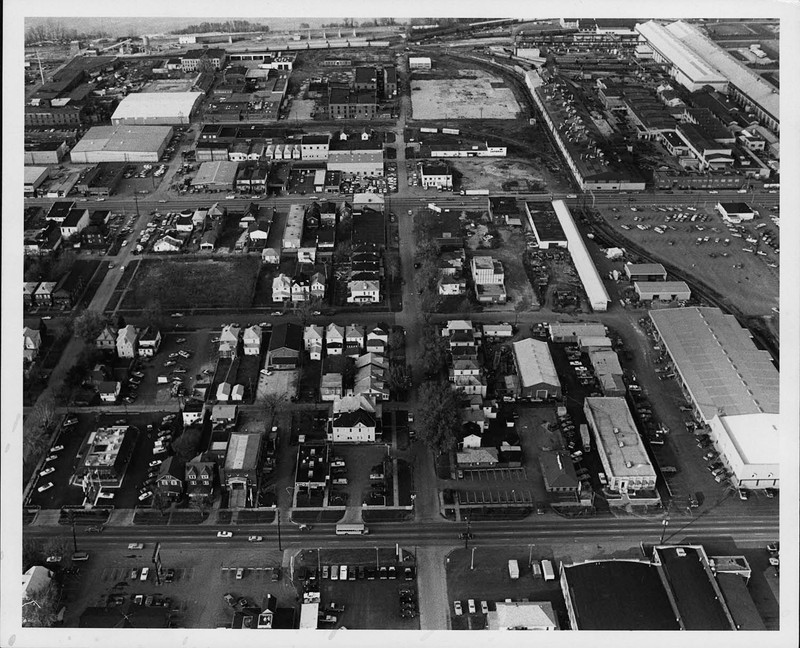 The stadium can seat up to 38,000 people and includes 4,332 chair back seats, 300 handicap-accessible seats, and 20 indoor sky suites.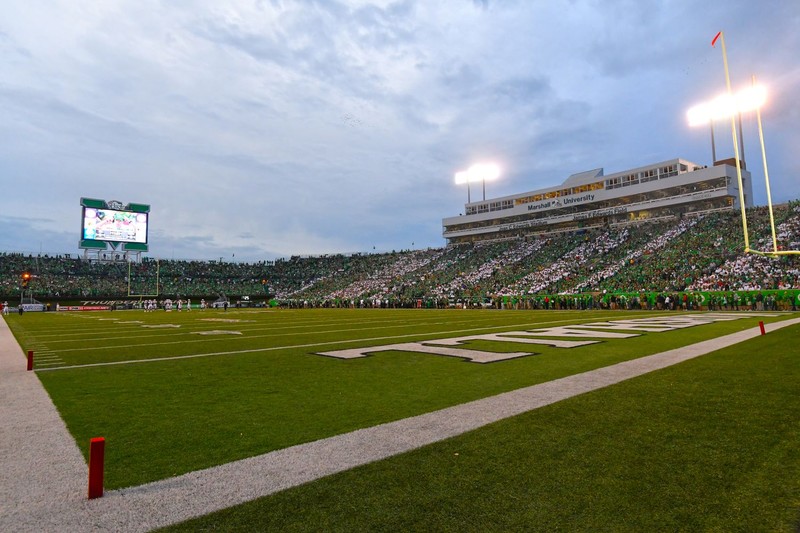 This bronze sculpture and plaques were installed in 2000 to honor members of the Thundering Herd who perished in the 1970 plane crash.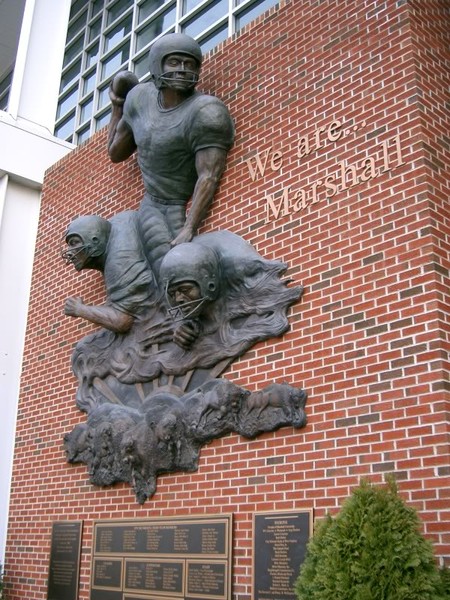 Jazz singer, mattress company executive, and philanthropist Joan C. Edwards (1918-2006) donated tens of millions to dollars to Marshall over the years.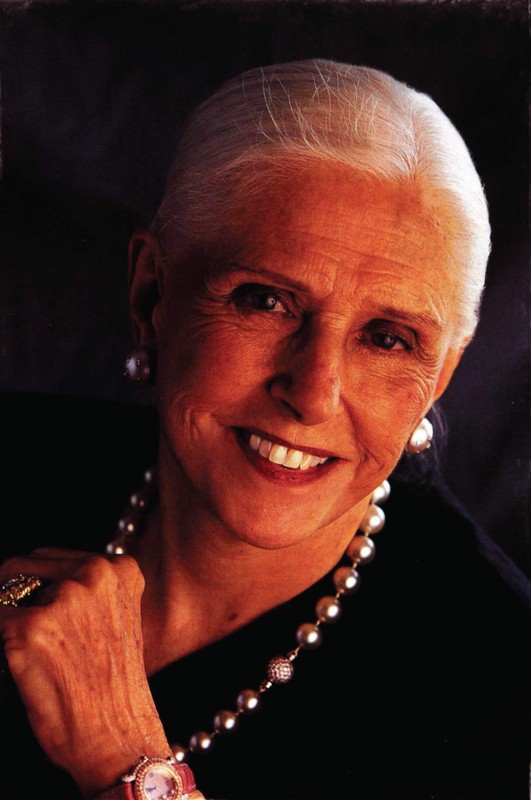 Backstory and Context
During the mid-1980s serious discussion began regarding the building of a new football stadium at Marshall. The Thundering Herd football team had played at Fairfield Stadium along Columbia Avenue since 1928, but it had become too small, old, and outdated. In 1986 Governor Arch A. Moore, Jr. announced his willingness to secure state funding for a new football stadium. In 1989 the Board of Regents approved a $70 million bond that included $30 million to build the stadium. Near the end of the year several commercial and residential blocks east of campus were demolished to make space for the site. Construction of the Marshal University Stadium began in 1990 and was completed by the fall of 1991.
The stadium weathered a few controversies during its construction period. Over 100 union contractors and Marshall faculty protested during the groundbreaking ceremony on July 18, 1990, compelling keynote speaker Governor Gaston Caperton to cancel his appearance. Union members criticized Marshall for using non-local, non-union labor during the construction, while faculty accused the school of prioritizing athletics over academics. Near the end of construction, a design error was found that resulted in the stadium having only 28,000 seats instead of the planned 30,000. The additional seats were added in 1995.
Marshall played its first game in the stadium on September 7, 1991, in which it beat the New Hampshire Wildcats 24-23. Since then it has hosted the NCAA Division I-AA National Championships in 1991-1996; Mid-American Conference Championship games from 1997-2000 and in 2002; and the 2014 C-USA Championship. Renovations in 2000 expanded the seating capacity to 38,000 (with room to grow to 55,000) and added a bronze memorial to the victims of the 1970 Marshall Plane Crash.
Marshall University Stadium was renamed the Joan C. Edwards Stadium in 2003 in honor of one of the university's most prolific donors. Joan C. Edwards (1918-2006) was a jazz singer who moved to Huntington in 1937 after marrying James F. Edwards, heir to the National Mattress Company (NAMACO). The couple owned and operated the successful business for decades. After James' death in 1991, Joan Edwards began contributing vast amounts of their fortune to various projects at Marshall, including the creation of a cancer center and the construction of a performing arts center. The football field of the stadium was named the James F. Edwards Field in 1991 in honor of a $2 million donation. In November 2003 the stadium itself was named in honor of Joan after she donated an additional $2 million. In total Joan and her husband contributed around $65 million to Marshall University. The stadium is only one of two college football stadiums named after a woman. 
Sources
Cantley-Falk, Rebeccah. "Joan C. Edwards Stadium." Herald-Dispatch. November 29, 2003.
Casto, James E. "Lost Huntington: Fairfield Stadium." Herald-Dispatch. February 16, 2014.
"Commission cites need for MU stadium." MU NewsLetter. August 4, 1988.
Groundbreaking Ceremonies Marshall University Stadium. July 18, 1990. Marshall University Special Collections.
Hanshew, Anthony. "Home sweet home: It's new, it's big, and it didn't come cheap." The Chief Justice, 1991-1992 (1992): 132-133.
Houvouras, Jack and Matthew Cooke. "Philanthropist Joan C. Edwards is Transforming Marshall University." Marshall Magazine 2 (2000): 9-12.
"Joan C. Edwards Stadium." Marshall University Athletics. Accessed January 22, 2020. https://herdzone.com/sports/2018/6/11/facilities-joan-edwards-stadium-html.aspx.
"Marshall stadium gets new name." Orlando Sentinel. November 28, 2003.
Marshall University News Release. January 30, 1991.
Massey, Tim R. "Unions, faculty turn out to boo stadium for MU." Herald-Dispatch. July 19, 1990.
McCoy, Beverly. "Remembering Marshall's Greatest Benefactor." Marshall Magazine (Autumn 2006): 12-13.
Morehouse, Keith. "Marshall's Football Stadium 20th Anniversary." Marshall Magazine (Summer 2011): 11-13.
Rodriquez, Marla. "September 7, 1991." Marshall Alumnus 33 (Spring 1992): 6-7.
"Timeline of Joan C. Edwards Stadium." Herald-Dispatch. October 23, 2014. 
Image Sources
Wikimedia

Marshall University Special Collections

Marshall University

Wikimedia

Marshall University

Additional Information