Conrad Weiser Homestead
Introduction
The Conrad Weiser Homestead sits on 26 acres and has a total of seven buildings on the land available for touring. There are also two large monuments, a gazebo, and the Weiser Family Cemetery. The story of Conrad Weiser and his work with the Indians is told through an exhibit that is located in three different buildings on the property. The home on the site is a National Historic Landmark and is listed on the National Register of Historic Places.
Images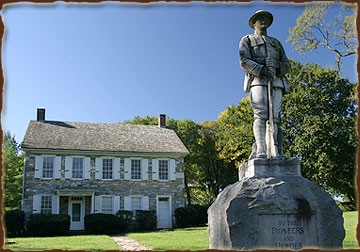 Exhibit at Weiser Homestead
Backstory and Context
Conrad Weiser was a peacemaker among Indians and his advancements contributed to the development of the English Colonies. Weiser was a German immigrant that grew up in Schoharie, New York. It was in New York that he learned about Indians and their language. He later moved to Pennsylvania where he prospered as a farmer but his knowledge of Indians and their language set him aside from others. He was selected as an ambassador to the Six Nations.
As an ambassador Weiser formulated policy based on recognition of the Iroquois as sovereign over the other Indians. This policy alienated the Delawares and Shawnees. He helped prevent war between Virginia and the Iroquois in 1743. His influence shifted the emphasis of British Indian policy from New York to Pennsylvania. Weiser extended Pennsylvania's Indian trade to Mississippi with the Treaty of Logstown in 1748, winning over many western tribes.
Weiser lost his commanding position with the Indians after the death of one of his influential Indian friends. Later in life, Weiser was a military command in the French and Indian War. Weiser's connection with the Indians helped in England's victory over France in the struggle for North America. At Weiser's death be was known as one of the best Indian interpreters and unparalleled contributions to the English Colonies.
Sources
http://www.conradweiserhomestead.org/ http://www.portal.state.pa.us/portal/server.pt/community/trails_of_history/4287/conrad_weiser_homestead_(ph)/472316 http://www.cr.nps.gov/history/online_books/colonials-patriots/sitec39.htm
Additional Information