Strawberry Fields
Introduction
Strawberry Fields is a section of Central Park West that was proposed by Yoko Ono. It serves as both a tribute to musician John Lennon and as a place for quiet reflection about Lennon's message of peace. The Black-and-white central mosaic bears the word "Imagine," the title of one of Lennon's many songs about peace. Strawberry Fields was opened and officially dedicated to Lenon on October 9, 1985.
Images
Strawberry Fields was officially dedicated on October 9, 1985, the 45th anniversary of Lennon's birth.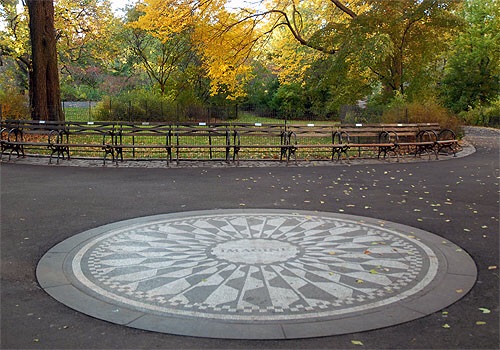 All the countries that contributed to Strawberry Fields.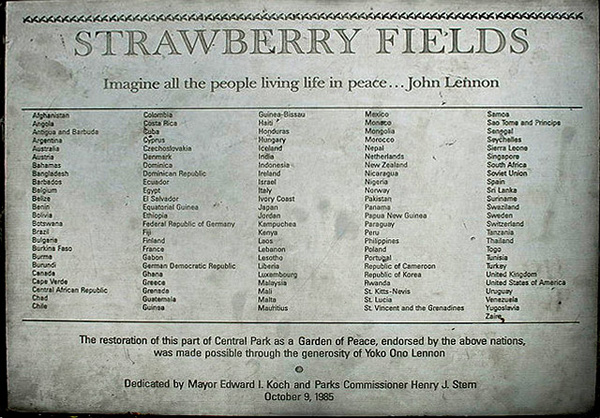 Backstory and Context
While strolling through Central Park many sites can be seen. One of the most memorable sites is Strawberry Fields. This 5.3 acre tear-drop shaped section of the park was dedicated to musician John Lennon, by his wife Yoko Ono, on October 9, 1985. Though this part of the park has become one of the most famous places to see, the city was reluctant to make this monument for Yoko when she requested for it to be built because the city wanted to preserve all of its 843 acres. Yoko had to obtain contributions from more than 50 different countries. All the countries that contributed are symbolically represented within the site.
Lennon's widow, Yoko Ono Lennon, worked with landscape architect, Bruce Kelly, and Central Park Conservancy to create a meditative spot for people to enjoy. The Black-and-white mosaic was created by Italian craftsmen and given as a gift by the city of Naples. Based on a Greco-Roman design, it bears the words of another one of Lennon's songs: Imagine. A designated Quiet Zone in the Park, the memorial is shaded by stately American elms and lined with benches. In the warmer months, flowers bloom all around the area. Along the path near the mosaic, you'll find a bronze plaque that lists the 121 countries that endorse Strawberry Fields as a Garden of Peace." Even today, visitors might hear inspiring musicians sitting around the memorial playing tunes made famous by The Beatles, the band that John Lennon was a part of.
From the New York City Parks' Website: "This tranquil section of Central Park was named after one of Lennon's favorite songs, "Strawberry Fields Forever." Recorded in 1966, the song's title comes from an orphanage in Liverpool, England where Lennon used to go to play with the children.
Sources
Central Park Conservancy. Accessed 4/20/17. http://www.centralparknyc.org/things-to-see-and-do/attractions/strawberry-fields.html.

Strawberry Fields. Central Park. Accessed 4/20/17. http://www.centralpark.com/guide/attractions/strawberry-fields.html.

Miller, Sara Cedar. STRAWBERRY FIELDS: Central Park's Memorial to John Lenon. Imagine Peace. Accessed 4/20/17. http://imaginepeace.com/projects/strawberryfields.


Additional Information