Cameron Indoor Stadium
Introduction
Long before becoming one of the most popular venues in all of college basketball, Cameron Indoor Stadium was simply a sketch on the back of a matchbook created by men's basketball coach and athletic director Edmund "Eddie" Cameron, and head football coach Wallace Wade in 1935. Known today as the "changing face" for Duke athletics, Cameron came up with the idea to build a larger "indoor stadium" after replacing Coach Wilbur "Cap" Card who was extremely popular among those at the university during his tenure, and was also nicknamed "the father of intercollegiate basketball in North Carolina." Because of his reputation, many administrators were concerned that the basketball program and the status of the university would decline once Eddie Cameron was chosen to take his place. However, with the help of African-American architect Julian Abele, Cameron decided to build a new gymnasium that not only would change the reputation of Duke University but would also impact the game of college basketball for years to come.
Images
Despite school administrators initially opposing his hire, Eddie Cameron became a well-known figure among the faculty at Duke University.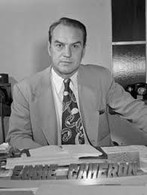 Eddie Cameron's relationships with the staff at Duke University were practically nonexistent during his first few years as head basketball coach, except for his close friendship with football coach Wallace Wade.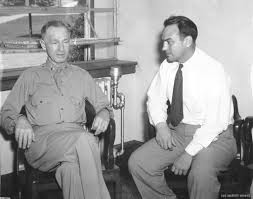 Initial construction for Cameron Indoor Stadium was projected to take at least 9 months, but the final product was actually finished in 6.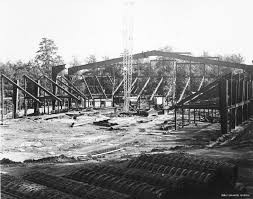 The design of Cameron Indoor Stadium was slightly modeled after the Palestra located in Philadelphia, Pennsylvania.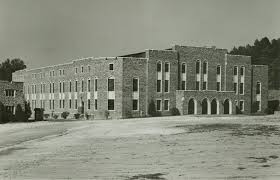 In 2001 in honor of Coach Mike Krzyzewski, the plaza surrounding Cameron Indoor Stadium was named "Krzyewskiville."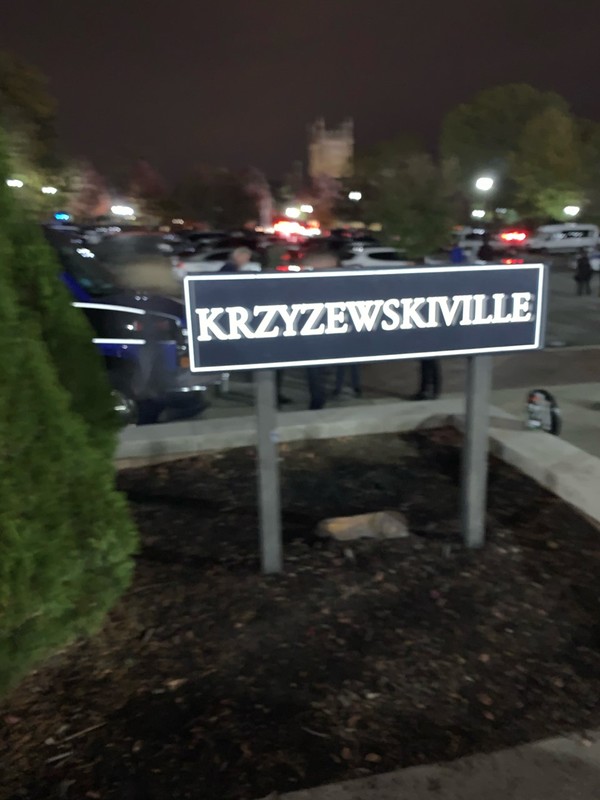 Among the decor that is spread across Cameron Indoor Stadium, the retired jerseys of Duke basketball greats such as Bobby Hurley hang from the ceiling.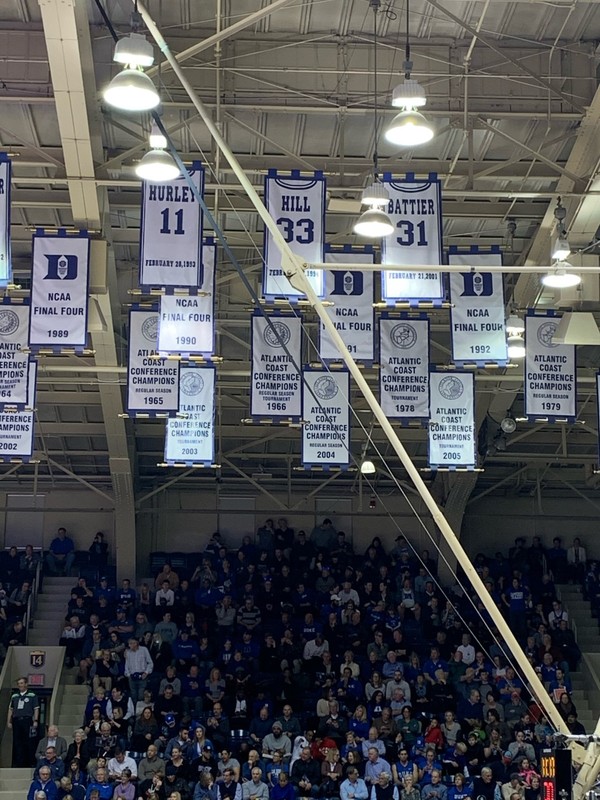 In addition to the retired jerseys, 5 banners hang on the opposite end of the gymnasium symbolizing the 5 National Championships won by each Duke program.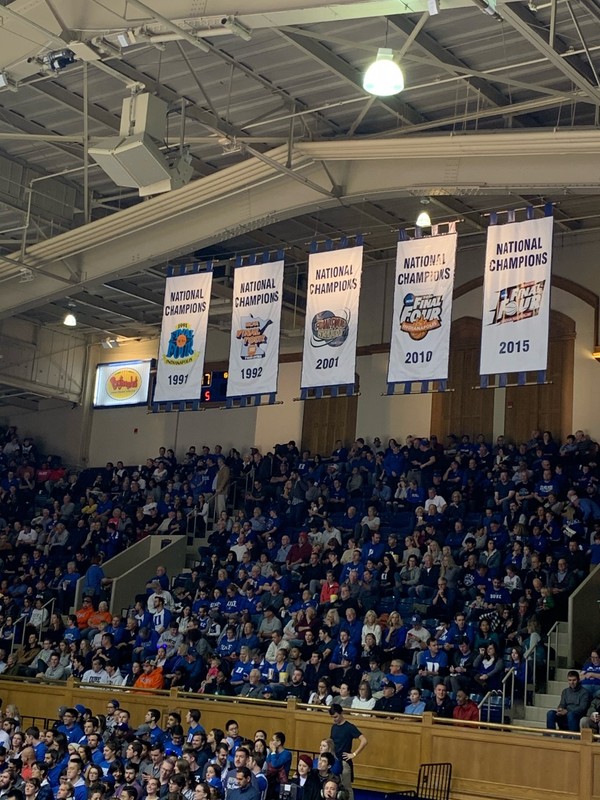 Although a popular spot during the day, night games at Cameron Indoor are a fan favorite.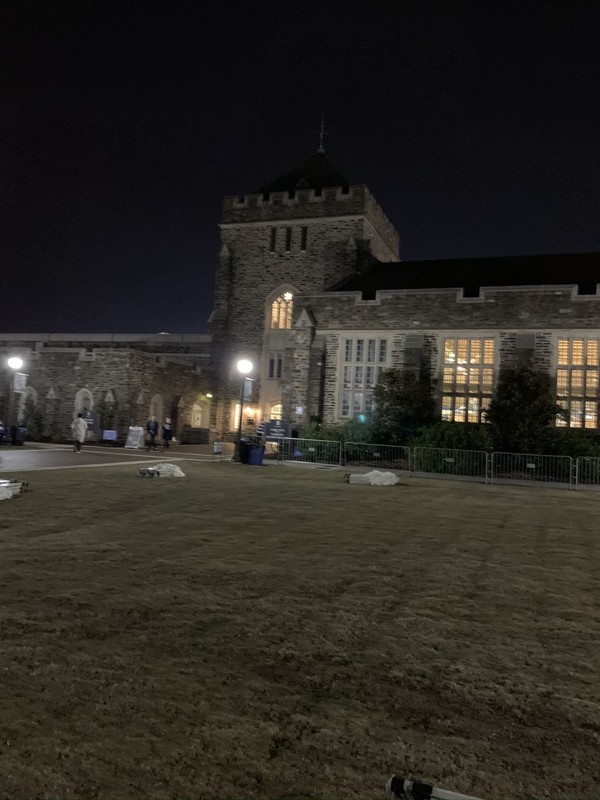 In 2011, Mike Krzyzewski reached 1,000 wins as a head coach, becoming the only Division I college basketball coach to achieve this.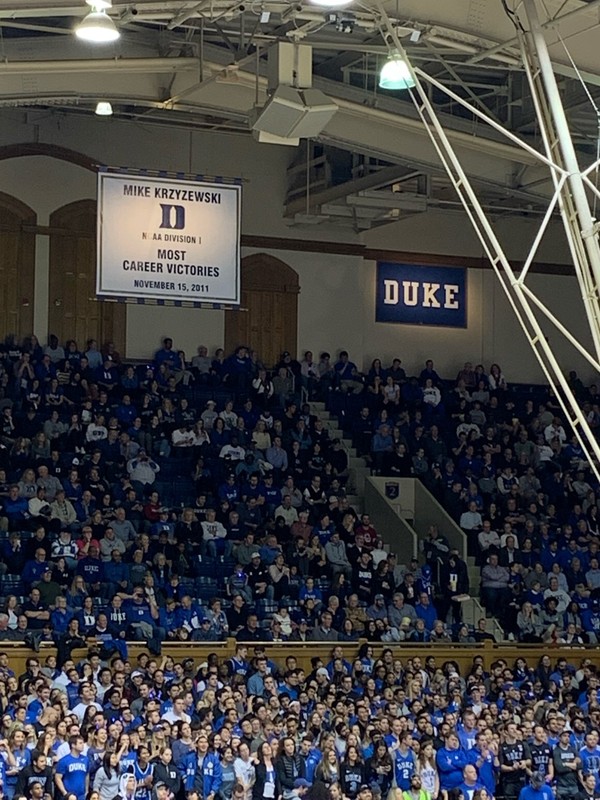 "The huddle" is considered a pregame ritual each home game.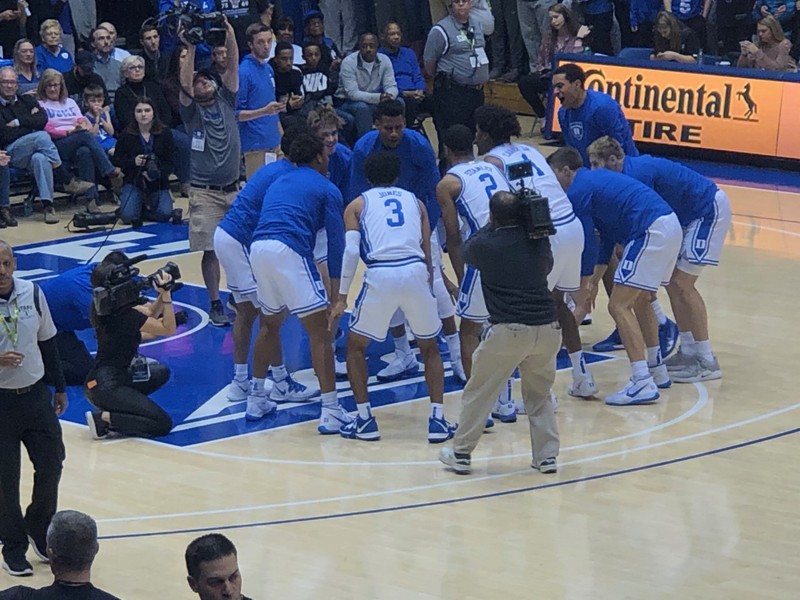 Christian Laettner is arguably one of the best college basketball players of all time. He led Duke to back to back championships in 1991 and 1992.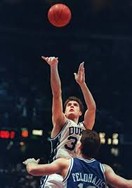 "The Cameron Crazies" are known as the loudest fans in college basketball. It is rumored that the sound of the student section yelling is louder than a jackhammer being pounded on a floor.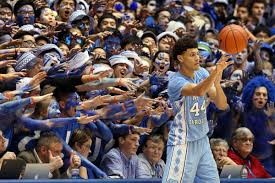 It has become tradition before each home game against rival North Carolina for the Crazies to camp out in "K-Ville." This process usually starts months before the game and requires students to be first in line in order to receive the best seats. However, all home games reach standing room only in the student section.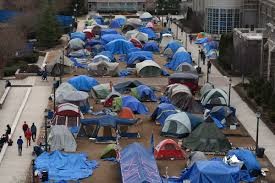 Backstory and Context
Author-Uploaded Audio
In 1838, wealthy Methodist and Quaker families living in North Carolina under the instruction of Minister Brantley York founded the Union Institute Academy in Randolph County, and ultimately decided to rename the school Trinity College in 1851 after consulting with the Methodist Church. Although the college was beneficial for those living in the county, newly elected university president John F. Cromwell, who was an avid supporter of the Methodist Church, thought that it would be more appropriate to move the location of the school to an urban setting that would entice a larger number of students, faculty, and more importantly donors who could keep the university running. At this time, Cromwell was struggling to find wealthy businessmen who were interested in loaning financial aid to a school since the majority of the money was being put into the tobacco businesses that were flourishing in the south. After several months of pursuing many different contacts, he was able to persuade two wealthy tobacco industrialists, Julian S. Carr, and Washington Duke, to become the leading donors. Because of their support, Trinity College was thriving with a reputation as one of the best liberal arts universities in the United States, and the number of students and faculty was increasing rapidly each year. Therefore, in 1892 the college was moved to downtown Durham, North Carolina, which had been Cromwell's goal from the beginning, and was also renovated following the change in location after Washington Duke once again donated a large sum of money to the university. 
     Immediately following the move to Durham, Washington Duke became severely ill and decided to step down as lead donor. Although Duke was not fit to continue his duties, he was determined to keep the family name involved in the school, and ultimately decided to have his son Benjamin Duke take his place. Benjamin had entered his father's tobacco business and was named vice-president of the industry prior to obtaining the role as a donor but was determined to step away from his father's image in order to create his own. As a result of his desires, Duke decided that Trinity College should be more than a liberal arts school; he consulted with other board members and friends who were in the construction business about building a gymnasium on the East side of campus, and in 1898, "Angier B. Stadium" was built in honor of Duke's son. The building was the first college gymnasium to be built in the state of North Carolina. Nicknamed "The Ark" because of a long narrow walkway that forced people to enter in groups of two, the court inside the building was even smaller measuring 32 by 50 feet, which was not the standard measurement for other collegiate courts at this time. Although the gym was used as a place for physical education activities on campus, Benjamin was adamant about collegiate sporting events being held as well and decided that the next step was to hire an athletic director who could make this happen. A year after the gymnasium was built he hired Albert Whitehouse, who became the first paid athletic director in North Carolina. After Whitehouse was hired, Duke met with him on several occasions insisting that a men's basketball team be formed so that the university could compete against other colleges, but Whitehouse was not willing to fill the role of coach on top of his other title. However, after several meetings with university administrators, it was decided that Wilbur "Cap" Card would become the first men's basketball coach of the school. Before arriving on campus, Card requested a tour of the grounds and the gymnasium where the games would be played. He was stunned to find that the building was not just small on the outside but the inside as well. It was later noted that in conversation with Benjamin Duke he stated, "Surely with a small court like this our team will have the advantage to win games- nobody will be used to playing inside a box." 
     In 1906, the first collegiate basketball game in North Carolina was played at Trinity College inside "The Ark" when Trinity hosted Wake Forest. After losing 24-10, this started a losing streak for the team which ultimately resulted in the firing of Albert Whitehouse in 1918, leaving the position of athletic director empty. Despite not having the success he initially hoped for, Benjamin Duke still planned to build a basketball program that could compete with fellow rivals Wake Forest, State, (North Carolina State) and North Carolina, and felt that he needed an athletic director to accomplish this. Although he was solely focused on his long-term goal, in 1924 as a tribute to his efforts to help maintain the school, the university was renamed "Duke University."
 After traveling to other colleges across the United States, Duke made the decision to hire Washington and Lee University football coach Jimmy DeHart, who refused the position until an agreement was reached that allowed his assistant Edmund Cameron to travel with him. After meeting Eddie Cameron, Benjamin Duke decided that he was the best fit for the athletic director position. DeHart and Cameron coached the football program until 1929 when Wallace Wade arrived from Alabama, and Cameron was named head basketball coach following the retirement of Cap Card. Despite his success as athletic director, school administrators felt that Cameron was not the right man for the job; they were disappointed that Card had retired and wanted to see one of his assistants take his place instead. However, Duke insisted that Cameron was the only man who could coach the program. After playing six seasons in "The Ark" and leading the team to the finals of the newly-formed Southern Conference tournament two consecutive years, Eddie Cameron had earned a solid reputation around campus. In 1935, he made the decision to approach university officials about the possibility of building a larger gymnasium on the other side of campus. He insisted that the crowds had become larger and that the basketball program had become too popular for such a small building. Initially, there was hesitation among boosters and administrators about the expense, but after putting it to a vote, it was decided that a new gymnasium needed to be built. As athletic director, Cameron promised to take on all responsibilities in order to accomplish this and began searching for an architect who could take on the job. 
     In 1939 once discussing his plan with his closest friend Wallace Wade who had just resumed his coaching duties at the university, Cameron began searching for an architect. After reaching out to several contacts, the two men were introduced to Julian Abele who was a well-known African-American artist throughout the state of Pennsylvania who had studied in France; once his designs were put on display for Cameron and Wade, Abele was offered a tour of the university so that he could get an idea of what he was supposed to draw up. Although Cameron had scheduled the tour, it had not been cleared by school officials, which resulted in Abele not having a hotel room booked for his stay. The school was appalled that Cameron would consider hiring an African American, especially during this time in the south, and Abele viewed this as an insult. However, due to his persistent nature, Cameron was able to convince both the school and Abele to work together in order to achieve the construction of the new gymnasium. After officially touring the campus, Abele decided that it would be best to model the new gym after another he had designed in 1927 known as "The Palestra," in Philadelphia, but Cameron and Wade already had plans of their own. On the back of a matchbook that has never been found, it is rumored that the two men drew up their own version of what they wanted the new gymnasium to look like, and Abele followed this model. The design was structured so that the court was close to each seat, a feature that Eddie Cameron thought would make the building unique. Although Cameron had the final say as athletic director, the school insisted that the building needed to be "approximately 240 feet long by 165 feet wide and from 40 to 50 feet high, and the main floor needed to be large enough for three full-sized basketball courts without temporary seats." In 1940, the gym was finished after a total of $325,000 dollars was spent by the school, which is equivalent to $5.85 million today. It was named "Duke Memorial Stadium," until it was renamed "Cameron Indoor Stadium" in 1972 in honor of Eddie Cameron.  
     In 1987, Cameron Indoor Stadium was renovated for the first time at a total cost of $400,000 dollars, equivalent to $7.15 million today. The renovations included the additions of heating, air conditioning, and new lighting, which were all essential in order to make the gym fit the modern mold of other college basketball venues. The original seats which could hold 8,800 people were also increased to 9,314, the same number that currently exists. Despite the renovations, the main features of Cameron Indoor remained the same, making its' limited space and close contact between the fans and players one of the best atmospheres to still exist in college basketball today. 
Sources
"ANGIER B. DUKE GYMNASIUM"/"THE ARK", Open Durham. Accessed December 10th 2019. https://www.opendurham.org/buildings/angier-b-duke-gymnasium-ark..
Gladstone, Mitchell. "Welcome to Cameron Indoor: The History behind a Gym That Became a Duke Basketball Icon.", The Chronicle. Invalid date. Accessed December 9th 2019. https://www.dukechronicle.com/article/2018/12/welcome-to-cameron-indoor-the-history-behind-a-duke-basketball-icon. .
McDonald , Amy. "Edmund M. Cameron (1902-1988), Duke University Libraries. Invalid date. Accessed December 10th 2019. https://library.duke.edu/rubenstein/uarchives/history/articles/cameron..
Williams, Shane. "Duke University", North Carolina History Project. Accessed December 8th 2019. https://northcarolinahistory.org/encyclopedia/duke-university/..
Image Sources
https://library.duke.edu/rubenstein/uarchives/history/articles/cameron

https://www.flickr.com/photos/dukeyearlook/8817916060

https://www.wunc.org/post/duke-basketballs-stadium-designed-african-american-during-segregation

http://www.opendurham.org/buildings/duke-cameron-indoor-stadium

Caldwell, Payton. "Krzyzewskiville."

Caldwell, Payton. "Duke Jerseys."

Caldwell, Payton. "Banners."

Caldwell, Payton. "Cameron Indoor Stadium."

Caldwell, Payton. "Coach K 1,000 Wins."

Caldwell, Payton. "2019 Duke team."

https://www.newsobserver.com/sports/college/acc/duke/article140178933.html

https://www.dukebasketballreport.com/2017/3/4/14816280/a-first-time-visitor-to-cameron-indoor-stadium-posts-his-reactionduke-basketball

https://www.dukebasketballreport.com/2018/2/1/16960018/k-ville-closed-duke-basketball-flu-duke-basketball

Additional Information