Tate House
Introduction
The Tate House sits in the beautiful rolling hills of Northern Georgia and was built by Colonel Samuel Tate in 1923. This unique home is made of pink and white marble. The home is often referred to as the Pink Palace. It was added to the National Register of Historic Places in 1974.
Images
In front of the Tate House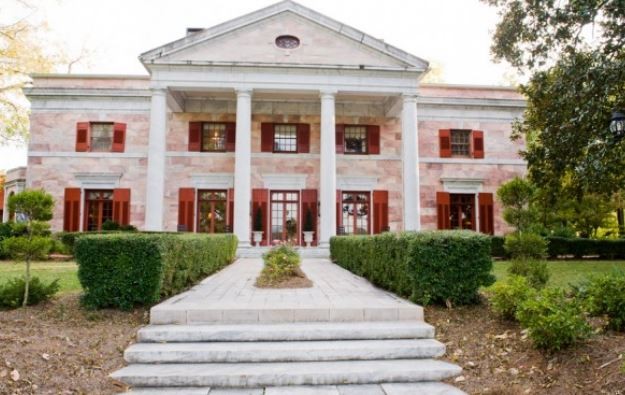 The Tate House at Christmas.
The Tate House sits just south of the Chattahoochee National Forest.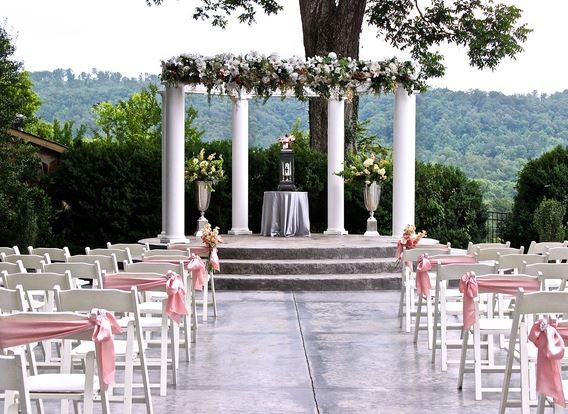 Backstory and Context
Colonel Sam Tate was a philanthropist and business tycoon. It was in the year of 1834, Colonel Tate decided to purchase the land that the Tate House is on. Stephen Tate was one his 19 sons and he started the mining of marble. Stephen Tate also consolidated the marble interests and gained control by 1917.
In between the years of 1920-21, Colonel Sam had his eye on something rare. This was known as the Etowah Pink Marble that came from the quarry that was located behind his house. He started collecting matching pieces and that was when he decided to start to build this Pink Palace. A few years later the Colonel, his brother Luke, as well as his sister Florentine, all moved into the pink mansion. The exquisite 19,000 square foot mansion's second floor features four bedrooms, each had a lavish marbled bathroom, and mantled fireplaces..
In the year 1938 and at the age of 78 Colonel Sam died. The last of his family left the mansion in the year of 1955. The house stayed neglected until 1974 when an Arizona woman named Ann Lard purchased it. She began to have major renovations done to the mansion over a 10 year span. The mansion was then purchased again in 2001 by Holbrook Properties, LP. Lois Holbrook remains the owner and her daughter Marsha Mann is the manager.
This stunning home today now serves as one of the top rated wedding venues in Northern Georgia. It has lavish gardens and six fountains on the property. It has been named one of the top "must see" places in Georgia by the Georgia Magazine. This must see home is located approximately 45 minutes north of Atlanta.

Sources
http://www.ajc.com/news/news/actual-factual-georgia-who-built-the-tate-house/njHTZ/ http://www.exploregeorgia.org/listing/2382-historic-tate-house http://www.tatehouse.com/ Photo Credits: http://www.tatehouse.com http://www.elizabethannedesigns.com/blog/2011/11/16/classic-summer-green-wedding/
Additional Information