West Fertilizer Company Explosion
Introduction
In this place on April 17, 2013, the explosion of the West Fertilizer Company in West, Texas took the lives of 15, injured over 200 more, and destroyed over 200 buildings. The explosion started as a fire, but reacted violently with ammonium nitrate fertilizer stored at the company.
Images
West Fertilizer Company Explosion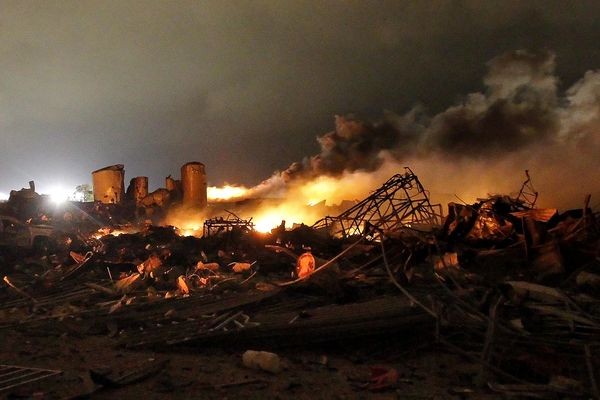 Fertilizer Plant After the Explosion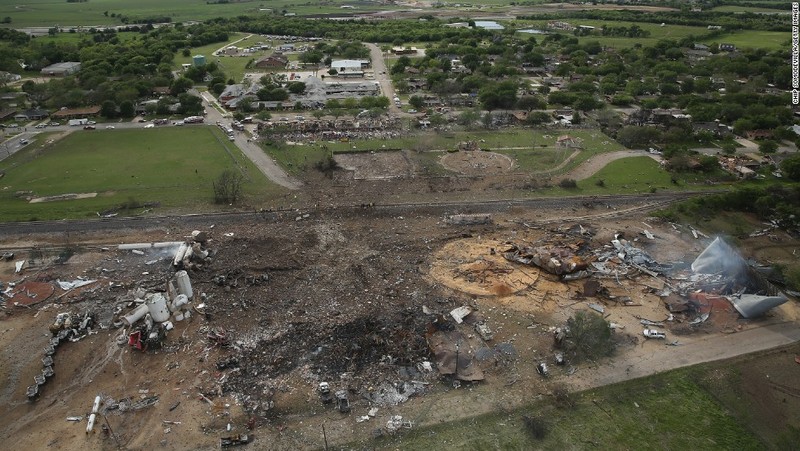 West, Texas Before and After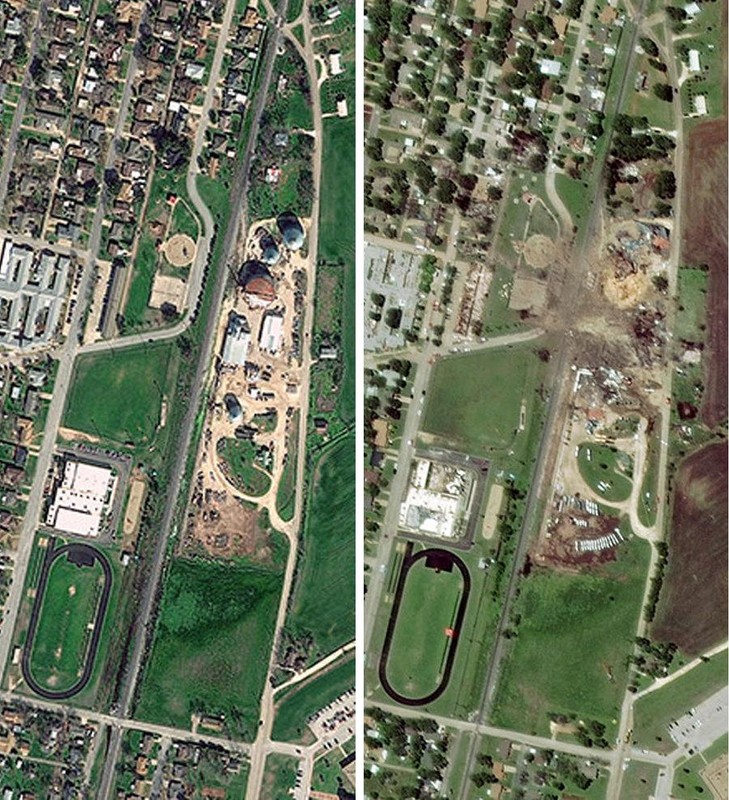 Backstory and Context
On April 17, 2013, what started as a fire in a fertilizer plant, turned deadly, exploding with a force of 7.5-10 tons of TNT and shaking the ground with a magnitude-2.1 earthquake. The explosion destroyed many buildings around it, including homes, an apartment building, a nursing home, and a middle school.

The initial fire caused the West Fertilizer Company plant to be evacuated before the explosion, likely saving many lives. However, 15 died and over 200 were injured. Among the first confirmed dead were ten first responders to the fire and two volunteer civilian firefighters.

The initial cause of the fire was unknown, but an investigation into the incident found the cause of the explosion to be stocks of ammonium nitrate fertilizer stored in a bin inside a seed and fertilizer building on the property. The U.S. Chemical Safety Board determined that the explosion was preventable--the chemicals (primarily ammonium nitrate fertilizer) were not properly stored, and federal, state, and local regulatory agencies did an inadequate job of finding the hazard and correcting it.

In the years since, a wall in the city's only funeral home was inscribed with the words "Never Forget" and features pictures of those killed, the nursing home was rebuilt, and a new playground was built in honor of volunteer firefighter and West City Secretary Joey Pustejovsky.

Sources
http://www.cnn.com/2014/04/22/us/west-texas-fertilizer-plant-explosion-investigation/ http://www.nbcnews.com/news/us-news/west-texas-still-rebuilding-two-years-after-deadly-explosion-n343606 http://usnews.nbcnews.com/_news/2013/04/18/17800341-our-hearts-are-broken-texas-town-grieves-in-wake-of-devastating-blast?lite
Additional Information