Wisconsin Veterans Museum
Introduction
The Wisconsin Veterans Museum has been a Smithsonian Affiliate since 2013 and offers exhibits and programs that interpret the role of Wisconsin veterans in shaping the nation's history. Stories of Wisconsin veterans from the Civil War through the present day are intended to educate and inspire guests to learn more of the state's military history at this museum which offers free admission to the public. Highlights of the museum include a Civil War cannon captured at the Battle of Shiloh, letters written by a World War I army nurse, and the option to listen to oral history interviews with local veterans of World War II. The museum also includes an exhibit that includes the Medal of Honor which was posthumously awarded to a local soldier in the Korean War, a Huey helicopter that flew missions in Vietnam, a Cold War era submarine periscope, and exhibits dedicated to the service of Wisconsin women and men in modern military conflicts.
Images
Here is a picture of the Wisconsin Veterans Museum.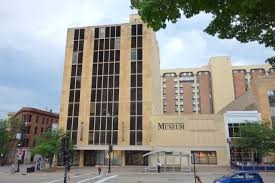 The Wisconsin Veterans Museum is located in a modern facility that opened in 1993.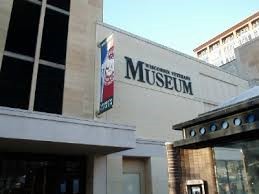 Museum exhibits include battle flags, uniforms, and weaponry.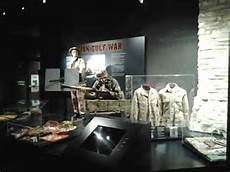 Exhibits on World War II are among the museum highlights.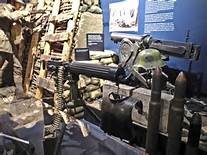 Here is a exhibit that is located at the museum.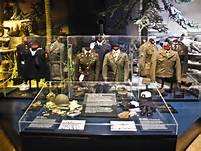 Backstory and Context
The origins of the museum date back to 1901, when Wisconsin Civil War veterans successfully lobbied the state legislature to establish a museum to remember the service and sacrifices made by Wisconsin men during the Civil War. The museum was located in the Grand Army of the Republic (G.A.R.) Memorial Hall inside the Capitol building. Civil War veterans operated the museum for almost 40 years. After World War II, the newly created Wisconsin Department of Veterans Affairs took charge of its care, and the museum began expanding its collection to conflicts after the Civil War. This change in scope was reflected by a name change in 1972, when G.A.R. Memorial Hall became the Wisconsin Veterans Museum (WVM). 
WVM moved from the Capitol to a newly renovated space across the street in 1993. The exhibit galleries trace the story of Wisconsin's role in American military history from the Civil War to the present. The exhibits bring back memories for veterans and stimulate discussion among visitors. A research center provides opportunities to learn more about the veterans in your family tree or conduct research on any number of topics. Programs and activities capture the interest and attention of everyone from school children to retired life-long learners. 
Wisconsin has a proud military history, from the Iron Brigade to the Red Arrow Division, from Arthur MacArthur to Richard Bong, from Billy Mitchell to Mitchell Red Cloud. WVM believes that EVERY VETERAN IS A STORY and is privileged to preserve stories of their sacrifice. Stop in at the Wisconsin Veterans Museum to learn more about the women and men from the Badger State who have served our nation. 
Sources
Additional Information