Joshua Lawrence Chamberlain Historical Marker
Introduction
Born as Lawrence Joshua Chamberlain on Sept. 8, 1828, to Sarah Dupee and Joshua Chamberlain in Brewer, Maine, Colonel Chamberlain was severely wounded near this location during the Battle of Petersburg. Given the success of his charge against Confederate works despite his wounds, General Ulysses S. Grant promoted Chamberlain "on the spot." The precise location where Chamberlain was wounded is debated, New evidence led to the decision to move this historical marker to this location in 2016, but some local historians believe that the original location was more accurate.
Images
Joshua Lawrence Chamberlain, the Union hero of Gettysburg was injured at this location during the Siege of Petersburg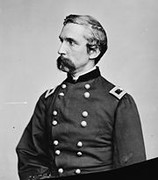 Joshua l. Chamberlain's Grave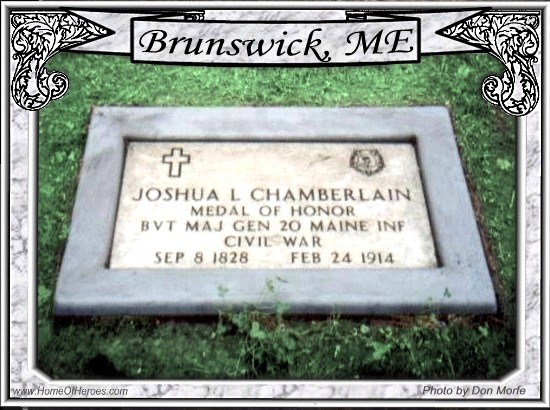 The historical marker was moved to this location in 2016.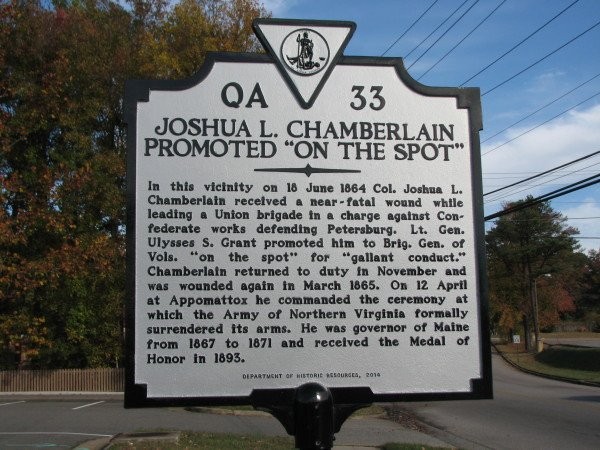 Backstory and Context
Chamberlain was the oldest of five children and owing to his involvement in church and the choir, his mother hoped her son would become a preacher. Until he graduated from college, Chamberlain had a speech impediment which was difficult to overcome. He graduated from Bowdoin College in Brunswick, Maine in 1852.


In 1855, Chamberlain married Fanny Adams and the couple had five children, although three died in their early years. Chamberlain continued his studies at Bangor Theological Seminary and began a career as a professor of rhetoric. He was fluent in several languages but like many scholars of his time, he joined the Union Army shortly after the outbreak of war. Owing to his education, Chamberlain was appointed Lieutenant Colonel under the command of Colonel Aldebert Ames. He was joined in the service by two of his brothers, Thomas Chamberlain and John Chamberlain.

During the Battle of Fredericksburg, Chamberlain stated in his journal that he used the fallen for shelter and pillow while listening to bullets zip into the corpses. On July 2, 1863, Chamberlain led men on the extreme left at the Battle of Little Round Top during the Battle of Gettysburg. His regiment ran out of ammunition and were exhausted, but under Chamberlain's leadership, the Maine men executed a bayonet charge and secured General Meade's left flank. Chamberlain's men prevented a possible disaster for the Union and he was awarded the Medal of Honor for "conspicuous gallantry."


After Gettysburg, Chamberlain fell ill with malaria and he was temporarily relieved of his duties. Upon his return, he was promoted. A month later while leading his men on an attack in Petersburg, Chamberlain was shot through the right hip and groin. Despite his injury, he led his men and was promoted to Brigadier General by Ulysses S. Grant.
After the war, Chamberlain went back to Maine and served as governor for four years. After his time in politics, he became a leading educator and administrator. By 1883, he was forced to retire due to his previous wounds from the war. The aging Chamberlain tried to volunteer for the Spanish-American War but his service was denied owing to age and health. On February 24, 1914, the "Lion of Little Round Top" died at the age of 85 in Portland, Maine.
Additional Information