Moffatt-Ladd House & Garden
Introduction
The Moffatt-Ladd House was built between 1760 and 1763 for the only son of John Moffatt, one of the wealthiest men in the colony of New Hampshire, prior to the Revolution. Samuel and Sarah Catherine Moffatt were the first to live in the house and they took up residence shortly after their wedding in 1764. They would be the beginning of almost 150 years of the same family, as well as enslaved and free servants, living in the stately home overlooking the Piscataqua. The most famous person to live in the house was Prince Whipple, who was enslaved by William Whipple, and is believed to be a primary author of the 1779 Petition of Freedom. General William Whipple, one of New Hampshire's three signers of the Declaration of Independence married Katharine Moffatt, and lived in the house with his wife and father-in-law from 1771 until 1785. Located in the back yard of this home is a beautiful colonial revival garden that has been kept up by the various owners of the home for more than 200 years with a wide variety of plants. This home and garden will be updating the public when it is open for tours, based on best safety practices during the Covid-19 pandemic.
Images
The Moffatt-Ladd house and garden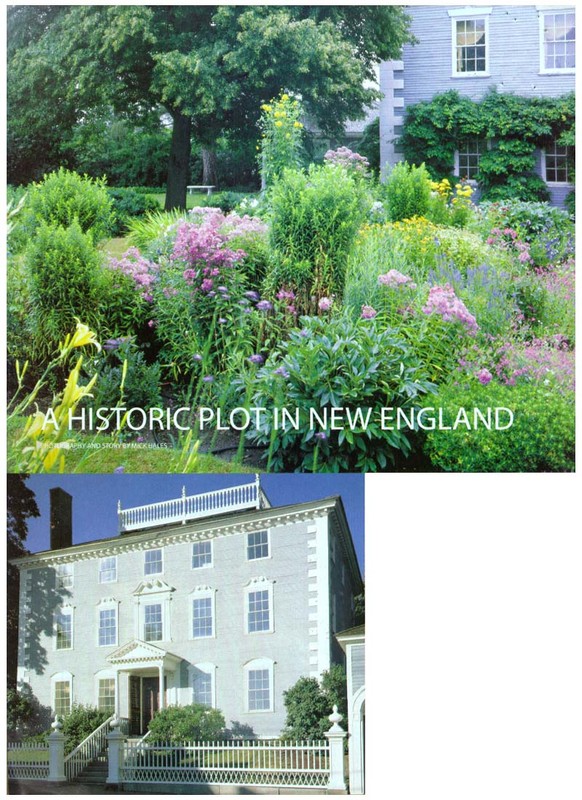 The back parlor and staircase inside of the Moffatt-Ladd House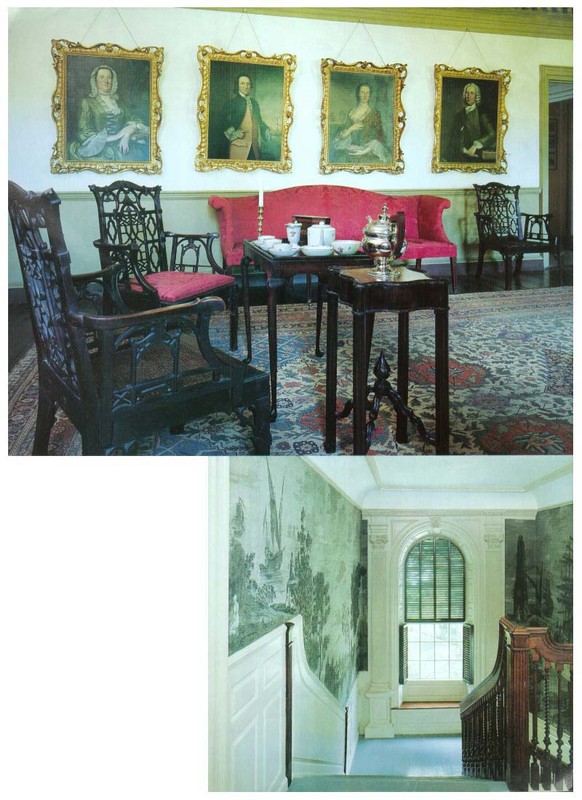 The Moffatt-Ladd House garden walkway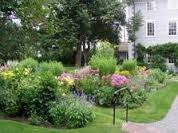 Young students learn what it is like to work at a museum at The Moffatt-Ladd House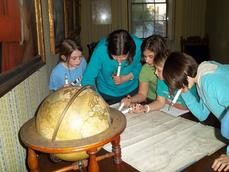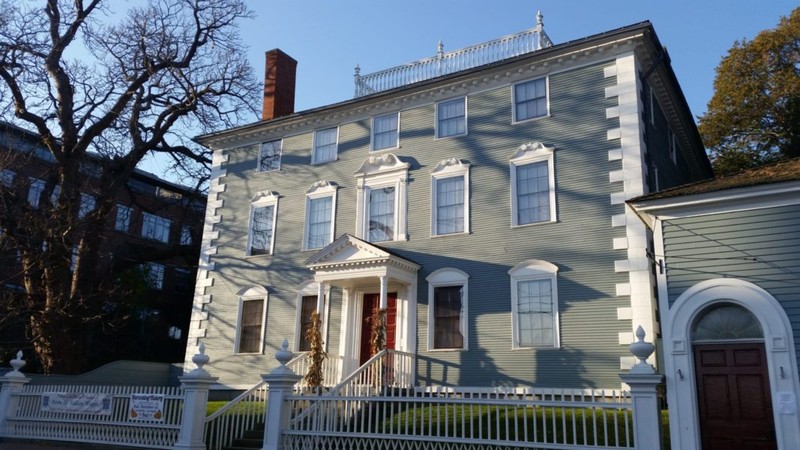 Backstory and Context
 The Moffatt-Ladd house was built in 1763 by John Moffatt, a wealthy merchant. While this Georgian-style home was indeed a beautiful build, John never intended to live in it, instead, he built it for his son Samuel Moffatt and his new wife Sarah Catherine. At first, Samuel Moffatt and his young wife Sarah Catherine did well. The floor plan of their house gave it a particularly lavish entrance, once well suited to lavish entertaining. However, his informal approach to business sometimes led to disastrous misunderstandings. He undertook several shipping ventures, including an ill-fated voyage to Africa to obtain slaves, with his brother-in-law Peter Livius, which financially ruined him when Livius sued Moffatt for damages after most of the enslaved people on this ship died. This caused Samuel to flee to St. Eustatius to escape his creditors.
Samuel's sister, Katherine Moffatt, came to live in the house with her father, John Moffatt, following her mother's death. About one year after moving into the large house on Fore Street (now Market Street) with her father, Katharine Moffatt was quietly married to her cousin William Whipple. The couple did not make the union public until well after people began to notice that Katharine was pregnant, at which point William Whipple joined the Moffatt household, bringing with him an impressive array of sophisticated furniture and his enslaved manservant, Prince. In 1773, the couple lost their only child, William Jr., at the age of eleven months. They raised their nephew John Tufton Moffatt until he departed for Demarara in October 1779, and their niece Mary Tufton (Polly) Moffatt until she married Nathaniel Haven in 1786 at the age of 17. Due to John Moffatt's failing eyesight and advancing deafness, he relied on his nephew and new son-in-law William Whipple to take care of the property and to help him with his business affairs. As William became increasingly embroiled in the Revolutionary cause, some of these responsibilities devolved upon Katharine, which proved her to be a savvy businesswoman. Whipple served on Portsmouth's Committee of Safety, was on the delegation sent by the town of Portsmouth to the new Revolutionary Assembly, and was chosen as one of New Hampshire's representatives to the Continental Congress in which capacity he served form 1774 until 1779.
In November of 1779, Prince Whipple and Windsor Moffatt (John Moffatt's slave) joined eighteen other men who described themselves as "native of Africa, now forcibly detained in slavery" to petition the legislature of the state of New Hampshire for their freedom. This petition reveals that one or more of the petitioners was not only literate, but well-versed in Revolutionary theory and language. It is possible that this petitioner may have been Prince Whipple, who accompanied William to Philadelphia and undoubtedly overheard much of the rhetoric of the Continental Congress. However, the New Hampshire legislature denied the petition and the men were not given their freedom.
Early in the 19th century, Sarah and Samuel's second daughter marries a man named Nathaniel Haven, and the couple owned the home for a time until their daughter Maria marries Alexander Ladd. When Maria and Alexander Ladd pass away, their son Alexander Hamilton Ladd buys his siblings' shares to the home and owns it for himself in 1861. Alexander Hamilton later went into business with his brother Charles Haven Ladd to establish one of the only whale oil refineries in Portsmouth.  Prince Whipple, however, received his official manumission papers in 1784 - three years after marrying Dinah Chase, a free woman.
Samuel and Sarah's second daughter, Polly, had married Nathaniel Haven in 1786 and it was Haven who immediately began acting on behalf of his wife and his mother-in-law. He raised questions about how John Moffatt's estate was being handled. The feud between Sarah Catherine Moffatt and Katharine Moffatt Whipple simmered for several years until Sarah's death in 1802. Samuel's children brought suit against Katharine Whipple and eventually won their case, with Nathaniel Haven acting as their proxy and the famous orator Daniel Webster as a consulting lawyer. By the time the affair was settled, Samuel R. C. Moffatt had died, and his wife decided to sell the property. Nathaniel Haven acquired the house in 1818 and the next year conveyed it to his daughter Maria Tufton Haven Ladd, the wife of the merchant Alexander Ladd, for one dollar. The house and surrounding property would remain in the Ladd family until 1911.
The Moffatt-Ladd house remained in the Ladd family until 1911, when it was eventually sold to the National Society of The Colonial Dames of America (NSCDA), an all-women organization who wanted to buy the home and preserve it's rich historical value while also offering exhibits that educate the public about American History. Behind the Moffatt-Ladd House is a large garden that is almost as old as the home is. This garden with four different terrace levels was primarily kept up by Alexander Hamilton Ladd who had a gift and love for gardening. In the garden can be found a rose bush that was planted by Samuel Moffatt's wife Sarah in the 18th century that has been re-budding every year since, as well as various other flowers, shrubs, and herbs. A large and historic horse chestnut tree, most likely brought from Philadelphia to commemorate the signing of the Declaration of Independence can be found beside of this home, and it was most likely planted and tended by Prince Whipple.
Sources
Hales, Mick. 2000. "A historic plot in New England." Classic American Homes 26, no. 2: 108. MasterFILE Premier, EBSCOhost (accessed October 1, 2015). Casanave, Suki. 1998. "In Portsmouth's secret gardens." Yankee 62, no. 5: 126. Academic Search Premier, EBSCOhost (accessed October 1, 2015). The National Society of The Colonial Dames of America in the State of New Hampshire (NSCDA-NH). "Moffatt-Ladd House and Garden: A National Historic Landmark Open to the Public Since 1912." Accessed October 1, 2015. http://www.moffattladd.org/home.html.
Additional Information