Price Tower
Introduction
The Price Tower was constructed from 1952 to 1956 and stands as the only skyscraper designed by famed architect Frank Lloyd Wright. Recognized as one of Wright's most important works by the American Institute of Architects in 1960, the building's nineteen stories are supported by four interior columns and it's outside is embellished with distinct, twenty-foot pre-oxidized copper panels. The tower was built for Bartlesville businessman H.C. Price, who moved to the area in 1915 and went on to establish one of the most successful pipeline welding companies in the world following World War II. Wright called his tower a "tree that escaped a crowded forest," remarking how this lone skyscraper stood proudly outside of a traditional metropolitan downtown setting. The Price Tower was listed as a National Historic Landmark in 2007.
Images
This tower was completed in 1956 by famous architect Frank Lloyd Wright.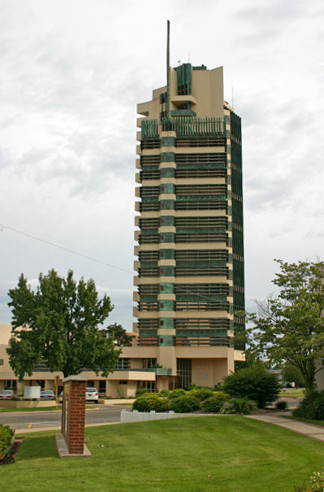 The builing was recognized as a National Historic Landmark in 2007.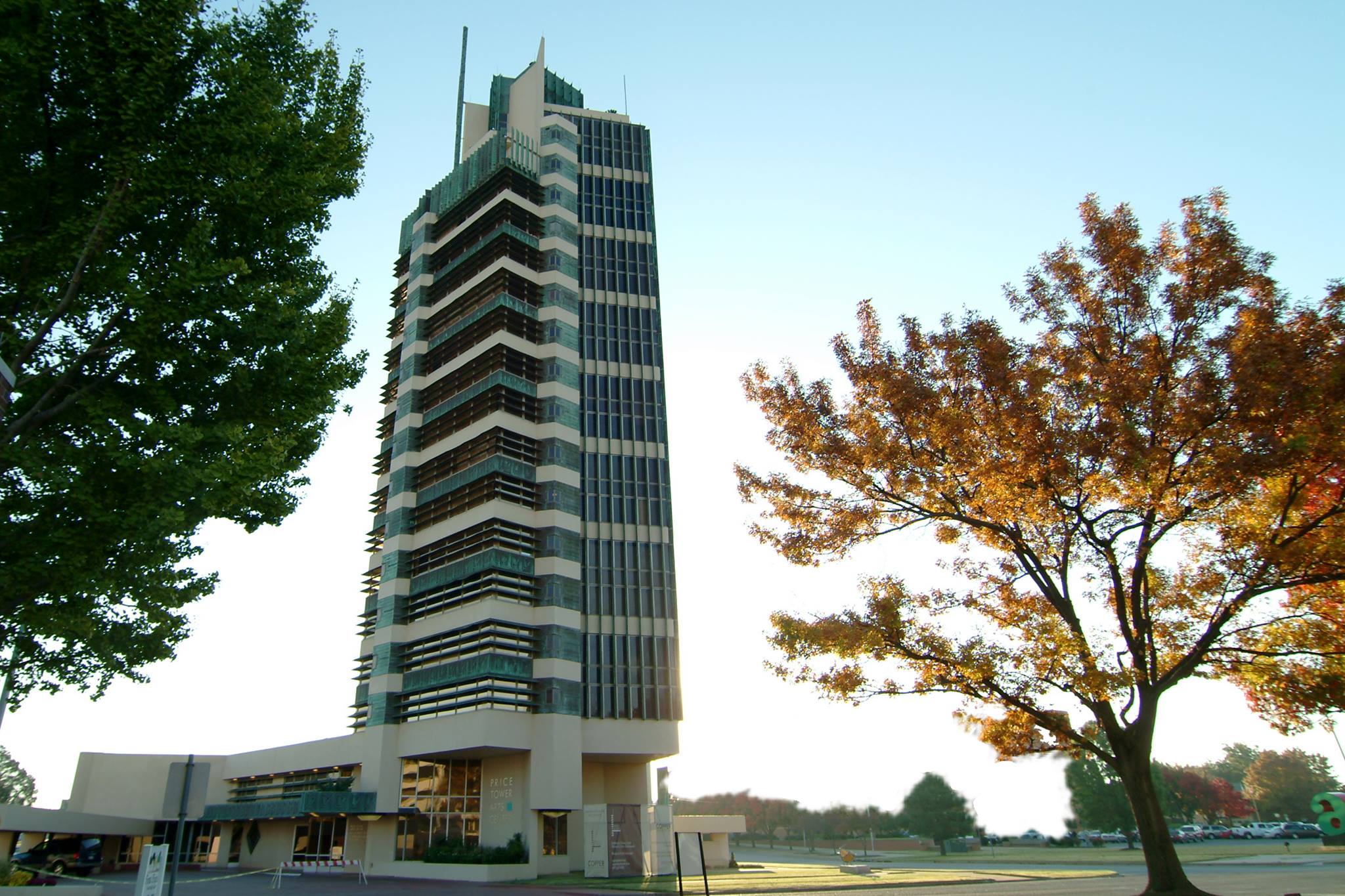 The lobby of the Price Tower is decorated with artwork and furniture designed by Wright.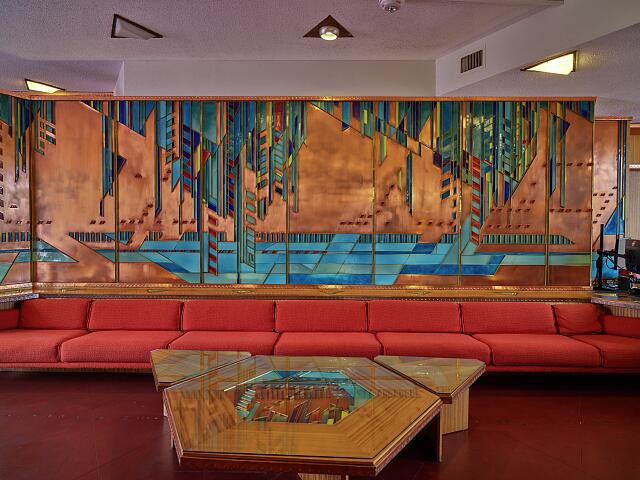 The Price Tower was constructed between 1953 and 1956.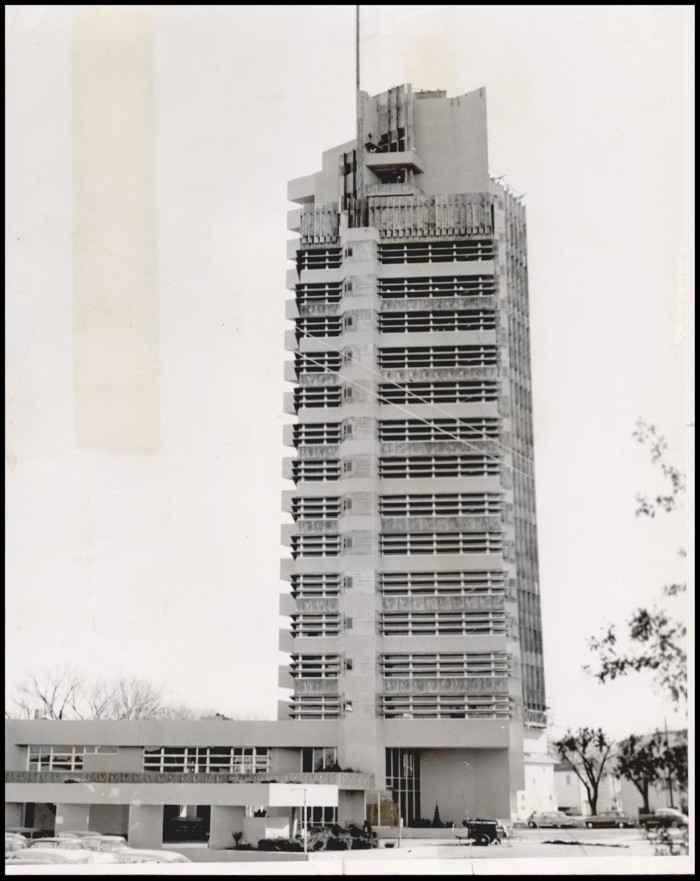 A preserved kitchen and dining area in the Price Tower.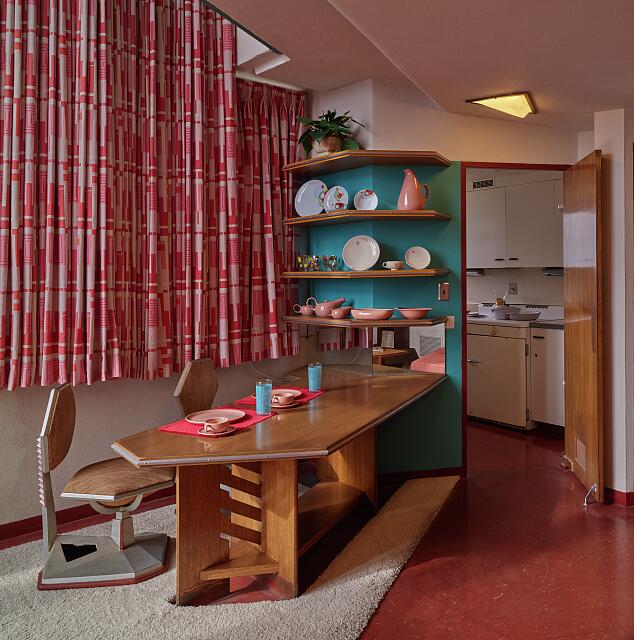 Frank Lloyd Wright's office inside the Price Tower.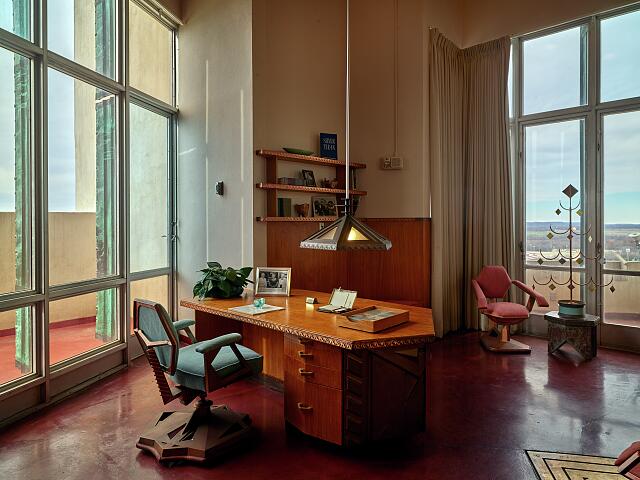 A preserved living area in the tower's hotel.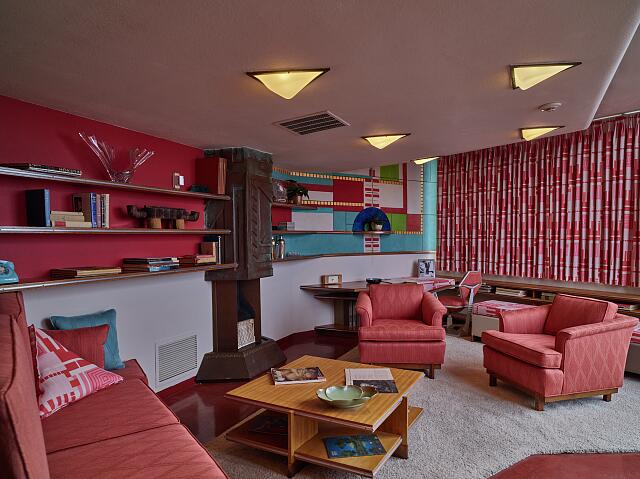 Harold Price (right) and Frank Lloyd Wright reviewing plans for the Price Tower.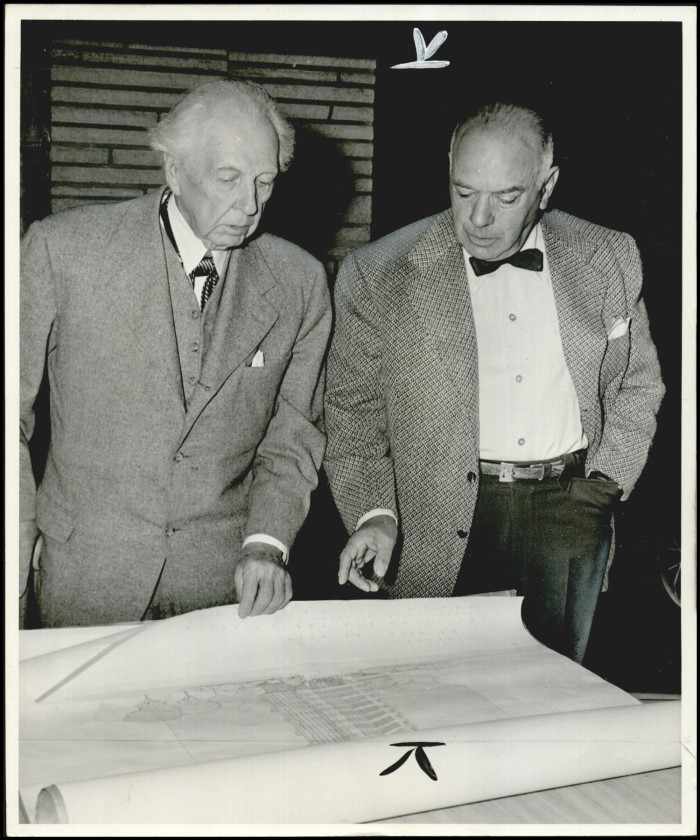 Backstory and Context
Completed in 1956 for the Price Company, this nineteen-story tower was designed by Frank Lloyd Wright. Although Wright considered creating similar structures, this remains the only skyscraper Wright ever built. Construction began on the Price Tower in November 1953 and the building was dedicated in February 1956. It utilizes a cantilever design and is supported by four interior shafts, dividing each floor into four sections. At the time of its completion, three sections on each floor were reserved for office space, with the fourth serving as hotel and apartment spaces. The tower is laid out in sixty-degree parallelogram modules and is famous for having very few ninety-degree angles in its design. The tower's windows are gold tinted and the exterior is decorated with twenty-inch pre-oxidized copper plates. Wright also designed the building's interior and the furniture that was used in the sections of the tower occupied by the Price Company.
Harold Charles (H.C.) Price moved to Bartlesville in 1915, working as a chemist before starting an industrial welding company. The business was called the Electra Welding Company, and in its offices on Second Street, Price developed a breakthrough technique that used electricity rather than acetylene for welding. This development allowed Price to grow his business alongside Phillips Petroleum and Cities Services, which had become the two dominant oil companies in Bartlesville by the 1920s. By the post-World War II era, the Price Company had become one of the world's largest pipeline contractors.
After the war, Price looked to build a new headquarters and followed the advice of the faculty of the University of Oklahoma's School of Architecture by hiring Frank Lloyd Wright. At this point, the Price Family had become captivated by mid-twentieth century modern architecture. In 1947, the family hired architect Clifford May, who was based out of Los Angeles, to complete their modern ranch-style home in Bartlesville. In 1954, during the construction of the Price Tower, Wright designed a home for H.C. and his wife Mary Lou in Paradise Valley, Arizona after taking a job for their son and daughter-in-law a year before. Speaking about the Price Tower after its completion, H.C. connected his love for modern and distinct architecture with his appreciation of his adopted community, describing how Bartlesville had been good to him as a young, and so, he "desired to build a structure which would be a credit to our city for years to come."
Wright also spoke fondly of his 221-foot structure at the site's dedication. The architect was known for linking people and the environment through his designs, sentiments that came across when he spoke about the Price Tower. Wright called the tower "the tree that escaped the crowded forest," noting how his only skyscraper did not sit in the middle of a large metropolis. Instead, he described how the Price Tower became a "fresh realization of the advantages of modern architecture" on Oklahoma's rolling plains.
H.C. Price died in 1960 and Mary Lou took over as chairman of the board while one of their sons, Harold Jr. became the Price Company's president. Mary Lou's position as a woman at the head of her company was a rarity in those days, and she continued to act as chairperson until passing away in 1978. The Price Company relocated to Dallas in 1981, selling the tower to Phillips Petroleum for use as office space.
In 1998, Phillips began to make improvements to the tower, getting it in compliance with municipal codes and removing aesthetic alterations that had been completed in some interior spaces. Upon the finishing of that project, the company donated the building to the Price Tower Arts Center, the tower's current owner. The tower is now home to the Arts Center, a gallery space, hotel, and restaurant and bar on its top floor. In 2007, the structure was honored with a National Historic Landmark designation, one of only twenty such sites in Oklahoma.
Sources
Architecture, The Price Tower. Accessed May 3rd 2022. https://www.pricetower.org/architecture/.
Gabbert, Jim, Melvena Heisch, Glen Roberson, and Charles Wallis. National Historic Landmarks, The Encyclopedia of Oklahoma History and Culture. Accessed May 3rd 2022. https://www.okhistory.org/publications/enc/entry.php?entry=NA010.
H.C. Price, The Price Tower. Accessed May 3rd 2022. https://www.pricetower.org/h-c-price/.
May, Jon D.. Bartlesville, The Encyclopedia of Oklahoma History and Culture. Accessed May 3rd 2022. https://www.okhistory.org/publications/enc/entry.php?entry=BA026.
"Price Tower" National Register of Historic Places Nomination Form (Washington, DC: U.S. Department of the Interior, National Park Service). 1977.
Price Tower History, The Price Tower. Accessed May 3rd 2022. https://www.pricetower.org/price-tower/.
Image Sources
Bartlesville Historical Society

Bartlesville Historical Society

Carol Highsmith - Library of Congress

Oklahoma Historical Society

Carol Highsmith - Library of Congress

Carol Highsmith - Library of Congress

Carol Highsmith - Library of Congress

Oklahoma Historical Society

Additional Information