Sam Houston Park - Historical Marker
Introduction
Sam Houston Park became the city's first public park in 1899. Nathaniel Kelly Kellum originally purchased the thirteen acres of land in 1844 and 1845. Kellum built a brick factory, a tannery, and his home on the land. Zerviah Noble subsequently purchased the Kellum-Noble House and land. Mrs. Zerviah Noble ran one of Houston's first private schools out of the house.
Images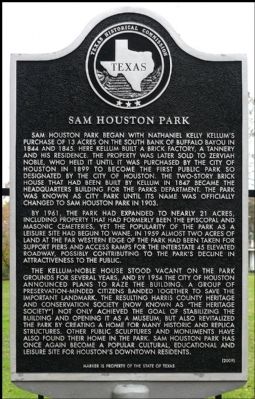 Old Mill- part of the park in 1913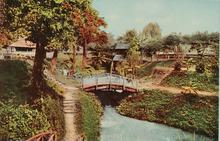 Backstory and Context
Kellum's two-story brick house was converted into the Parks Department headquarters building after the City of Houston purchased the property. Initially known as City Park, the green space became Sam Houston Park in 1903. In 1954, the City of Houston began plans to raze the Kellum-Noble House, which at the time had been vacant for several years. A group of citizens formed the Harris County Heritage and Conservation Society, which is still in existence and now known simply as "The Heritage Society." They saved the home and today it houses a museum. The park is home to several historic homes and structures. The park is now home to several other historic structures. These buildings include the Old Place, a log cabin dating back to 1823; Yates House, which was originally in Freedman's Town and dates back to at least 1870; and St. John Church, an Evangelical Lutheran Church , which was built in 1891 by German and Swiss immigrants and conducted services in German up until the twentieth century. Austin colonist John R. Williams circa 1823 built the Old Place, and it is believed to be the oldest structure still in existence in Harris County. Originally located on Clear Creek, it was relocated to the park in 1973. The Yates House was by former slave Jack Yates. Yates was the minister of Houston's first Black Baptist church and he also established a school for Black children called Houston Academy.
Another historic home, called the Nichols-Rice-Cherry House is also located in the park, moved from its original San Jacinto Street location. A man from New York named Ebenezer B. Nichols built it around. William Marsh Rice owned it from 1856-1873. Rice's estate helped found present-day Rice University, which was at the time known as Rice Institute, in 1912.
Sources
"Sam Houston Park." The Historical Marker Database. Accessed September 27, 2015. http://www.hmdb.org/marker.asp?marker=62253.

"Park History." City of Houston. Accessed September 27, 2015. http://www.houstontx.gov/parks/parksites/samhoustonpark.html
Additional Information