Linton E. Allen Memorial Fountain, Lake Eola Park, Orlando
Introduction
The Linton E. Allen Memorial Fountain, also known as the Centennial Fountain, is the centerpiece of Orlando's Lake Eola Park. The fountain was built in 1957 for the one-hundredth anniversary of Orlando's founding. In 1965 it was renamed after local banker Linton E. Allen. The fountain is popular with locals because of its distinct design and colorful nightly light shows; it has become the unofficial symbol of Orlando. In 2009 the fountain was damaged in a lightning strike. It eventually underwent a complete restoration in 2011.
Images
Popularly known as the Lake Eola Fountain, this is one of the iconic images of the city of Orlando.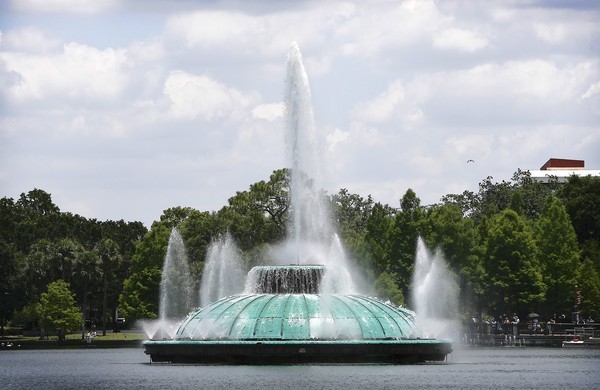 The fountain performs a nightly light show with synchronized music. Image obtained from Pinterest.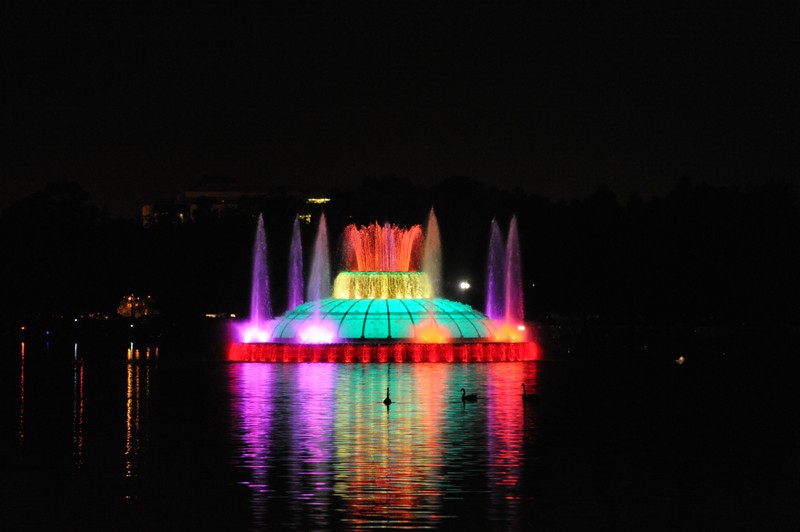 The fountain undergoing renovations in 2011. Image obtained from The Daily City.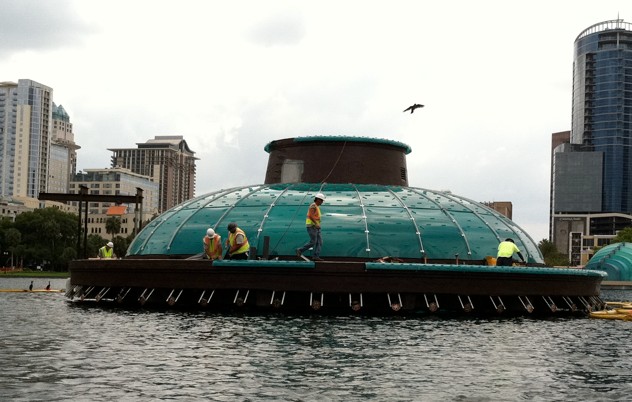 The fountain is positioned slightly off center in the lake because a giant sinkhole was found in the center. Image obtained from Expedia.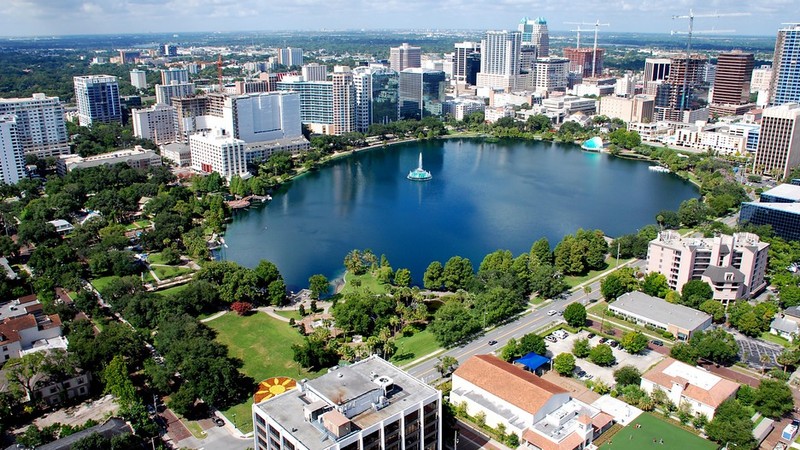 Backstory and Context
In the 1950s, members of the Orlando Utilities Commission began planning the construction of a fountain in Lake Eola to commemorate the centennial of Orlando's 1857 founding. The project was largely spearheaded by prominent local banker Linton E. Allen. Allen, who had founded the First National Bank of Orlando during the Great Depression, was impressed by fountains he saw in Europe and sought for Orlando to boost its prominence by building their own. The fountain's design was based off of similar versions in England, Italy, and Spain. Originally planned to be placed in the center of Lake Eola, it was moved slightly after it was discovered that an eighty-foot sinkhole was in the center of the lake.
320 tons of concrete were used in its construction. The fountain was built sixty-feet long and eighteen-feet high, with a green plastic shell frame. It has been described variously as a spaceship or a Jell-O mold. It included multiple jets capable of shooting 6,400 gallons of water per minute and underwater nights to make it visible at night. The Centennial Fountain was completed and unveiled in 1957 in time for Orlando's centennial. In 1965 it was renamed the Linton E. Allen Memorial Fountain in honor of Allen, who had recently passed away. It is still commonly referred to as the Centennial Fountain or simply the Lake Eola fountain.
As the fountain entered the twenty-first century it began showing signs of aging. Lights and pumps were failing, while the green shell was deteriorating. In August 2009 the fountain was struck by lightning and badly damaged, rendering it inoperable. At the time Orlando was plagued by financial difficulties, which raised concerns that the fountain might not be saved. In May 2010 the pumps were repaired enough to resume operation; it was not until 2011 that the city announced a $1.6 million project to completely restore the fountain. Most of the funds came from a mixture of insurance money and donations. The restoration included the installation of new pumps, LED lights, and new green Plexiglas to replace the frame. The city also added a sound system and programmed the lights to change colors for different occasions or light shows. The fountain officially reopened in July 2011 with a synchronized musical light show. Today the fountain plays six-minute light shows every night between 8:00 pm and 9:30 pm.
Sources
Schlueb, Mark. "Iconic Orlando fountain's rebirth takes shape." Orlando Sentinel. May 22, 2011. Accessed May 19, 2017. http://articles.orlandosentinel.com/2011-05-22/news-os-lake-eola-fountain-upgrade-20110522_1_lake-eola-fountain-panels-fountain-last-week
Schlueb, Mark. "Lake Eola fountain to get $1.6 million overhaul." Orlando Sentinel. January 10, 2011. Accessed May 19, 2017. http://articles.orlandosentinel.com/2011-01-10/news/os-lake-eola-fountain-repair-2011010_1_lake-eola-fountain-lights-and-electrical-controls-iconic-fountain.


Picture 2: https://s-media-cache-ak0.pinimg.com/originals/a5/da/7d/a5da7db46460e59468b41631beb3efe1.jpg
Picture 3: http://1.bp.blogspot.com/-CE7R9ZoSO_w/TfEsyApaIbI/AAAAAAAAGLI/5-EIRaUD7ek/s640/Screen+shot+2011-06-09+at+4.22.00+PM.png
Picture 4: https://images.trvl-media.com/media/content/shared/images/travelguides/destination/178294/Orlando-21388.jpg.
Additional Information