Salt Museum
Introduction
The Salt Museum, located in Liverpool, New York, gives visitors an overview of the salt industry which was one of the biggest industries in this part of New York for a long time. Established in 1933, the museum is situated next to Lake Onondaga which is fed by a salt spring. The museum is constructed with timbers from old salt warehouses and features equipment used in the salt making process, exhibits describing the history, and a replica salt fire pit.
Images
The Salt Museum was founded in 1933.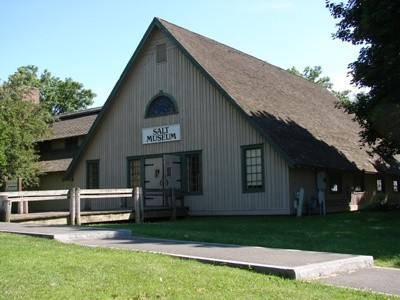 Backstory and Context
Native Americans considered the lake evil due to its salty taste. Jesuit missionary Father Simon LeMoyne arrived at the lake in 1654 and wrote to his superiors about it. The French soon built a mission and began producing salt, starting the industry that would last until the 1920s. The Syracuse area produced the nation's salt for most of this time until other salt mines were found in the west. Even though the salt industry ended in the area, Syracuse owes its development to it and the city is referred to as the "Salt City."
Sources
Bell, Valerie J. "The Onondaga New York Salt Works (1654 - 1926)." Science Tribune. October 1998. http://www.tribunes.com/tribune/sel/bell.htm.

"The Salt Museum in Syracuse." New York Traveler. March 24th, 2008. http://newyorktraveler.net/the-salt-museum-in-syracuse

"Salt Museum." Onodaga County Parks. Septemer 14, 2015. http://www.onondagacountyparks.com/parks/onondaga-lake-park/salt-museum.

Additional Information