Louisville City Hall
Introduction
This historic government building was completed in 1873 and features a blend of Italianate and French Second Empire styles, reflecting the optimism of the post-Civil War era in Louisville. The exterior features a 195-foot clock tower and several engravings that depict the centrality of agriculture and river traffic in the city's early years. The architects of the City Hall included John Andrewartha and C.S. Mergell, as well as the firm C.L. Stancliff and Co. Little is known about Andrewartha, except that he arrived in Louisville on July 4, 1865 without money, friends, or acquaintances. Historians believe that, in addition to the City Hall, Andrewartha designed the Courier-Journal building, the Central Colored School, and the Nicholas Finzer School.
Images
View of City Hall and its 196-foot clock tower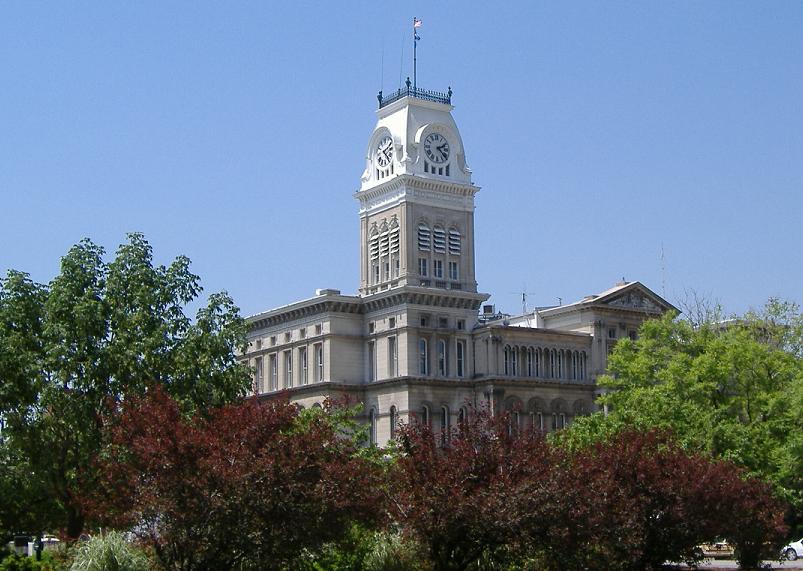 Another view of City Hall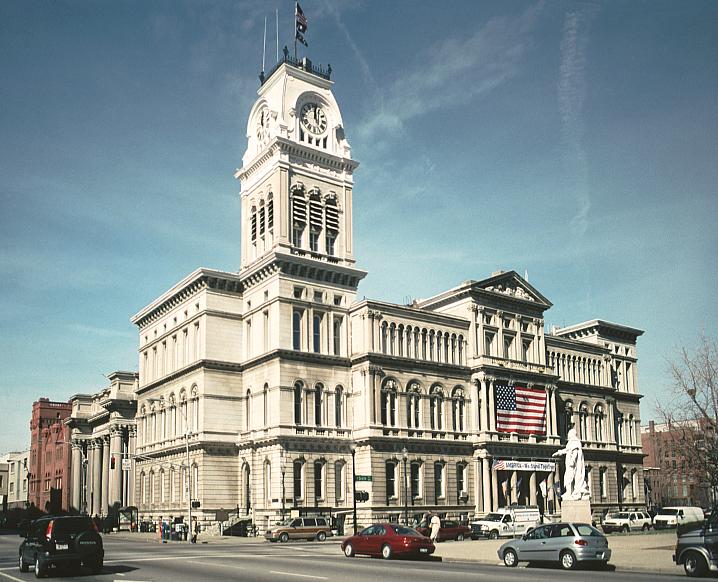 Backstory and Context
Before the 1873 City Hall was built, no government building existed for the city's use. Previously, city officials occupied space in the county courthouses with no building for their own use. The prior county courthouses included a log courthouse built in 1784, and then a brick courthouse from 1811 to 1837.

In April 1867, architects John Andrewartha and C.S. Mergell won a competition to design a city hall for Louisville. Original designs set the courthouse to be three times its current size, complete with a three-story portico entrance. After several options, the design was finalized and set for construction in 1870. City Engineer, I.M. St. John, was designated to oversee the project, while Andrewartha was named the managing architect.

It took three years to finish the project. The city used stone from the White River quarries near Salem, Indiana. The total cost came out to $464,778.

Using a combination of Italianate motifs and a French Second Empire style, City Hall is typical for the post Civil War era, in which it was built.

The prominent bas relief of the city seal also displays a train "ploughing into the wilderness," bearing the slogan, "Progress, 1871." It is clear how important the railroad was to Louisville at the time. Additionally, other carvings, such as that of livestock, display the central role of agriculture in Louisville in 1873.

Perhaps the most visible aspect of City Hall is the 196-foot clock tower. The bell in the clock has gone through two major periods of silence. First, in 1964 the clock broke, leaving a silence for four years, until it was repaired again 1968. Once again in the 1970s, the clock was silenced and remained silent until 1991.
Sources
Kleber, John E. The Encyclopedia of Louisville History. University Press of Kentucky. 2001, p. 1024.

Additional Information