Dakota Chief Maza Protects his Village during the U.S.-Dakota War of 1862
Introduction
These historic markers commemorate the actions of Dakota Chief Maza sa during the US-Dakota War.
Images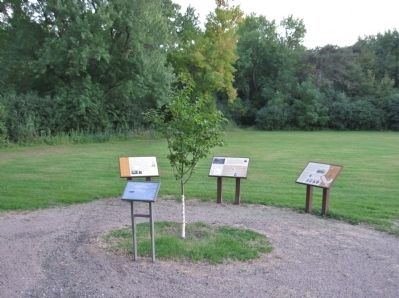 Backstory and Context
Dakota Chief Maza sa (Red Iron) understood that it did little good to stand in the way of the U.S. government. He had opposed the 1851 Treaty of Traverse des Sioux but, in the end, had little choice when he and other Dakota leaders signed it, selling most of their homeland.
In 1854 Maza sa led his people to a small reservation on the Minnesota River and established a village near this spot, where families planted corn and the children attended school. Here, he worked to protect them and their way of life.
When Dakota from other bands began the war in August of 1862, Maza sa did not support it. He did not want to risk the life he and his people had built in their village. On September 6, as the fighting spread, he told a gathering of Dakota leaders, "My friends, I cannot bear the thought of everything of mine being destroyed. Therefore I will stay here."
Maza sa did more than protect his village. He and other Dakota risked their own safety to protect from harm hundreds of captives taken during the war. He even turned away some of the warriors of Taoyateduta (Little Crow) when they tried to enter the village. After the fighting ended, Maza sa's people helped to hand the captives over to the U.S. military.

they all suffered its consequences. Maza sa lost his home. His family and others who had not taken part in the fighting were removed to a concentration camp at Fort Snelling, where they awaited an unknown fate. Dakota warriors who had not already left were arrested, tried and convicted. Maza sa and his brother Akipa (To Meet), assigned to accompany the prisoners to South Bend near Mankato, helped care for the condemned men.