Buddy Holly Historical Marker
Introduction
This Lubbock city historical marker commemorates music legend and Lubbock native Buddy Holly. Widely considered to be one of rock and roll's founding musicians, Holly was a contemporary with the likes of Elvis Presley and Bill Haley and His Comets. He'd opened for both of these bands before being noticed by Eddie Crandall, a Nashville talent scout who boosted Holly's career by helping him secure a contract with Decca Records.
Images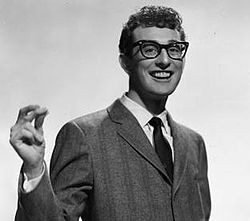 The historical marker in Lubbock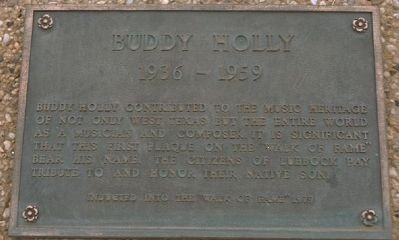 Memorial marking the plane crash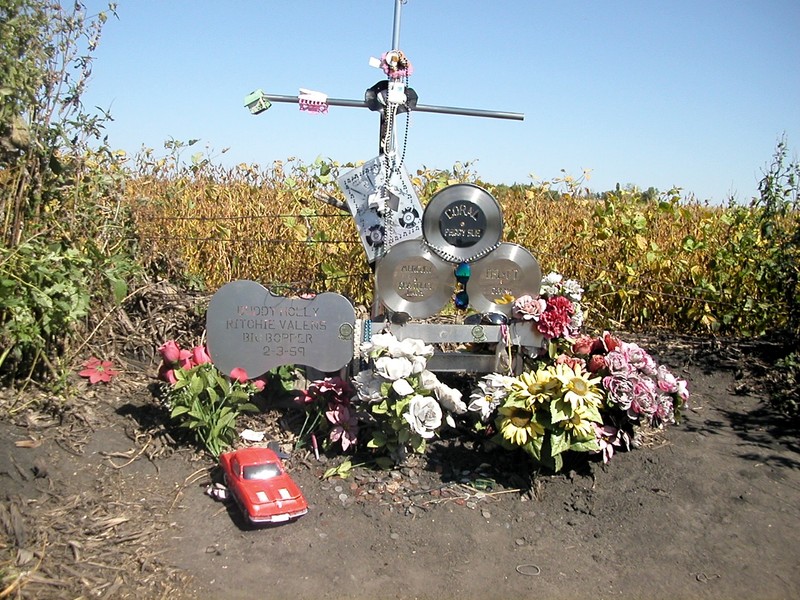 Backstory and Context
Born September 7, 1936 as Charles Hadin Holley, Holly, much like Johnny Cash and other now famous musicians of the time, grew up during the Great Depression, learning to play guitar and sing with his family at home. Many of Holly's songs remain famous to this day, including "That'll Be the Day" and "Peggy Sue."
Due to differences with the band's manager, Holly left "The Crickets", the group he'd been with at Brunswick Records, and started a new band to embark on a Midwestern US tour. Included in this new band was now famous country music legend Waylon Jennings. Holly's career was cut short by a plane crash near Clear Lake, Iowa, where Holly had played and chartered a plane to travel to another show in Moorhead, Minnesota. The crash also killed fellow musicians Ritchie Valens and the Big Bopper, as well as the pilot.
Holly's influence to the early rock and roll movement and to later rock musicians is vast and immeasurable. The standard rock and roll lineup of two guitars, bass, and drums is credited to Holly. Teenagers John Lennon and Paul McCartney, who at the time had just recently met and begun exploring their shared interest in music, saw Holly for the first time on the British variety television show Sunday Night at the London Palladium. The then seventeen-year-old Bob Dylan attended Holly's show on January 31, 1959, just two days before Holly died. Other legendary musicians listing Holly as a major influence include the Rolling Stones, Eric Clapton, and Elton John.
Sources
http://www.hmdb.org/marker.asp?marker=4499 https://en.wikipedia.org/wiki/Buddy_Holly https://en.wikipedia.org/wiki/Sunday_Night_at_the_Palladium https://en.wikipedia.org/wiki/The_Day_the_Music_Died
Additional Information