Stanley Harris Historic Marker
Introduction
Stanley Harris was one of the early leaders of the Boy Scouts and the first white leader to work to organize scout troops among African Americans. He was the founder of the Interracial Service of the Boy Scouts of America, a name which might lead modern Americans to imply that the troops organized at this time were racially integrated. In the South and in many areas of the North, however, scout troops followed the explicit (segregation was required by law in many Southern states) or implicit (racial segregation was expected in many Northern communities) restrictions against racial integration. When considering the time that Harris lived, however, his efforts to promote the creation of all-Black and all-Native American scout troops was a sign of progress in race relations. Harris's efforts also helped to promote the growth of the Boy Scouts in hundreds of communities and paved the way for integrated scout troops.
Images
Stanley Harris historic marker. Harris was one of the founders of Boy Scouts in the United States and established the Boy Scout's Interracial Service in 1926 to promote scouting among African Americans.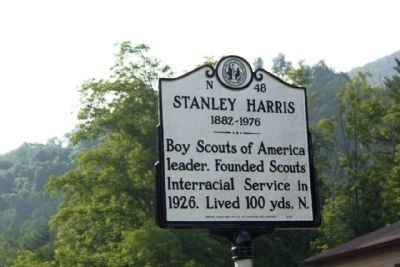 Harris created one of the first Boy Scout troops in the United States in 1908. As a leader in Kentucky, he worked with African American leaders to create scout troops, beginning with the first-ever African American scout troop in 1916.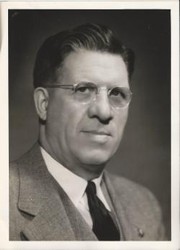 Backstory and Context
In addition to his service to the Boy Scouts and his efforts to promote scouting to diverse audiences, Harris was a leading member of the Boone community. He served as the secretary for the
Boone Chamber of Commerce, was a leading member of the group that established the outdoor drama Horn in the West, and established several community organizations that worked to promote the establishment of businesses in Watauga County.
Sources
Dorothy Long, "Stanley Austin Harris" on NCpedia.org http://ncpedia.org/biography/harris-stanley-austin accessed 9/8/15
Additional Information