Daniel Boone Amphitheatre/ Horn in the West
Introduction
Built in 1952 by area college students, Daniel Boone Amphitheater holds 2500 audience members and is best known for its annual showing of "Horn in the West." The work of playwright Kermit Hunter, Horn in the West has been performed each year since the amphitheater was built and is the longest-running performance of its kind. This Revolutionary War drama takes the audience back to life on the frontier along the present-day border between North Carolina and eastern Tennessee. The plot follows the political and cultural history of the area, using the experiences of a family of British loyalists to explore life in the years leading up to the American Revolution, as well as the ways that the war divided families on the frontier.
Images
Daniel Boone Amphitheatre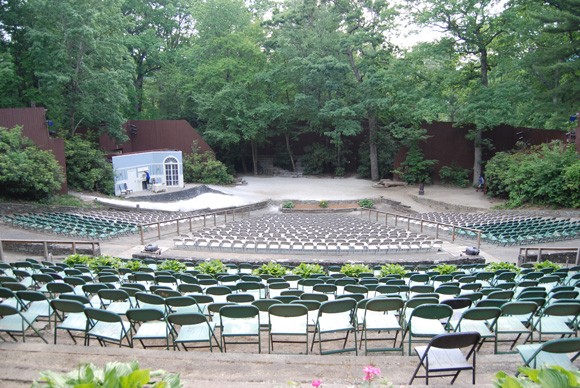 Horn in the West, Daniel Boone Amphitheatre

This 1958 pamphlet is one of several historical items related to Horn in the West available from the archives of East Carolina University. Click the link below to view those archives.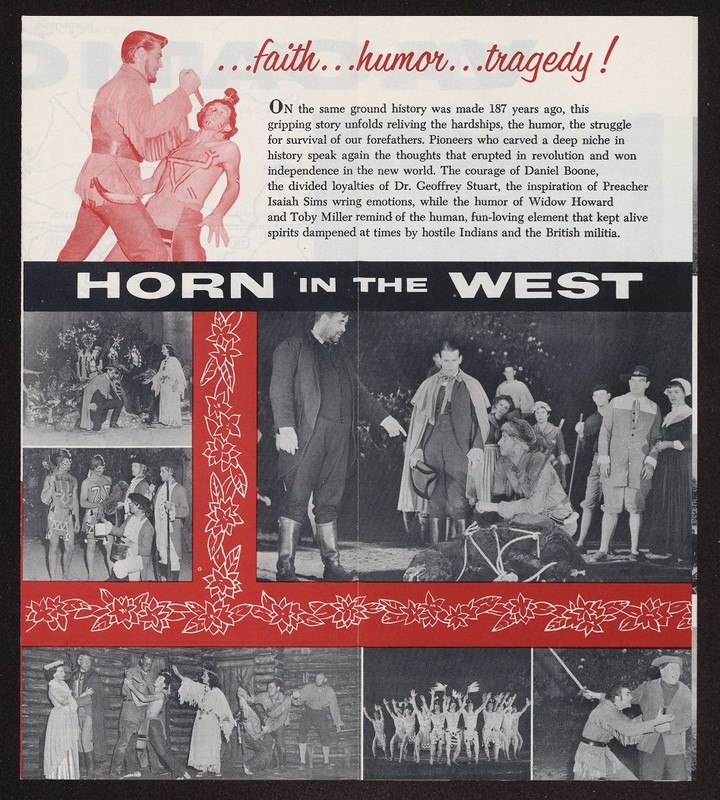 Backstory and Context
The Daniel Boone Amphitheater seats 2,500 patrons and has been described as one of the best outdoor venues in the eastern United States. The amphitheater was designed by John Lippard and four students from the NC State School of Design in 1952 and was completed in just three months.

The stage and accompanying background was designed particularly to accommodate Hunter's "Horn in the West," a drama set in the era of the American Revolution that has been viewed by over 1.4 million people since it began in 1952. The designers disturbed the existing vegetation as little as possible during construction and were able to incorporate many native plant species in the landscape design.

Upwards of 1.4 million patrons have watched the production since the show opened in the summer of 1952. The Daniel Boone Amphitheater and surrounding grounds also serve as home to Southern Appalachian Historical Association, Hickory Ridge Homestead Museum, and The Watauga County Farmers Market. The Daniel Boone Native Gardens--a striking array of native Appalachian flora-- is also located on the grounds.

Sources
Horn in the West website, http://www.horninthewest.com/ Visit North Carolina, http://www.visitnc.com/listing/horn-in-the-west-outdoor-drama
Additional Information