Watauga Consolidated School (1960-1965)
Introduction
Although the United States Supreme Court barred school segregation in 1954, Watauga County and other school officials throughout North Carolina continued to separate pupils by race. For Black children in Boone, this meant attending one of a few one-room schools throughout the county until 1960, when the school board approved the construction of this school which could accommodate multiple grades. Not content with separate-but-more-equal facilities, African Americans in Boone pushed for equality and integration. With the law on their side and new federal programs that tied funding to integration, the school board decided to allow African American students to attend previously all-white schools throughout the city and close this school after the 1965-1966 school year. The building presently serves as the home of the Western Youth Network.
Images
Learn more about school segregation and integration in this section of NC. Click the link below to learn about Betty Jameson Reed's book, School Segregation in Western North Carolina: A History, 1860s-1970s.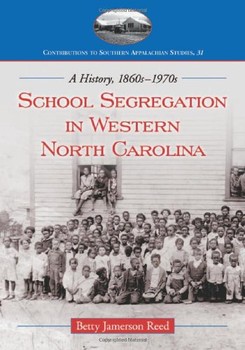 Backstory and Context
On September 8, 1964, the Watauga County School Board approved a plan to allow five African American students to transfer from this school to the previously white-only Appalachian High School. The following spring, in response to pressure from the Black community and a desire to be eligible for federal aid. the board considered a vaiety of integration plans. In March, the board approved a plan to allow additional students to attend previously white-only schools throughout the city, leaving only 49 Black students attending Watauga Consolidated School. After the 1965-1966 school year, the board decided to close Watauga school and assign the remaining students to other schools throughout the district rather than have white students attend the formerly all-Black school.
Sources
Betty Jameson Reed, School Segregation in Western North Carolina: A History, 1860s-1970s, McFarland, 2011, 62-3.
Additional Information