H.H. Bennett Studio
Introduction
This historical photography studio belonged to Henry Hamilton Bennett, one of the best 19th century landscape photographers in the nation. Bennett is known as "the man who made Wisconsin Dells famous" with his photojournalistic images of the regional landscape as well as the Ho-Chunk native group. Today, the studio is owned by the Wisconsin Historical Society and is operated as a museum, which houses a collection of Bennett's photos and other equipment.
Images
"BennettStudio" by User:Jonathunder - Own work. Licensed under GFDL 1.2 via Wikimedia Commons - https://commons.wikimedia.org/wiki/File:BennettStudio.jpg#/media/File:BennettStudio.jpg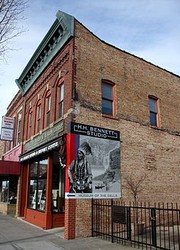 Backstory and Context
H. H. Bennett had plans of a career in carpentry, but his combat involvement during the Civil War left him with a crippled hand, so instead he took up photography. He was an inventive man and built his own camera, except the lenses, by hand. It was 1868 when Bennett began taking his iconic photos of the Wisconsin River Dells and then ventured into the wooded area to capture more of the landscape and where he forged a relationship with a Native American group known as the Ho-Chunk people. Bennett's photographs garnered much attention and gained him the reputation as "the man who made Wisconsin Dells famous."
While Bennett generally worked outside, taking photos of natural landscapes, he owned a studio, which he opened in 1865. In 1875, however, with the purchase of a small tintype building he relocated to Kilbourn City, what is now Wisconsin Dells. The Bennett family ran the studio until 1998 when they donated the building to the Wisconsin Historical Society. The studio is most likely the oldest operating studio in the nation.
According to the studio's official website, "Photography historians consider Bennett one of the best landscape photographers of the 19th century, considered the 'Golden Age of Landscape Photography.' Today the studio continues to house many of Bennett's original photographs, glass plate negatives, photography inventions, cameras and equipment."
Sources
http://www.travelwisconsin.com/history-heritage/h-h-bennett-studio-201870 http://hhbennettstudio.wisconsinhistory.org/Explore/StudioOverview.aspx http://hhbennettstudio.wisconsinhistory.org/About/History.aspx
Additional Information