Lincoln Boyhood National Memorial
Introduction
Built in 1816, this site is where President Abraham Lincoln lived with his family. He spent his childhood here starting from when he was seven all the way up until he became a fully-fledged adult at age 21. His mother, Nancy, is buried here along with other settlers memorialized on this land. The replica house is of the log cabin that Lincoln and his family lived in during his younger years.
Images
The memorial built to dedicate Lincoln's time in the state of Indiana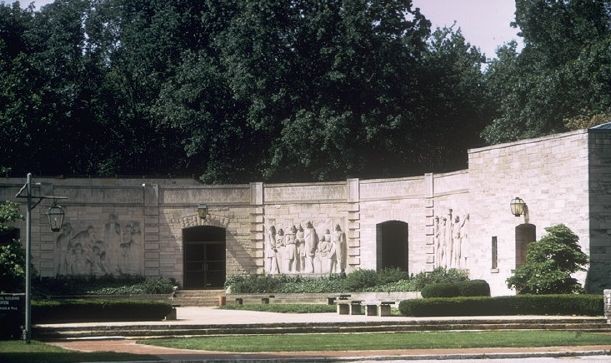 Backstory and Context
Abraham Lincoln is most notably referred to as the President that ended slavery with his signing of the Emancipation Proclamation. It was an executive order he issued during the Civil War on the 1st of January beginning 1863. However, before becoming President, he was a farm boy who was representing Illinois within the 7th congressional district. His real childhood home, however, was in Spencer County, Indiana where he lived from 1816-1830. Lincoln and his family lived in a freshly-made log cabin and his father was a talented carpenter able to have their new house up in no time.
In the early days of September, some of the residents came down with what is known as "milk sickness" mainly, because they drank and ate dairy products of animals that ate the snakeroot plant that had a dangerous toxic chemical inside it. Lincoln's mother came down with this sickness and became very sick from her illness. She died on October 5, 1818 and was buried behind the house with a memorial gravesite made for her. Once the sickness passed and multiple people in the little area died from the disease, a local minister conducted a community funeral in the spring to honor those that had passed away. After his mother's death, young Abraham mainly worked on the farm and was looked after by his older sister, Sarah. His father would remarry with a widow named Sarah Johnston, who brought three of her children into the family.
Andrew Crawford opened the first school in Lincoln's home village and Lincoln would attend the school at the age of 10. He was there for two years before switching over to a new school his parents put him in. However, the school was a long way away and Lincoln could only walk there meaning he was usually late for classes. His parents enrolled him into another school to curtail this problem and Lincoln attended that third school until the age of 16 where he ended his education. His older sister died after having her first child in 1826 and she was put to rest in the cemetery belonging to Little Pigeon Creek Primitive Baptist Church. In 1830, Thomas Lincoln moved his family to Central Illinois where his son, Abraham, would also practice law and start his political career.
The memorial was created, but attracted little attention until after the American Civil War. In 1917, the foundation for Lincoln's childhood home was found and local historians marked it as a historical location. In 1923, the state government of Indiana created the Lincoln State Park to protect the homestead and preserve the history behind it. A group known as the Indiana Lincoln Union was formed to raise funds for a memorial dedicated to Lincoln's time in their state in 1927. The memorial site was officially created in the early 60s and a log cabin replica of Lincoln's childhood home was created. Congress declared it a national historical landmark and it was placed on the National Register of Historic Places in 1966.
Sources
"Lincoln Boyhood National Memorial", National Park Service . Accessed June 21st 2021. https://www.nps.gov/libo/index.htm
Staff. "A labor of history: Youth Conversation Workers spend summer tend to Lincoln's boyhood home," Journal Democrat. July 17th, 2019. Accessed June 21st 2021. https://www.spencercountyjournal.com/content/labor-history-youth-conservation-workers-spend-summer-tend-lincoln's-boyhood-home