Bragg-Mitchell Mansion
Introduction
John Bragg was born near Warrenton, North Carolina. He graduated from the University of North Carolina at Chapel Hill in 1824, where he studied law. He was admitted to the bar in 1830 and moved to Mobile in 1836, where he continued the practice of law. He was appointed judge to Alabama's 10th Judicial Circuit in 1842, later leaving that post after being elected to the 32nd United States Congress. He bought the property at 1906 Springhill Avenue on 10 May 1855 for the sum of $7500 and began construction of the house that continues to stand there today.
Images
Bragg-Mitchell Mansion was placed on the National Register of Historic Places in 1972.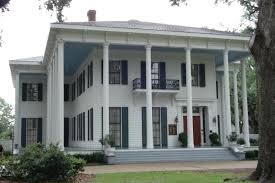 Backstory and Context
The Bragg-Mitchell Mansion is a 13,000 square foot Greek revival that was built by Judge John Bragg in 1855. The mansion faces Springhill Avenue in Mobile, Alabama. Judge Bragg built the home for his family to stay from Thanksgiving to Mardi Gras. When the Bragg family was not at their mansion they spent time at the cotton plantation in Lowndes County located outside of Montgomery. In 1878 Judge Bragg died.
Four families owned the mansion after Bragg's death. The A.S. Mitchell family was the last private owners to purchase the mansion. They bought the home and property for $20,000 in 1931. The A.S. Mitchell family resided in the mansion until 1965. While living there they continued to maintain the home. It was during the Mitchell family's ownership that the mansion became an icon of Mobile.
The Bragg-Mitchell Mansion was donated by the A.S. Mitchell foundation in the late 1970s to the Explore Center. It was to be used as the home of an interactive science museum. However, the Explore Center did not want to possibly destroy the historic integrity of the mansion so they built a separate science museum, The Gulf Coast Exploreum, and began to restore the mansion.
In 1972 the Bragg-Mitchell Mansion was placed on the National Register of Historic Places. Three million dollars in renovations were put into the home and it was opened to the public in 1987. It now serves as a premier location for wedding receptions, corporate dinners, and historic home tours.
Sources
"About the Bragg-Mitchell Mansion." Welcome to the Bragg-Mitchell Mansion. Web. 5 Aug. 2015.
Additional Information