Camp Disappointment
Introduction
Camp Disappointment is the farthest northern location that the Lewis and Clark Expedition explored. The location received its name from Lewis due to his disappointment that the location did not have what he was looking for. This site is about 12 miles northeast of Browning at the Blackfeet Indian Reservation. The site was dedicated on 15 October 1966.
Images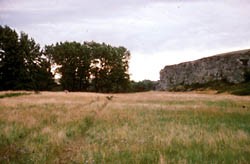 Camp Disappointment monument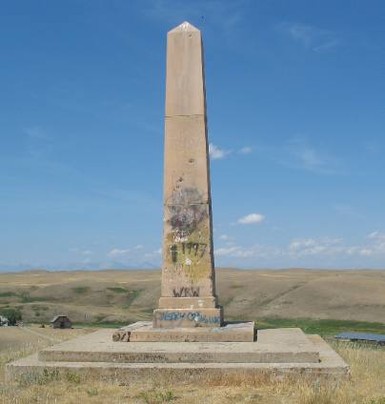 Backstory and Context
On the way back from the expedition, Captain Lewis, George Drouillard and the two Fields brothers moved up the Marias River near the end of July. The point of this was to look for a channel of the Missouri River. The hope for this channel was that it would extend north and pass through the 50th parallel. If this were the case this would mean that more property could be acquired by the United States for the Louisiana Purchase. Along the Cut Bank River, east of what is now Browning, Lewis was able to view the river leaving the mountains. This led him to the conclusion that the river did not go to the 50th Parallel; with this disappointment came the name of the site.
When viewing the site one can see the mountains of Glacier National Park in the distance. Camp Disappointment is dedicated by a monument placed there by the Great Northern Railway in 1925. There is also a sign at milepost 233 along US Highway 2 from Browning and Cut Bank. This sign is just 4 miles exactly south of the real location of the camp that the explorers arrived at on 23 July 1806. In order to view the real location visitors must have exclusive approval from the private property owner.1
The explorers stayed at the location from July 22 to 26 July 1806. Along with the other hope Lewis had concerning the 50th Parallel, his findings here at the site proved disappointing for another hope of his. Lewis wanted to discover a simple importing path from the Marias and Saskatchewan rivers that would make it possible for the U.S. to veer Canadian fur trade into U.S. property at the Missouri River. However, having not been able to make either of his hopes a reality, Lewis and the other men left the camp site. On the adventure back, they encountered some Piegan Native Americans and stayed with them overnight. However, the next morning the first and single skirmish during the entire journey happened at Two Medicine Fight Site. Camp Disappointment is now known as one of the many National Historic Landmarks in the country.2
Sources
Overview and Footnote 1: "Welcome to Blackfeet Country!," accessed on July 29, 2015, http://www.Blackfeetcountry.com/campdisappointment.html Footnote 2: accessed on July 29, 2015, http://www.nps.gov/nr/travel/lewisandclark/dis.htm
Additional Information