The Panama Hotel
Introduction
The Panama Hotel was built in 1910 by the first Japanese architect in Puget Sound, Sabro Ozasa. It's located where Seattle's Nihonmachi[1] used to be, making it an ethnic enclave for Japanese immigrants at the time. It was a place where workers could stay and feel welcome in a community. The hotel is home to one of two sentos[2] left in the United States, and the only fully intact sento in the United States. It still houses the belongings of Japanese immigrants who were forced to leave everything behind during WWII to travel to internment camps
[1] Japanese community; Japantown
[2] Public bath houses
Images
Modern view of the historic Panama Hotel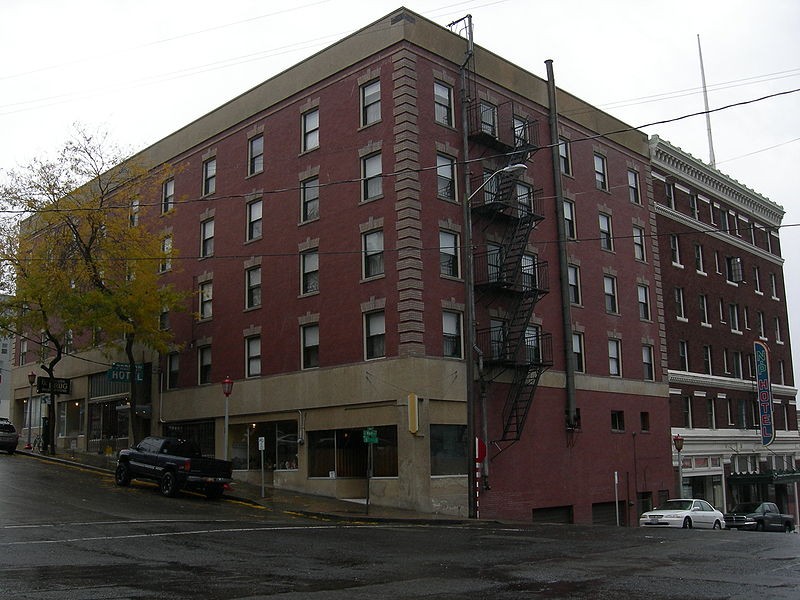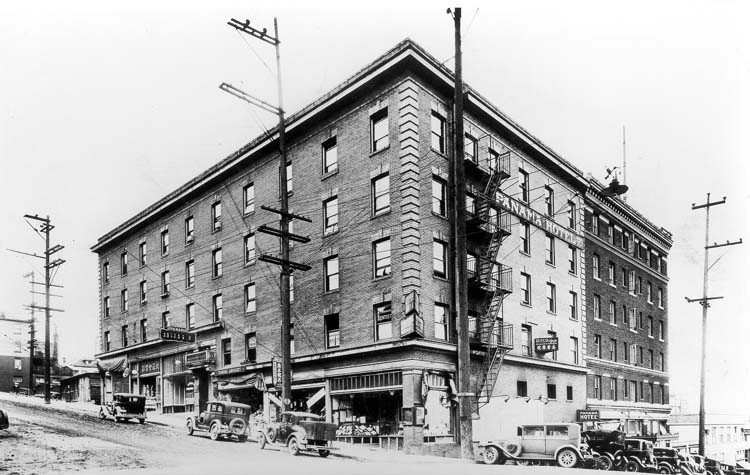 The bath house has been well-preserved and still looks much as it may have looked during the 1920s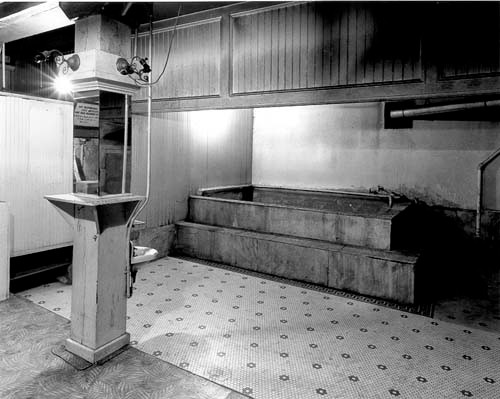 The basement which still houses items left behind by those who were sent off to internment camps.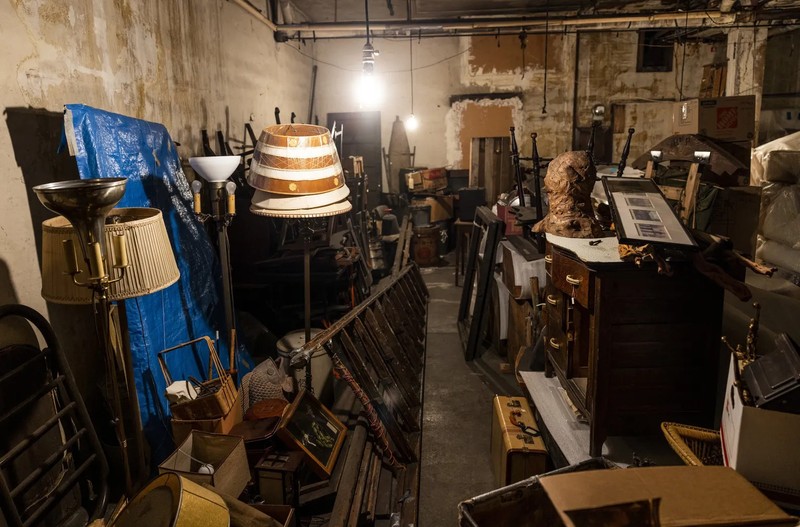 Inside the bath house of the Panama Hotel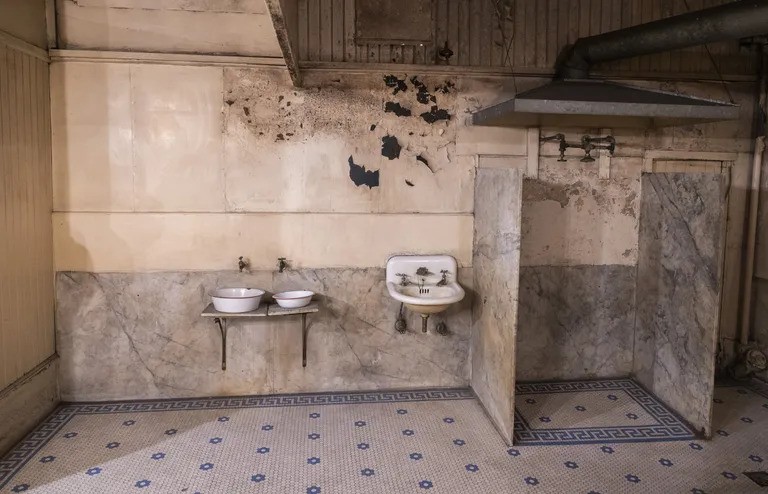 Backstory and Context
During the late 1800's and early 1900's, people from Japan were immigrating to the United States in hopes of better opportunities. Around 400,000 Japanese immigrants came to the Pacific Coast which included Washington, Oregon, and California, along with Hawaii. They came to Seattle due to the Puget Sound port and for jobs in logging, railroad construction, fish processing, mining, and agriculture. Immigrating to the United States wasn't easy, and it was isolating a lot of the time. However, places like the Panama Hotel made it slightly easier.
In December of 1941, Pearl Harbor was bombed by the Japanese, causing America to become involved in WWII. This prompted the American population to fear the Japanese, even though some of them had been there for years. Due to this paranoia, President Franklin D. Roosevelt issued Executive Order 9066 on February 19, 1942, which dictated that anyone of Japanese descent had to be placed in isolated internment camps. Around 120,000 people were forced to leave their homes on the Pacific Coast. Hawaii also had a huge Japanese population, and many were sent back to the camps on the mainland. With Seattle having a huge Japanese community, many were frantically trying to find a place to hold their items and valuables while they were staying in internment camps, with only 6 days to do so. The Pamana Hotel welcomed these items, and brought them down to the hotel's basement, waiting for the return of their owners.
When the last camp closed in 1946, people could attempt to return to their homes, though it proved to be difficult. Many didn't have the funds, and a lot of them were placed states away from where they were originally. After decades of waiting, the items left behind by so many people were left to collect dust in the basement of the Panama Hotel. In 1985, a woman named Jan Johnson decided to purchase the hotel. Before she purchased it, the Hori family who were the current owners of the hotel, made sure Johnson would know how to properly take care of the hotel, and that she would continue to preserve it. Johnson worked to make it a historical landmark, which succeeded in 2006. Another thing she did was dedicate lots of time towards finding the owners of the items and trunks. Though many have still not found their original owners or their descendants, Johnson has lent some of the trunks to museums to share their stories.
To this day, you can still rent a room in the hotel, still furnished like it would have been in the 1900's. There are also communal bathrooms as the building was meant to house a large capacity of workers. The tea house is still functional and it is the place that most guests continue to visit. If you want to have a more in depth experience, you can reserve a spot for a tour of the preserved sento, and you can also view the basement that holds the items left behind so long ago.
Sources
Place: Panama Hotel, U.S. National Parks Service, June 5th 2018. Accessed June 1st 2022. https://www.nps.gov/places/panama-hotel.htm.
Starks, Sierra. Seattle's Panama Hotel is a living museum of the Japanese American experience, The Seattle Times. March 27th 2022. Accessed June 1st 2022. https://www.seattletimes.com/life/lifestyle/seattles-panama-hotel-is-a-living-museum-of-the-japanese-american-experience/.
Huygen, Meg Van. The Panama Hotel is both a working hotel and a living museum, Seattle Curbed. April 30th 2018. Accessed June 1st 2022. https://seattle.curbed.com/2018/4/30/17303288/panama-hotel-seattle-history-preservation.
Immigration and Relocation in U.S. History, Library of Congress. Accessed June 1st 2022. https://www.loc.gov/classroom-materials/immigration/japanese/#:~:text=Japanese%20immigrants%20began%20their%20journey,better%20future%20for%20their%20children.
Takami, David A., Japanese Immigration to the Puget Sound Region, HistoryLink. October 26th 1998. Accessed June 1st 2022. https://www.historylink.org/file/300#:~:text=Japanese%20immigrants%20began%20arriving%20in,%2C%20fish%20processing%2C%20and%20agriculture.
Japanese Internment Camps, History.com. October 29th 2021. Accessed June 1st 2022. https://www.history.com/topics/world-war-ii/japanese-american-relocation#:~:text=Japanese%20internment%20camps%20were%20established,be%20incarcerated%20in%20isolated%20camps.
Image Sources
https://www.nps.gov/places/panama-hotel.htm

Courtesy of Jan Johnson / third owner of the Panama Hotel

http://www.panamahotelseattle.com/bathhouse%20tours.htm

Daniel Kim / The Seattle Times

Daniel Kim / The Seattle Times

Additional Information