United States lightship WAL 539 (Lightship Overfalls)
Introduction
Anchored as a floating museum in Lewes, Delaware, the United States lightship WAL 539 was built in 1938 and was the last vessel constructed for the United States Lighthouse Service (USLHS), the precursor to the U.S. Coast Guard. The ship was also the last one built with riveted construction and, unlike other vessels of its kind, it did not have any sister ships using the same plans. It was placed on the National Register of Historic Places in 1988 and designated a National Historic Landmark in 2011. It was decommissioned in 1972 after taking heavy damage during a storm in December 1970.
Images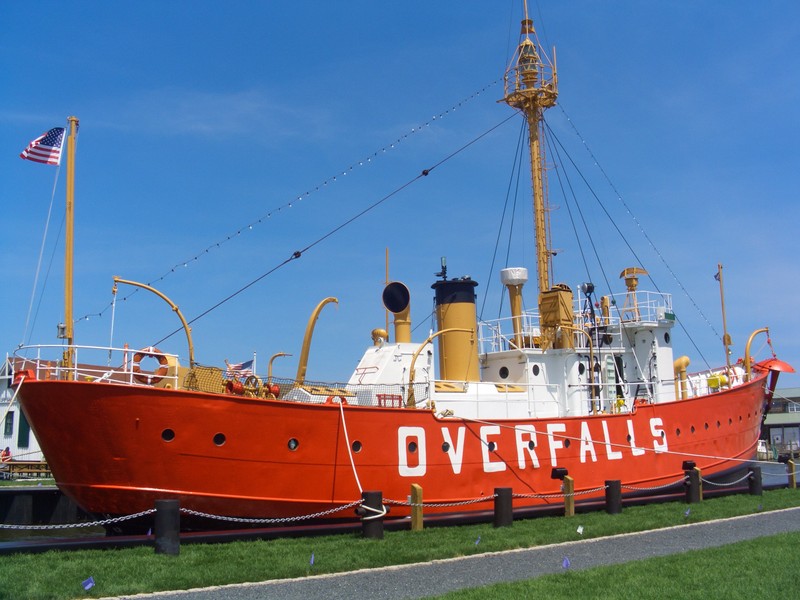 Backstory and Context
Lightship Overfalls briefly served under the USLHS before being transferred over to the newly created U.S. Coast Guard in 1939. It served at three stations: Cornfield Point, Connecticut from 1938-1957; Cross Rip, Massachusetts from 1958-1962; and Boston, Massachusetts from
1962-1972. The Coast Guard donated the ship to the Lewes Historical Society in 1973 and the society changed its name to Overalls, the name of the nearest lighthouse station. The ship was in such bad condition that the society tried to sell it in 1999 but fortunately a group within the society was created a foundation that would take over responsibility and restoration of the ship.
Sources
"History," http://www.overfalls.org/about_overfalls_history.html. Retrieved 7-8-15. "Lightship WLV 539," National Register of Historic Places. 2-16-89. http://pdfhost.focus.nps.gov/docs/NRHP/Text/89000006.pdf. Retrieved 7-8-15.
Additional Information