Hermione Museum
Introduction
The Hermione Museum is a local history museum in Tallulah, Louisiana and is the headquarters for the Madison Historical Society. It showcases period pieces and exhibits that describe the history of Madison Parish, from ancient Native Americans cultures to the the American Civil War. One exhibit tells the story of Madame C.J. Walker, the daughter of former slaves and the country's first female millionaire. Another exhibit tells the history of agriculture aviation, which was pioneered in the Parish in the 1930s. The U.S. Experimental Station was located here to develop a pesticide to eradicate the boll weevil which all but destroyed the cotton industry in 1907. The house was listed on the National Register of Historic Places in 1998. It is one of four pre-Civil War era structures still standing in the parish.
Images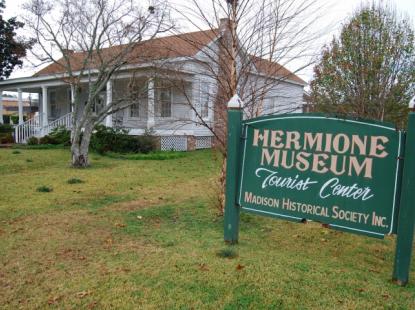 Backstory and Context
The museum was formerly the Hermione House on what was at the time the Kell Plantation. Before the Union siege of Vicksburg in 1862, General Grant and his troops moved into the area. They occupied the surrounding plantations and used the houses as hospitals, including the Hermione House. It was donated to the historical society in 1997 and renovated.
Sources
http://www.ladelta65.org/places/Hermione.Museum.htm. Retrieved 7-7-15.
Additional Information