Arnold Arboretum, Harvard University
Introduction
In partnership with Harvard University, the Arnold Arboretum studies and displays various pants, horticulture, and biodiversity. A National Historic Landmark, the arboretum was established in 1872 and designed by Frederick Law Olmsted. Because the arboretum is co-owned by Harvard University and the City of Boston, it is the perfect combination of research and a public park that spans 281 acres and is a part of Boston's "Emerald Necklace" which offers seven miles of parks and parkways. The arboretum is home to a "living collection of trees, shrubs, and woody vines [that] is recognized as one of the most comprehensive and best documented of its kind in the world. The living collection is supported by comprehensive curatorial documentation, herbaria containing more than 1.3 million specimens, extensive library and archival holdings, and a 43,000-square-foot state-of-the-art research center" ("About"). In addition to its exhibitions and collections, the Arnold Arboretum hosts children's education program, adult education classes, and visitor education classes, including lectures, courses, and walks.
Images
This National Historical Landmark dates back to 1872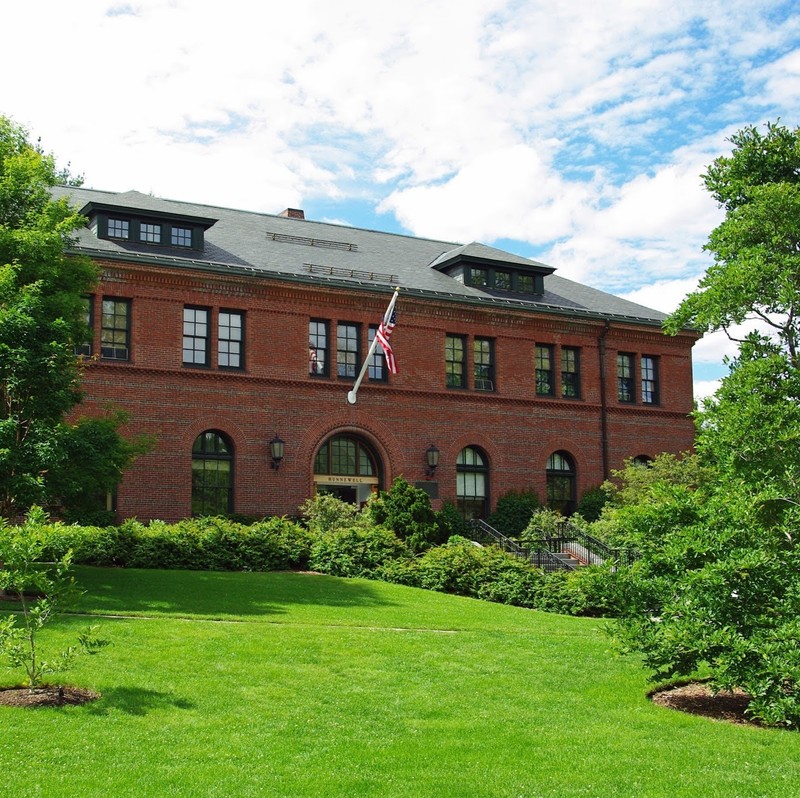 Backstory and Context
The Arnold Arboretum's founding dates back to New Bedford merchant James Arnold who left money in his will to Harvard College to establish an arboretum. Charles Sprague Sargent was the arboretum's first director and over his 54 years there he raised tremendous funds and established the agreement between Harvard College and the city. Sargent also organized the arboretum's collections by family and genus, a system that the arboretum still follows today. "By developing a comprehensive library devoted to botany, horticulture, and dendrology, an equally notable herbarium to serve as the repository of specimens of woody plants from throughout the world, and a publication program that included both scholarly and semi-popular works, Sargent established the Arnold Arboretum as a leading scientific institution" ("Our History").
The Arnold Arboretum Horticultural Library focuses on the study of temperate woody plants, including 25,000 volumes and 40,000 photographs on botany, horticulture, flora, urban forestry, and taxonomy.
Sources
http://www.arboretum.harvard.edu/about/ http://www.arboretum.harvard.edu/about/our-history/
Additional Information