Battle of Chino
Introduction
This is the approximate location where the first battle in California took place in modern-day Chino during the Mexican War. The battle, more of a skirmish, resulted in a victory for Mexican forces and proved to the victors that American forces were not invincible, a belief that was rampant at the time while American forces were having sweeping victories along the Texas/Mexico border and into Mexico itself. Due to the marriage of Americans into many local Mexican/Californio families, Americans captured were spared execution because of single fatality, a local Californio, during the battle.
Images
Benjamin Wilson and wife circa 1852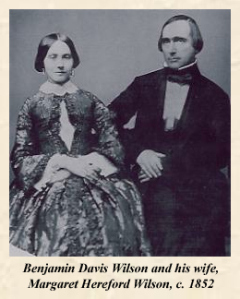 Battle of Chino and Williams Adobe markers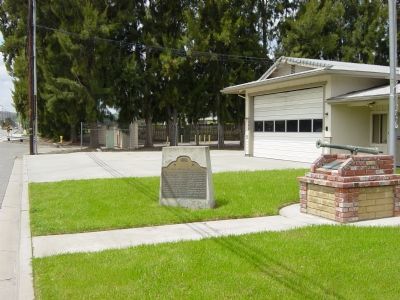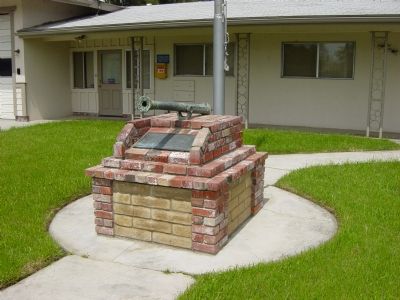 Sketching of Williams Adobe after his death when it became a government building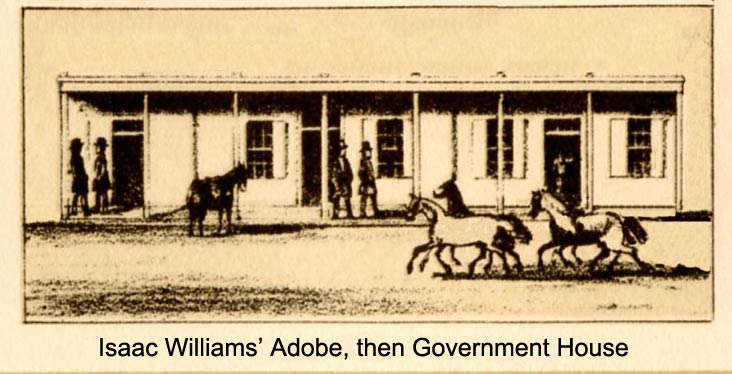 Isaac Williams before his death in 1856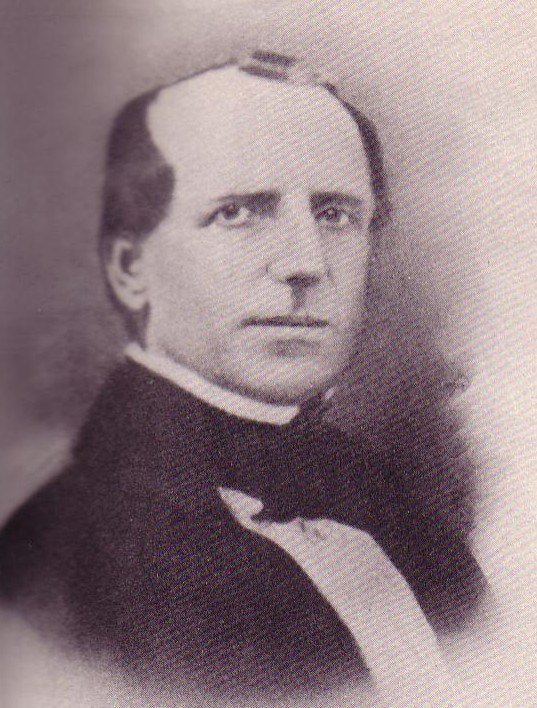 Backstory and Context
From September 26-27, 1846, the first battle to take place in California occurred during the Mexican War while more larger engagements were fought in Texas and Mexico. Although this battle was really a minor skirmish between Spanish-speaking Americans living in California and Californios loyal to the Mexican government, this became the first step towards the capture of California by American forces.
A few years prior to hostilities breaking out, a Isaac Williams from Pennsylvania, moved to California while waiting for passport to China. Experiencing delays, he decided to stay in California. Looking to make his riches, he became a Mexican resident which was a prerequisite of owning land in the Mexican territory but he never renounced his American citizenship. He married Maria de Jesus Lugo, the daughter of Antonio Maria Lugo, The marriage solidified his position in California and brought a rich dowry in property. Antonio, like most male Californians, were perfectly aware of the prosperity that had come to these outsiders and were more or less resentful of it. When the war erupted between Mexico and American, Antonio doubted Benjamin Wilson's loyalty to Mexico.
Most of the foreigners were glad when the United States moved upon California and were willing to aid the American cause, including Benjamin Wilson.


Antonio Lugo, knowing his bother-in-law would stay loyal to the United States, ordered up a group of Californios to gather at the ranch where Benjamin Wilson lived in Rancho del Chino. The Rancho was home to Isaac Williams, a Pennsylvania native largely considered the first American settler in the valley.
Serbulo Varela, Diego Sepulveda and Ramon Carrillo left from Los Angeles with about fifty men, while José del Carmen Lugo with another fifteen to twenty men left from San Bernardino. As the Californios met up, they converged at Rancho del Chino. On the evening of September 26, the men surrounded the ranch and made plans for action. The following day the Californios, led by Antonio Lugo, opened fire on the ranch that held Benjamin Wilson and his twenty men. The two sides exchanged fire and one of the Californios, Carlos Ballesteros, was killed.

At daybreak on the morning of the 27th, the Americans found themselves almost surrounded by Californios cavalrymen. The Californios attempted to burn down the ranch by setting fire to the roof. As the fire began to grow, Serbulo Varela became satisfied that the fire would force the men from the building. Not wanting to wait, he went to the main door and called upon Benjamin Wilson and his companions to surrender. He assured them that he was friendly toward them and that as an old soldier he knew the laws of war respecting the treatment of prisoners. He promised they would not be harmed. Benjamin Wilson conferred with his men in the house and realizing that they could easily be roasted alive, agreed to give themselves up with their arms if Varela would send his men away. Varela immediately ordered his men to the rear of the house to put out the fire and Wilson's men filed out and stacked their arms against the walls as directed. The brief battle was over. In addition to the one Californios dead, there was also two wounded. Three Americans were also wounded.
Once Benjamin Wilson and his men were out of the house, they were marched to the Casa de Matanza or slaughter house four hundred yards south. Horses were waiting to transport them to Los Angeles as prisoners of war. On reaching the Casa de Matanza, Serbulo Varela ordered all the men to mount. Benjamin Wilson was permitted to retain his own horse and saddle and ride beside Varela. The other Mexicans and American prisoners were sent ahead with orders to be in Los Angeles that evening. Serbulo Varela's start was delayed for a few minutes in order to speak with one of his men he stationed at the ranch. Shortly after, he and Benjamin Wilson followed slowly behind the main party.
About half a mile from the house, Varela took off ahead, realizing that there was a situation taking place that needed his immediate attention. Calling Benjamin Wilson to follow him, when they were close enough to hear words, Varela understood what was happening and he yelled for the leader to stop. Arriving on the scene, he found that the prisoners had been stood in a line along the side of the road and were apparently about to be shot. Benjamin Wilson later reported that Serbulo Varela rushed forward and placed himself between the Americans and their captors, shouting that he would run his sword through the first man that touched a hair of their heads. Varela had given his word as a gentleman and a commander to save the prisoners and if they wished to kill anyone they could shoot him. Varela realized that since most of these men were related to Mexican families by marriage, they should be treated fairly. As emotions calmed, the prisoners and their escorts arrived that evening at the California encampment. This was situated on the mesa south of Los Angeles, known later as Boyle Heights.

This first battle in California during the Mexican-American War, was significant as the Spanish Californios learned that the Americans were not invincible. It may have still be on their minds as American General Stephen Kearny's forces advanced into Southern California from New Mexico shortly afterwards. Due to this victory, the campaign for California, especially Southern California, was not quick for American forces. Had Jose Maria Flores's action, a rebellion, against his brother-in-law and other Americans failed, there is speculation that resistance to Americans would have been just about nonexistent. This small skirmish built up the Californios confidence which without there would probably have been no clash at Dominguez Field in October, or the Battle of San Pasqual in December.
As the war between the United States and Mexico developed and the subsequent raising of the United States flag over Monterey by Commodore John D. Sloat, Mexican governor Pio Pico left for Mexico, along with California Military Chief José Castro. Just three days later, Commodore Stockton and Fremont entered Los Angeles with their forces unopposed and completed the occupation of California. The Mexican Army was not giving up California but merely acquiescing in the seizure of their territory, hoping and believing that the outcome of the war would bring it back to them.
After Commodore Stockton settled in, he feared that José Castro and his troops leaving may be only a ruse. Fearful of this, he asked Benjamin D. Wilson, who had won his freedom as more American troops poured into California, to enlist a force of men he could trust to follow José Castro far enough to make sure that he was really leaving California. Benjamin Wilson accomplished this and reported that Castro had crossed the Colorado River at Yuma with a small force. He had entered into Mexico at Sonora leaving California to the Americans.

However, the battle of Chino would never removed embarrassment for Isaac Williams, at least it would not be removed due to the influence of Benjamin Wilson. Despite the fact that it was under Wilson's leadership that he and his men became entrapped in William's Rancho, Wilson went on to blame the defeat on Williams, citing that it was his, Williams, fault that the force was so easily capture. This blame being laid on Williams helped deny him recognition he deserved for his help and kindness towards migrants moving into the area after the Mexican War.
After Williams death in 1856, the adobe became a government building for a short time then demolished, the area became home to the Bella Union Hotel, long since demolished as well.
A California Historical Landmark plaque was placed on the spot (or really close by) where the Battle of Chino occurred and Williams adobe once stood. The plaque is in front of a fire department training facility building.
Sources
James Miller Guinn, 1915,A History of California and An Extended History of Los Angeles and Environs, Historic Record Company, Los Angeles, Volume 1 (of 3). James Boyd, 1922, History of San Bernardino and Riverside Counties, Western Historical Association, Lewis Publishing Company, Chicago, IL. Historical Society of Southern California, Vol. 24, No. 4 The Battle of Chino by George William Beattie. John Alexander Gray (1916) History of El Rancho Santa Ana del Chino, Cadmus Press Frank Parkhurst Brackett (1920) History of Pomona Valley, California Historic Record Co., Los Angeles
Additional Information