Civil Rights Monument at the Southern Poverty Law Center
Introduction
Located outside of the Civil Rights Memorial Center, this memorial honors the men and women who lost their lives during the Civil Rights movement, including Martin Luther King Jr., between 1954-1968. It is located across the street from the Southern Poverty Law Center, which created the memorial. Artist Maya Lin, the creator of the Vietnam Veterans Memorial in Washington D., designed the memorial. It consists of a circular Black granite table with the names of those who died inscribed on it. Water flows across the top. Behind is a curved Black granite wall featuring a famous quote of Martin Luther King Jr.: "We will not be satisfied until justice rolls down like waters and righteousness like a mighty stream." Visitors are welcomed to touch the names as they contemplate the nation's struggle for equality.
Images
The memorial is located across the street from the Southern Poverty Law Center's office building in Montgomery, Alabama.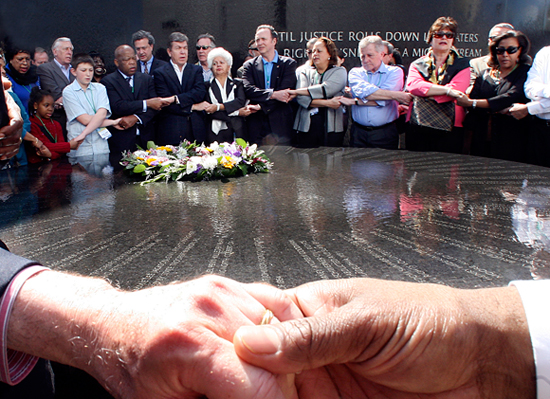 Individuals who lost their lives in the struggle for equal rights during the modern American Civil Rights Movement — 1954-1968.

Backstory and Context
The memorial is located at the heart of the Civil Rights Movement, as it is near the church where Martin Luther King served as pastor during the Montgomery Bus Boycott (1955-1956), and the capitol building, where the Selma-Montgomery voting rights march ended in 1965.
The Southern Poverty Law Center was founded in 1971by Morris Dees and Joseph Levin Jr. to help fight bigotry and hate through litigation, education, and other forms of advocacy. The ultimate goal is to create a society in which equality and equal opportunity are realized.
Sources
"Civil Rights Memorial." Southern Poverty Law Center. Accessed June 29, 2015. https://www.splcenter.org/civil-rights-memorial.
Additional Information