Glacier National Park
Introduction
Given the nickname "the Crown of the Continent," Glacier National Park is located in northwest Montana along the border with Canada. It covers an area well over a million acres (1,500 square miles) and features 26 (shrinking) glaciers, 175 mountains, 762 lakes, and an abundance of wildlife, the most notable of which is the mountain goat. Native Americans started to inhabit the region more than 10,000 years ago. When European adventurers arrived, they encountered the tribes of the Blackfeet and Flathead Indians, the descendants of those ancient peoples. There are numerous activities visitors can do in the park such as hiking, biking, backpacking, and skiing. Tourists can get an idea of the park's past through historic cottages, cabins, transportation, and tales of Native Americans. There are three visitor centers at the park. The one on the map is the Apgar Visitor Center.
Images
Glacier National Park was established in 1910.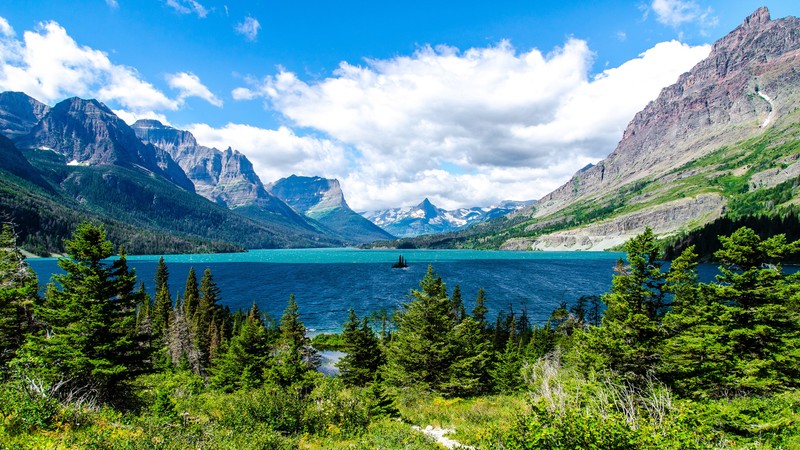 A mountain goat overlooks one of the many lakes within the park.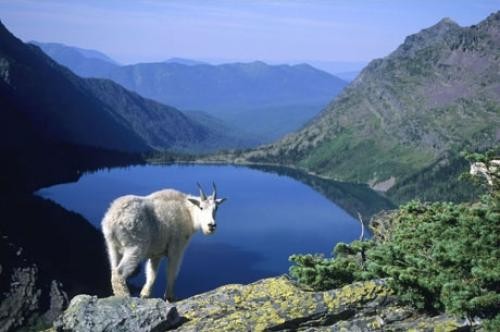 The park features 175 mountains and 762 named and unnamed lakes.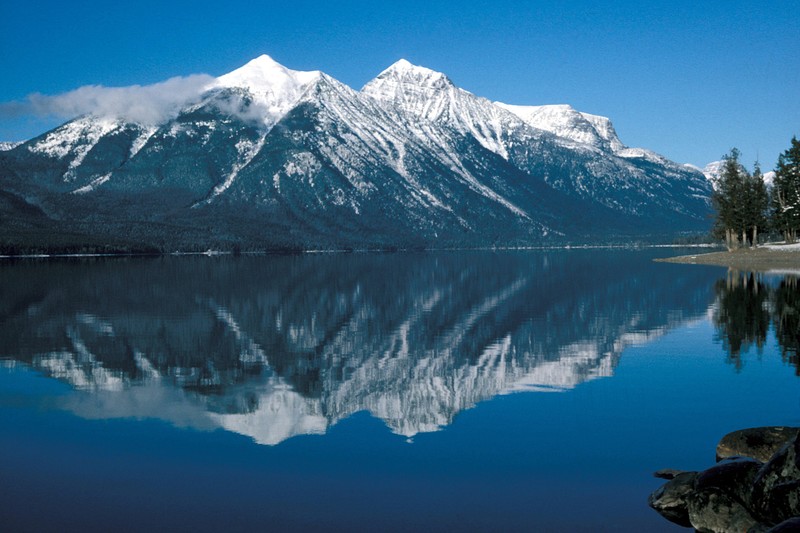 Backstory and Context
The Blackfeet Native Americans possessed the large prairies east of the mountains. However, the Salish and Kootenai tribes inhabited the western valleys. They would explore the mountains looking for game and would hunt buffalo in the east. When the Europeans arrived here they desired the pelts of beavers and other animals. Not far behind the European adventurers were miners and settlers desiring property.
In 1891, the Great Northern Railway was finished, which decided the future of the land here. It enabled more people into the center of northwest Montana. They built their homes in valleys to the west of Marias Pass which eventually led to the creation of small towns as well. Near the beginning of the 1900s, people started to notice the area in a way they had not before. Some began to realize that this area had more value to it than just the minerals they mined and the property they farmed on. These people soon realized that the place had a beautiful quality like no other.
At the end of the 19th century, people with power, like George Bird Grinnell, requested the establishment of the park. In 1910 the request was answered. President Taft signed the bill that made this park the 10th national park in the nation.
Sources
"Fact Sheet." National Park Service - Glacier National Park. Accessed on June 26, 2015. https://www.nps.gov/glac/learn/news/fact-sheet.htm.

"History and Culture." National Park Service - Glacier National Park. Accessed on June 26, 2015. https://www.nps.gov/glac/learn/historyculture/index.htm.

Additional Information