Longwood
Introduction
Built in 1860 by cotton plantation owner Haller Nutt, Longwood is the largest octagonal mansion in the nation. The house was designed by Philadelphia architect Samuel Sloan in the Oriental Revival Style. Upon completion, the mansion was to total 30,000 square feet with 32 rooms, 26 fireplaces, 115 doors, and 96 columnns. However, due to the beginning of the Civil War, construction of the home was paused and Nutt settled with his wife on the basement level of the home as they awaited the war's end. Only nine of the planned rooms were ever finished. Longwood is listed as a Registered National Historic Landmark, a Mississippi Landmark, and an historic site on the Civil War Discovery Trail.
Images
"Longwood by Highsmith 01" by Carol M. Highsmith - This image is available from the United States Library of Congress's Prints and Photographs division under the digital ID highsm.17078.This tag does not indicate the copyright status of the attached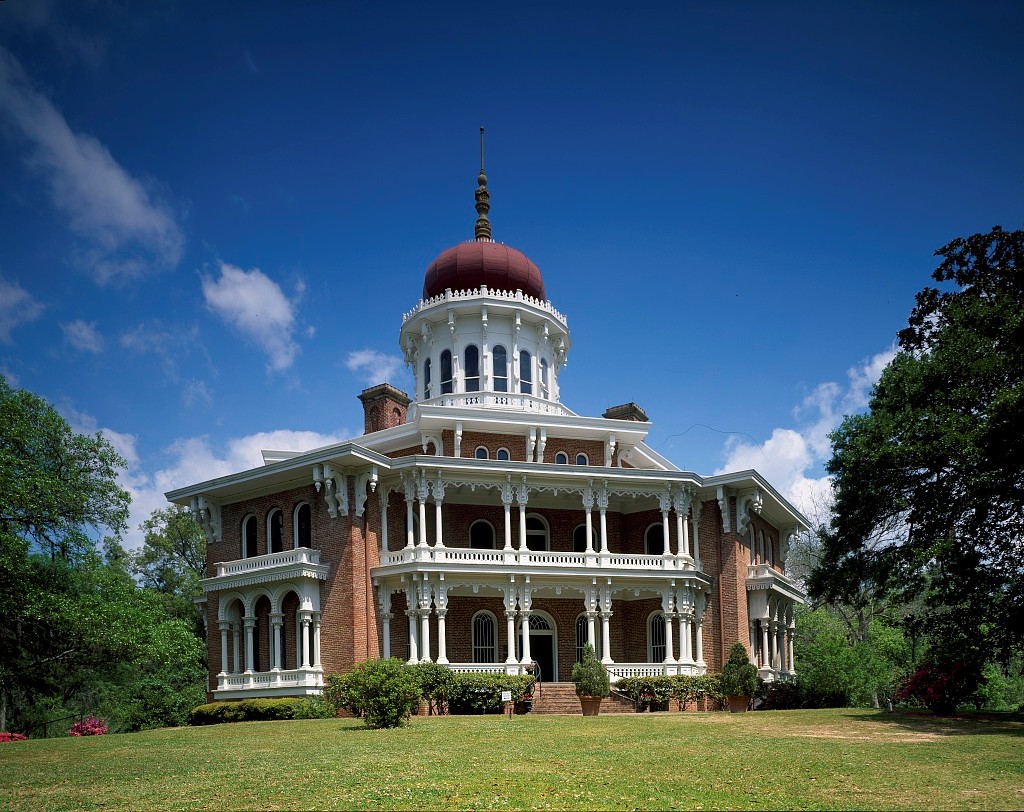 "Sloan's Oriental Villa" by Samuel Sloan (1815-1884) - Sloan, Samuel. The Model Architect. a Series of Original Designs for Cottages, Villas, Suburban Residences, Etc: Accompanied by Explanations, Specifications, Estimates, and Elaborate Details. Phi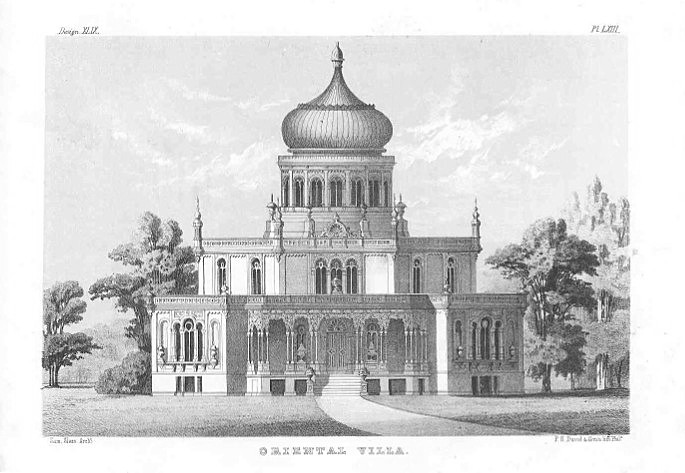 Backstory and Context
Haller Nutt purchased the 90-acres of land that Longwood stands on in 1850 as a surprise gift for his wife, who grew up in the area and wanted to raise her children there. They first built a colonial style home on the property, but eventually tore it down in order to build the Oriental villa.

Philadelphia Architect Samuel Sloan and his crew had been working on the house for about 18 months when the Civil War broke out in 1861. They all immediately headed back north in order to join the Union war efforts, consequently, putting Longwood's construction on hold.

Nutt moved his family into the finished basement floor of the home and awaited the war's end. Though Nutt was a southern plantation owner, like many plantation owners, he was a Union sympathizer since much of the business tended to come from the North. He was given protection papers, stating that his property would not be harmed during the period of combat, but unfortunately, that agreement was not honored by the Union soldiers. Nutt's cotton fields were burned and much of his equipment destroyed.

Since he lost the majority of his fortune in the war, some believe that his death in 1864 due to pneumonia, was actually because of a broken heart since he would never be able to complete his dream home. For this reason the Natchez locals refer to Longwood as "Nutt's Folly."
Additional Information