Poeh Cultural Center and Museum
Introduction
Located in Pojoaque Pueblo, the Poeh Center was established in 1988 to provide a facility for the encouragement of Pueblo creative expression, as well as a center for Native American and public education. The center is constructed in traditional Pueblo architectural style with adobe bricks and local wood. The education efforts of the center strive to merge technology and the arts, rather than separating them as two completely different disciplines. The educational curriculum employed at the center also focuses on fostering a deep connection to and respect of nature, as well as the general interconnectedness of all things.
Images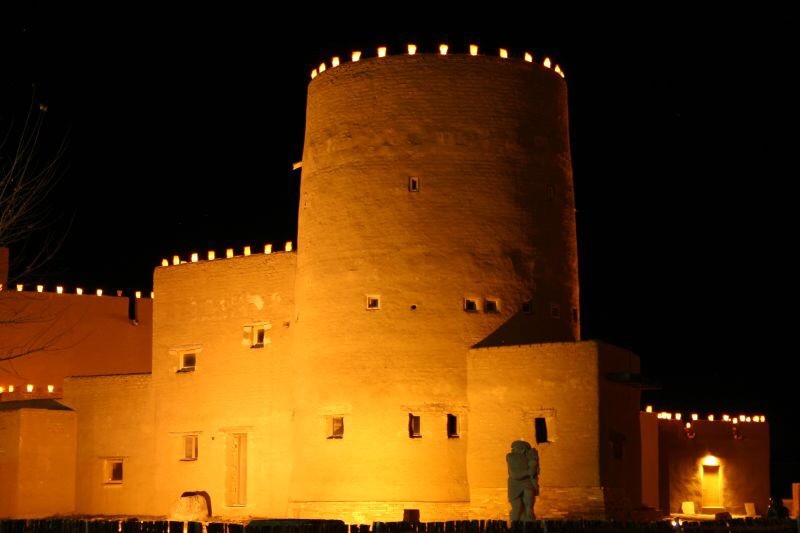 White buffalo dancers at the center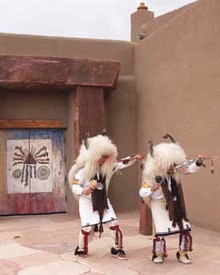 Figurine by Roxanne Swentzell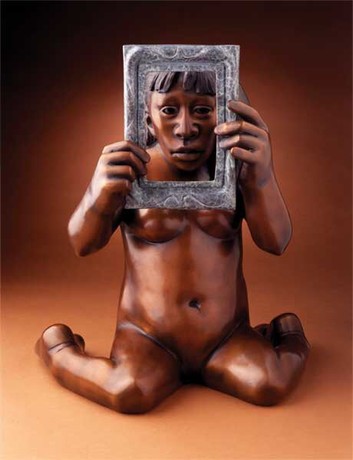 Backstory and Context
The Pojoaque Pueblo is an Indian Reservation. The town of Pojoaque is a collection of neighborhoods near the pueblo. These neighborhoods include Cuyamungue, Jacona, and Jaconita.
Pojoaque, P'osuwaege) in the native Tewa language, meaning "the water drinking or gathering place," was established during the seventeenth century as the Spanish mission San Francisco de Pojoaque. However, the Native Americans originally established it in about 500 AD. Pojoaque was abandoned during the Pueblo Revolt of 1680 and then resettled in 1706. At the beginning of the twentieth century, a severe smallpox epidemic caused the pueblo to be abandoned again in 1912. It was reoccupied in 1934 and became a federally sanctioned Indian Reservation in 1936.
The Poeh Museum boasts a robust and dynamic collection of Pueblo artifacts and art. With an impressive permanent collection and three rotating exhibits per year, the museum promises and entertaining and educational visit. Included in their permanent collection is a photo of archive including approximately 10,000 photographs, capturing Pueblo life of the past and present-day. Included in this collection are photographs by Edward S. Curtis. Edward Sheriff Curtis was an ethnographer and photographs who documented the West and the lives of Native Americans. This archive is available to the public for loans and research. The museum also hosts a rotating exhibits program, which began by showcasing an exhibit called "Juggling Worlds" in 2003. This exhibit features Roxanne Swentzell, a highly acclaimed Santa Clara Pueblo artist. She is a ceramic sculptor most known for her figures depicting indigenous people. As a child, Swentzell suffered from a speech impediment that made it difficult for her to communicate with others. It was at this point that she developed an interest in art and created figurines to express her emotions and communicate them to others. These types of figures are still her primary medium.
Sources
http://poehcenter.org/ http://www.frommers.com/destinations/santa-fe/721628 https://en.wikipedia.org/wiki/Pojoaque,_New_Mexico http://poehcenter.org/museum/education/nang-be-poeh/classroom/ http://poehcenter.org/museum/education/nang-be-poeh/curriculum/ http://poehcenter.org/museum/education/nang-be-poeh/introduction/ https://en.wikipedia.org/wiki/Edward_S._Curtis http://www.newmexico.org/native-american-culture-trail http://poehcenter.org/museum/exhibits/ https://en.m.wikipedia.org/wiki/Poeh_Center# http://www.santafe.com/article/tribal-museums-and-cultural-centers http://www.mythicjourneys.org/passages/febmar2004/newsletterp6.html
Additional Information